Mount Kilimanjaro: Africa's highest point. The highest freestanding mountain in the world. 5,895 meters (19,340 feet) above sea level.

If you crave both adventure and a challenge, hiking Kilimanjaro has most likely crossed your mind. I had been dreaming of doing the trek for four years before finally booking it, and after completing it, I can confirm it has been a highlight of my life, to say the least. Going into it, I had a bit of anxiety because I found it hard to understand what to expect. I've created this guide to ease your worries about going into the total unknown, and give you an idea as to what to expect from this amazing trek!
The Basics
Let's start with the basics. You will need:
A flight to Kilimanjaro International Airport
If you are a US Citizen, a CRISP $100 bill to get into Tanzania if you are getting a visa on arrival. The bill must be a new version of the 100. (I can't speak for any other countries due to lack of experience, but I do believe it's much cheaper for every other nationality to enter!) You can apply for an eVisa ahead of time but the price is the same, and the visa process at the Kilimanjaro airport is effortless.
A hired guide to trek. It is illegal to trek Kilimanjaro without a guide. Most tour companies charge anywhere from $1000-$5000 (this is a wide range, I know; more on that later).
A hotel stay in Moshi for the night before your trek. Most tour companies will have this included, but you'd be out of your mind to fly to Kilimanjaro and begin your hike immediately (I don't even believe this is an option).
Gear
Ok, now for the important stuff. I had almost nothing and I was confused as to what gear to bring. I simply had a 500mL refillable water bottle, a day backpack, some leggings, hiking boots, a thermal shirt, sports bras, and a puffy jacket. Here's a list of everything you absolutely need to make your trek more bearable.
Sleeping bag
Walking sticks
Hiking boots
A minimum of 3L of water (meaning 3L of empty refillable bottles)
Fleece pants
Fleece sweater
Thermal shirt
At least two t-shirts
At least two leggings
At least three pairs of socks
Tent
Day backpack
Duffel bag
Poncho
Day bag cover-up (it's misty, you'll need it)
Sun hat (trust me)
Beanie
Two pairs of gloves (one thin, one thick)
Sunscreen!!! (I got third degree burn on my face; it may be cold but the sun is still there!)
Snacks (nuts and chocolate hold the best; you've got a few days so nothing perishable!)
Travel Insurance (use World Nomads and make sure to include emergency evacuation in case you need to be helicoptered off the mountain)
Ski Pants
Ski Jacket
This all may seem excessive; I thought so too. And I had almost none of it. Confirm that your tour company has these items available for rent; most, if not all, of them do. But be aware: the price can get steep. I ended up paying $197 in rental gear, and granted I used every single thing I rented, it certainly adds up. Don't worry about carrying all of this up the mountain with you; that's what the porters are for! I will say, ask if your company provides snacks. I ended up not really using my own snacks because everyday they gave us muffins, fruits, and juice. If I had known that, I wouldn't have brought so many damn nuts with me! (Though, it's never a bad thing to have extra food.)
Cost
Now for the logistics. How much does hiking Kilimanjaro cost? Well, that depends on what you're willing to spend and what level of comfort you're looking for. I am always opting for budget-friendly choices because, well, I'm on a budget.

The absolute bare minimum I've seen for a Kilimanjaro trek is $1000, and I would not recommend booking something so low. Park fees alone are around $800, which means they are using a little under $200 to properly serve you. This most likely means porters and guides are underpaid, potentially giving them a poor attitude. It also means the quality of everything is going to be lower. It gets cold at night; do you really want to risk sleeping in a non-thermal sleeping bag in subzero temps?

I paid $1500 for my trek. I chose the six-day Machame trek and after successfully completing it, I am positive I made the right decision. I went with Monkey Adventures and I had the time of my life with their staff. The quality of everything was above and beyond, despite being more in the mid-price-range, not the high-price-range. While I sat down and ate all of my meals crouched over in my tent, I still was given freshly cooked hot food, snacks, unlimited tea / cocoa / coffee, and my tent / sleeping bag was up and ready for me everyday when I was done hiking. I went alone and didn't end up sharing a tent with anyone, but I was told if more people had joined my group, I could have potentially shared my tent with two other people.

If you pay $2000 or more, you can expect things such as private toilets, tents set up for you to sit up and eat your meals, private tents, and who knows what else. I don't have that kind of money; but the more you pay, the better quality of life, I suppose! I was perfectly happy with my $1500 budget, but if peeing in the bushes or doing your business in a porter potty doesn't feel comfortable and you have some money to spend, you may want to look into a more luxurious tour.
How Long Does It Take?
This varies on which route you take. It can be as short as four days or as long as eight. The longer you take, the better chance you have at succeeding. The prime reason for not making it to Uhuru summit is altitude sickness, and the best way to prevent this is to properly acclimatize your body on the way up. This means a lot of ups and downs, and some days only hiking four hours verses seven just so your body can get adjusted. Six days for me was good. I broke down each route and you can decide which one is best for you by clicking here.
Where Will I Pee & Poo?
This was a question in which I felt no one was asking. How the hell do you go to the bathroom on Kilimanjaro? The woods seem like the obvious answer, but if you have to poop, you will NOT want to go in the woods. Often times, there are not many people around and not many things to hide behind. So if you're farting behind a rock, your guide and tour buddies will hear you. Aside from that, you should not throw toilet paper on the ground. There should be absolutely no littering on Kilimanjaro. Yup, ladies, this means you better figure out a Plan B when you pee. Drip dry if you have to. You can also bring wipes and keep them in a contained storage area until you get to your camp site to properly dispose of them. But be aware that Tanzania has a complete and total ban on plastic bags. The joys of living outside, am I right?

Every campsite has porter potties: so do your damnedest to hold your bowels until you've reached your site, or make sure you go before you trek. The water in Tanzania isn't exactly clean, so there's a good chance your stomach will not be your friend for a few days. If you have a sensitive stomach, see your doctor beforehand to get some travelers diarrhea meds, or arrive to Tanzania a bit earlier to become adjusted.
What Will I Eat?
I expected pure astronaut food when hiking Kilimanjaro, but my assumptions couldn't have been further from the truth! Everyday, I was given a hot breakfast of porridge, eggs, thin pancakes (Tanzanian pancakes are the best damn thing on this planet), fruit, and either sausage or veggies. If you have dietary restrictions, it's not an issue at all. Just tell your guide ahead of time. They can make vegetarian, vegan, gluten-free, dairy-free, anything! You have a chef and if they were anything like Monkey Adventures, they will go above and beyond to make you some delicious meals.

I remember the first two days thinking, "Damn, they're feeding me so much." And I would happily lick plates of pasta, meat, veggies, and rice clean. Make sure to eat as much as possible in those first few days, because if and when altitude sickness hits you, the first thing to go will be your appetite. I lost my appetite almost completely by the end of the trek, and even a few days after I was back.

For dinner, you can expect things like hot soup, grilled chicken / minced beef, and pasta. I genuinely enjoyed the food I was given and have absolutely no complaints. Monkey Adventures also provided unlimited peanut butter, hot sauce, coffee, tea, and hot cocoa. They gave me popcorn everyday as soon as I was done with my hike, too! I started getting creative with the popcorn and making chocolate / peanut butter / popcorn clusters.
Can I Charge My Phone?
Yes. There are areas to charge your phone.

A good option is to bring a power bank. My guide is a genius and had a solar power bank which was very helpful; he would leave it strapped to his backpack while we hiked so it would charge from the sun! But, if you don't have a solar power bank, have no fear. Each campsite has charging stations available for rent, but be prepared to pay. It's roughly $5 per item you want to charge. I only used this service twice and both times chose to charge my portable charger, simply so I could then use it to charge up my GoPro and iPhone. Remember, when the temperatures get cold, your electronics are going to die quicker. On the fourth day, I was filming on my GoPro which had 57% battery, and it suddenly turned off. It died immediately! Similar things have happened to my iPhone on other trips, but I found my iPhone wasn't as badly effected by the temperatures on Kili. My guide had a little thermal sac, or a "sleeping bag" for his iPhone and it saved him quite the hassle.
Will I Get Service?
No. And you shouldn't worry about it. I was worried my parents would be freaking out; I was worried about checking instagram for maybe the first few hours… but it becomes such a liberating experience to be in touch with nature, away from it all, safe and sound on a giant mountain. Don't you dare worry about service; enjoy this magical experience without it. Skip your portable WiFis and hotspots and enjoy the journey. Bring a journal! I wrote in my diary and did a lot of soul-searching while up there.
What Medicines / Toiletries Should I Bring?
Kilimanjaro is not exactly the easiest hike, but to be honest, it's not as physically demanding as I thought. I mean, don't get me wrong; it's not for beginners. I would definitely see a doctor ahead of time to discuss potential risks. Monkey Adventures checked my oxygen and blood pressure every morning which relieved some stress and reminded me I was in good hands. Some things you should bring with you to prevent altitude sickness / joint pain are:
Tylonel / ibuprofen for joint pain
Diamox for altitude sickness (I believe this is how I made it to the top)
Toilet paper / wipes
Tampons / pads if necessary
Deodorant
Toothbrush / toothpaste
Contacts / contact case if you're blind like me!
Hairbrush (optional, but my hair became a literal knot by the end of the hike)
Malaria pills (these can have some gnarly side effects; I brought ones that were used for both prevention and treatment and only planned to take them if I was infected, which I was not)
Yellow fever vaccination if you are passing through an infected area (Kenya, being one)
Out of all of these, the most necessary, in my non-doctor opinion, is Diamox. Be aware of its side effects; I started taking mine the day before and found I had to pee at minimum once an hour, but as I climbed the mountain, the effects dwindled. I truly believe Diamox saved me from experiencing major altitude sickness; even with it, I dealt with minor headaches, slow breathing, and slight nausea on the final day of climbing. And I completely lost my appetite.
What Are The Risks?
It's okay to be afraid of climbing Kilimanjaro, but once you start climbing, I'm sure those fears will dissipate quickly. Of course, there are risks involved. 13.6 in every 100,000 climbers die, which is an incredibly low rate, so don't worry! The odds are in your favor. Most climbers die due to severe altitude sickness, but it does not have to get that bad. If you start to feel ANY symptoms, tell your guide immediately. If I even felt a slight headache, I informed my guide and he would force me to drink more water (it is required to drink a minimum of 3 liters a day) and often, the headache would disappear with time. Aside from altitude sickness, there is the risk of breaking a bone (many-a-ankles are broken on Kili!) or slipping and falling. The mountain doesn't really have many steep edges, so even if you were to fall, don't think you'll be falling to your death. You may hit your head or bones on a few rocks which I can't imagine is pleasant, but take your time. "Poli poli" as they say in Swahili, which means slowly slowly. There's no rush in getting to the top. It's not a competition; just enjoy the journey at your own pace.
Are Medical Services Available?
Of course! Every campsite has medical assistance. If for some reason you are so ill that you need a helicopter to come pick you up (let's say you're on day four of the trek, and you break a leg or are suffering from serious altitude sickness), it is indeed possible, but it's expensive. This is why you MUST get travelers insurance; it will save you such a hassle and a pretty penny if necessary. World Nomads has the best options; you can specifically request "emergency evacuation," meaning when that $2500 helicopter bill comes rolling in, your ass is covered. And, so is your hospital bill!

Let's say you just twist your ankle and physically can't walk down the mountain, but it's not such a horrible emergency that you need a helicopter to come save you. There are carts all along the way to carry you down, and porters will have stretchers that they can carry you down in. It's normal for people to get hurt on Kilimanjaro, and they are overly prepared in how to deal with these situations. There are also available oxygen tanks with most tours, and I can't imagine anyone wouldn't be willing to share some fresh air!

Can I Shower?
No, not per se. I was given a bucket of hot water everyday after my trek (which my guide referred to as a "passport shower") with a bar of soap. I did my best to wash the important parts, but remember it's freezing out, and throwing hot water in cold temperatures sometimes is more miserable than being clean. Usually, I'd just soak my feet and stare into the abyss while trying to feel my legs again!
Do I Have To Tip?
While it is not mandated, you'd be a pretty giant ass hole to not tip your guide, porters, and chef at the end of your excursion. You will see the hard work that goes in every single day; from your guide explaining everything you're seeing to making sure you're having the time of your life, to your chef cooking up meals for you at ridiculous hours, to your porters carrying 20kg on their backs just so you have a comfortable place to sleep. The tipping is more than you may think; I won't lie that I was not prepared to tip as much as I did, but they earned every penny and I wish I had the means to give them even more. I ended up spending $430 on tips. It sounds excessive, but here's a breakdown. You should give:
$20-25 a day for guide
$10-15 a day for chef
$5-10 a day for each porter
Have cash prepared before you begin your trek. The ATMs in Tanzania are not always stacked with cash (I had to go to four ATMs before finding one that could expense this amount of cash). Guides will also accept USD, so if it makes your life easier, just bring some cash with you from home.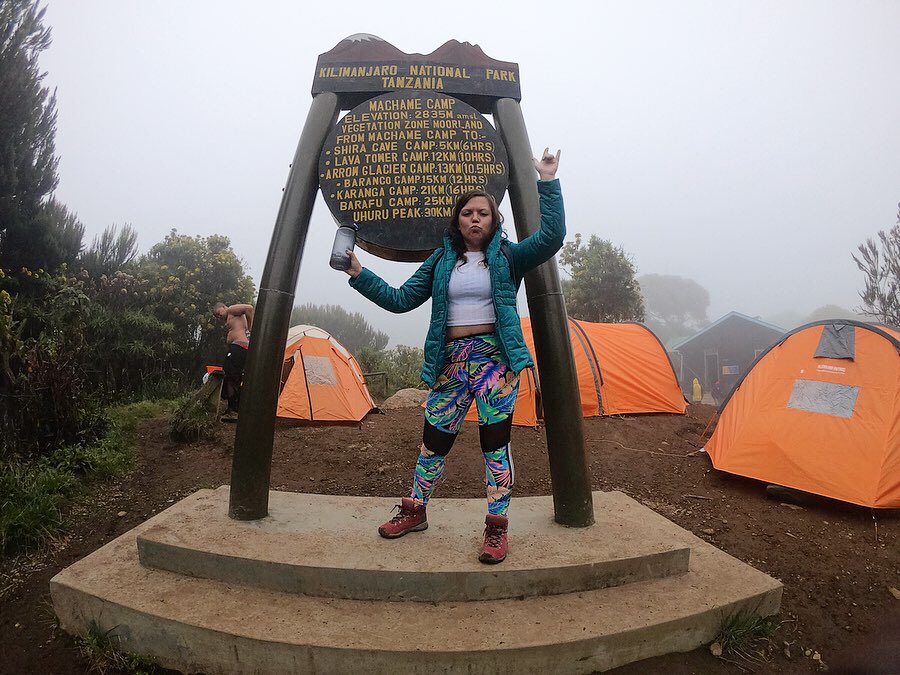 Hiking Kilimanjaro will certainly be one of the most memorable experiences of your entire life. I physically have never done anything so challenging and rewarding. You will never appreciate a hot shower and a cold beer more than you will after living on a mountain for six days! Have you ever done a several-day hike? Leave your comments below!