Of course, most people come to Cambodia to tick off a major bucketlist item: Angkor Wat! And while I usually like to dive into places and go much deeper than the obvious "to-see" spots, I had anxiety over a passport with dwindling pages and had to get to Japan for an embassy appointment to get that taken care of!
So I thought two days would be better than nothing. I arrived to Siem Reap late at night on a Monday and had a departing flight out Thursday morning. Two whole days.
When I arrived, I used Grab (taxi app for southeast Asia: a MUST if you are headed that way) to snatch a cheap taxi to my hostel on pub street. I paid $4/night for a hostel in prime location.
It was about 1am, and while the ride from the airport seemed like there was absolutely nothing going on, to my surprise, when I arrived at my hostel, there was a full-on party outside. It felt like Las Vegas, and it was certainly not what I had envisioned when I thought of Cambodia.
I was a little wired from my flight so I decided to walk around and grab a beer. Clubs. Loud music. Drunk white people everywhere in mini skirts. This is Cambodia? While I understand the country / local community was obviously reaping the financial benefits from all of the Western tourism, it was hard to believe that a nine-hundred year old famous temple was somehow ten minutes away from… this. I observed from afar and found the quietest bar I could, had a beer, did some writing and thought, "I'm too old for this shit."
Cheers kids!
Day 1
I woke up the next day which would be my only complete free day without temple seeing, and decided to scope out the area. There were markets everywhere (for both eating and shopping) and I had a blast wandering through them. But these prices were not the typical Southeast Asian prices. I had just come from Vietnam which is hands-down the cheapest country I've ever been to, and I found everything in Siem Reap to be at least three times the price (average meal was about $5 for something incredibly simple). I did get around to trying amok, a freshwater fish (the most commonly eaten protein in the country) in a curry-like sauce served in a banana leaf. It was tasty, but nothing to write home about.
The biggest lesson here is: BARGAIN! It's a Southeast Asian market so that should be a given, but when I finally mustered up the courage to truly negotiate prices, I did a little too well. For $20, I got three new dresses, a shawl, a pair of earrings and sunglasses! Oops.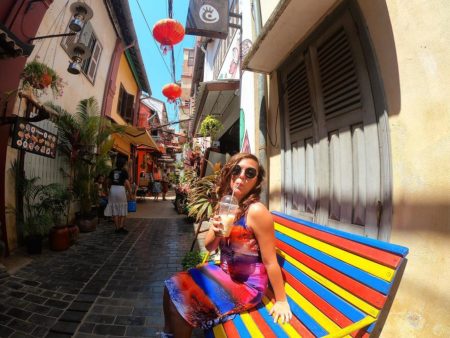 Who knew Cambodia was so colorful?
Aside from walking around the markets, I can't give you too much of an itinerary as to how to stay busy here as that seemed to be it. Siem Reap is truly about the temples. I happened to be there during an incredibly hot time (100 degrees fahrenheit / 38 degrees Celsius), so I was perfectly content going back to my hostel around 4PM to write and take advantage of their unlimited free Netflix (days like this are necessary, and you should never beat yourself up for having them). I did go back out later that night just to grab a bite, but I repeat, it is just markets. And I needed to get to bed early because I was doing the sunrise tour of Angkor Wat!
Day 2
With a 3:30am wakeup call, I thought that would be the end of me, but alas, I dragged myself out of bed and made sure to get as pretty as I wanted to be for my Angkor Wat tour/photos.
I paid $6 to be brought to 7 different temples (yep, six dollars!) in a tuk-tuk which I'd be sharing with three other lovely folks. At 4:30am, the driver arrived to our hostel and off we went. The first stop was the ticket office where you need to decide if you want a one-day, three-day,  or seven-day pass for temple hopping. I obviously chose one-day as it was my last day in the country.
A one day costs $37
A three day costs $62
A seven day costs $72
The benefits of a three or seven day pass is you don't have to use them three / seven consecutive days in a row. The three day pass is valid for ten days, and the seven day is valid for one month. Obviously, the longer you are here, the bigger the benefit of this pass, but I couldn't imagine one month solely in Siem Reap.
About ten minutes later, we arrived to Angkor Wat, and it's certainly creepy arriving when it's pitch black (it was now about 5:15am, sunrise was due for sometime between 6 and 6:30). I headed into the temple, not being able to see a thing (bring a flashlight, or use your cell phone). It was an eery but pretty cool feeling to know I was going to see a UNESCO World Heritage site get literally lit up by the morning sky.
But as the sun started to rise, I realize the sunrise tour is the most common. Angkor Wat is MASSIVE, but everyone parked themselves in perfect photo-op position to snatch a shot of the infamous three tiers you think of when you think "Angkor Wat." And who could blame them? I was trying to get in as well but with little caffeine in my system, I didn't have the patience. The entrance to actually walk through is closed until 6am, so people started to pile up. I thought, "fuck this" and walked around to the other side.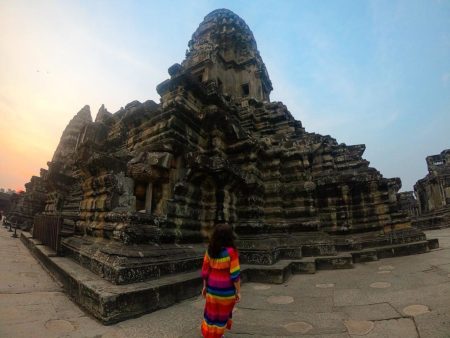 I was happy I decided to do that, because that's the direction the sun was rising from, and few people had made their way over there yet. There is no doubt, Angkor Wat is absolutely stunning and totally unique from other temples in Southeast Asia. It was refreshing to see a different type of architecture after weeks of seeing what felt like repetitive pagodas / temples in Cambodia's neighbors. What I do regret about seeing Angkor Wat is not hiring a personal tour guide. I felt grateful to see the beauty with my own eyes, but I truly had no idea what I was looking at. There is so much detail everywhere you turn that's filled with history, that I ended up feeling clueless which led to a quick defeat. I should also admit that I am NOT a morning person, so my poor attitude could have had something to do with my lack of sleep.
Which brings me to my next point… at Angkor Wat, there are lines of markets / stalls (be prepared, they are everywhere in Siem Reap) so I headed that way to grab a coffee. The Cambodians love to add sugar to their coffee, and a lot of it. I was unprepared for this and almost threw up from the overly sweet taste at 7am. Oops. Just a little tip; if you don't like sugar, let them know!
From Angkor Wat, we headed to Bayon Temple, the famous temple where faces are carved in the stone. I LOVED Bayon. In fact, it may be my favorite temple in the entire world (that I've seen!). It made the entire day worth it for this time alone!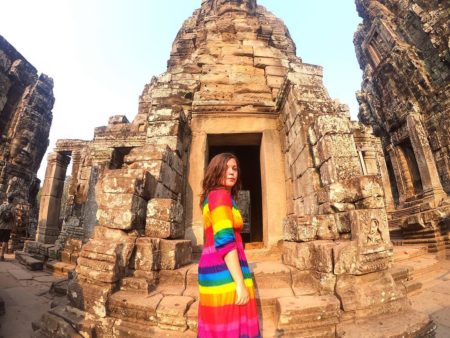 We headed to a few more as well, but the day started to feel repetitive. We were being dropped off at a temple, told we had anywhere from 30 minutes to an hour to explore, then put back in the tuk tuk to go to some more. As a group, we collectively agreed to skip out on two of the seven temples included in our $6-day ride. The blistering heat could have had something to do with this too.
Please note, if you are going to temples in Cambodia, your shoulders and knees MUST be covered; men and women! I saw several people get turned away for not having proper attire (if that's the case, don't worry, because like I said there are markets / shops everywhere).
That night I went back to pub street to get some rolled ice cream, drink some wine and call it an early night before heading off to Hong Kong the next day.
Two days in Siem Reap was perfectly fine, but it definitely did not give me even the slightest clue of Cambodian life. If I could have changed anything, it wouldn't be to extend my time in Siem Reap, but to see other parts of the country so I didn't feel like I was strictly ticking something off of my list. And, like I said, I would have gotten a guide for Angkor Wat so I knew what I was seeing! Siem Reap definitely tries to rip you off in anyway imaginable (it's priced more like a small town in America than Southeast Asia, if that gives you an idea) so just be prepared and don't be afraid to haggle with the street vendors. It's part of the culture there and it's expected (they always set a higher price hoping you won't catch on). Unfortunately for me, though, it just got exhausting.