Anyone who even semi-frequents my page knows one of my favorite travel hacks is spending a day or two in a city / country to see how many activities I can cram in (especially on a layover!). While my flight to Kuala Lumpur was not a layover, when I arrived to the Philippines, they had required "proof of exit," so I quickly jumped on SkyScanner to find the cheapest flight out of Manila and… Kuala Lumpur it was!
I arrived in KL very late at night (or early in the morning, I should say). My flight had been delayed so I didn't get through customs until about 2AM. I personally am uncomfortable taking public transportation at that hour when I am somewhere unfamiliar, and I would rather pay for a taxi and confirm that I get right to the door of where I'm staying.
Well, that leads me to the first travel hack I learned in Malaysia: Download the app Grab. It's like Uber, but for southeast Asia. When I landed in Kuala Lumpur, I did NOT have Grab, and opted to just take an airport taxi. This was maybe my biggest financial mistake on my entire trip in Southeast Asia. The airport taxi cost me 250 Ringitt, or 61 USD; afterward, I looked it up on Grab and it should have only been 75 ringitt, but airport taxis charge more to begin with, plus there was a surcharge because of the time. I only had 300 ringitt on me for my entirety of being in Malaysia, and by the time I checked into my hostel (where I still owed them some money), I was already out of cash!! DO NOT TAKE AIRPORT TAXIS IN MALAYSIA!
Ok, with all of that being said…
I woke up early the next morning to begin exploring!
Since my hostel was only a ten minute walk to Chinatown, I thought that would be a nice place to start.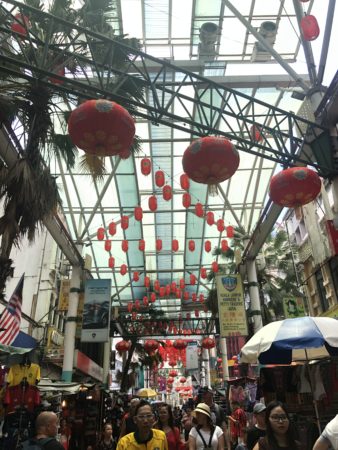 I grabbed a coffee, stopped at an ATM (ugh), and headed over there. My first impressions of Kuala Lumpur is there's tons of traffic, it seemed incredibly safe (I was walking around alone and had no issues other than pushy street vendors, but that's the norm), and there was everything from Starbucks to street carts to Indian-influenced restaurants everywhere!
Alcohol is often prohibited, or at the very least limited, in Muslim countries, so note that there will be tons of restaurants, but most of them being alcohol-free. And when you do happen to stumble upon a spot serving beer, expect to pay for it (I ended up getting one beer my entire time there, and I paid around 4 USD).
In Chinatown, I stopped by a little restaurant to get some curry mee (a spicy curry soup with chicken, fried tofu, egg noodles, bean sprouts, herbs, lime, turmeric, amongst many other things. I paid about 2 USD for a giant bowl and after having little to no heat in my previous Filipino food, this dish HIT THE SPOT! It was so stupidly good that it had me convinced I would fall in love with all of the cuisine in Kuala Lumpur (and spoiler alert: I did!).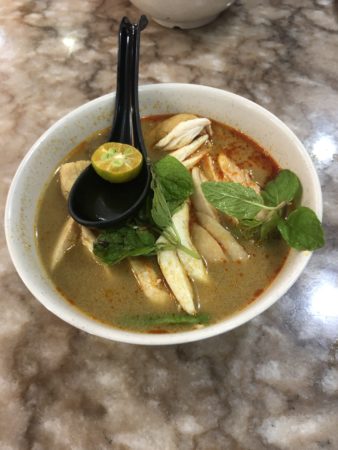 Afterward, I continued to walk around Chinatown (and bought a pair of sunglasses for $1) before heading to The Petronas Towers (about a 40-minute walk from Chinatown). I should warn you; I'm not sure what the weather is like year-round in Malaysia, but I was there in late February and it was HOT (100 degrees Fahrenheit), and because it's Muslim I chose to wear pants (definitely not necessary, for the record), so a 40-minute walk was an ambitious move.
Also, the walk is not that scenic, so feel free to take a bus or a Grab!
I arrived to the Petronas Twin Towers, which luckily, were in the center of an air-conditioned mall. I got an overpriced chocolate-latte from an Italian cafe (my thirst / dehydration was through the roof due to the heat and copious amounts of water were hardly cutting it!), and went to a little park to get a perfect view of the towers. I was there around 2PM on a weekday and honestly, while I was expecting this particular park to be packed, it wasn't too bad! I definitely didn't have it completely to myself, but I ended up going back around 6PM and you couldn't even stand there without someone bumping into you. I usually wake up extra early to get the major sights with minimal people, but I'd say going at this hour is a safe bet if you don't feel like waking up at the crack of dawn.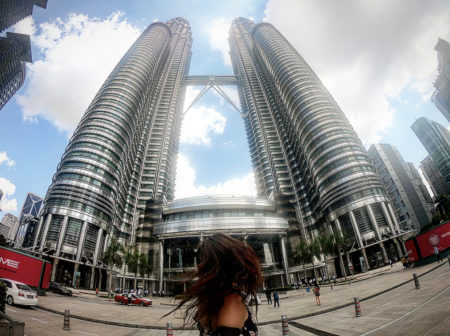 After the Petronas Towers and stealing air-conditioning from the mall nearby, I decided it was time to eat more (it's always time to eat, let's be honest). I had heard of a place called Nasi Kendar Pelita, a 24-hour restaurant hall that had stalls full of different cuisines (primarily Indian and Malaysian). There weren't any menus at this one particular stall, so I said "whatever you recommend," and the employee gave me a spicy chicken thigh with rice and cabbage.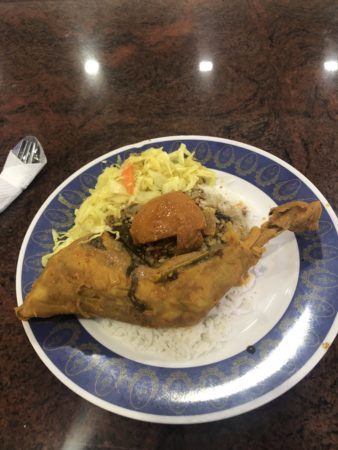 The best part about this place, is it's a 5-minute walk from the Twin Towers and it's open 24 hours!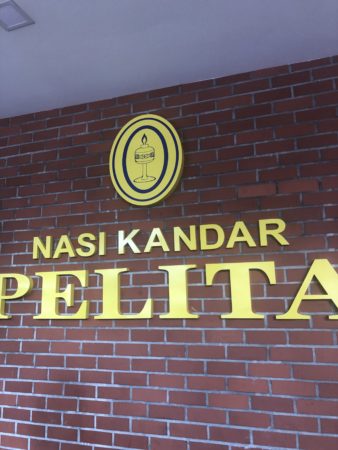 After eating my tasty Indian food, I decided to walk around the area and people watch (not too much going on over there other than a lot of traffic) before heading back to my hostel to get a good night sleep.
The next morning (I still had a good 12 hours left in KL!), I woke up bright and early to go to the Batu Caves. I left my hostel around 7:30am, took a grab for about 4 USD and arrived by 8am. I thought this would be a perfect hour to get there without any crowds and…wow, was I wrong. The place was already starting to fill up (I heard you should get there around 6-6:30 if you want to avoid crowds completely!). I worked with what I had, climbed the colorful stairs (it really is worth seeing; who wouldn't want to climb a giant rainbow?!), said hello to the monkeys as I walked up (yes, there are plenty of monkeys here), and eventually walked through the caves.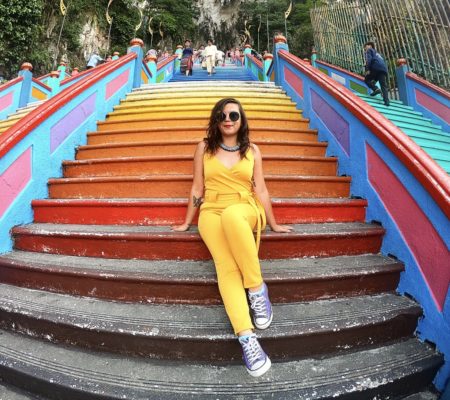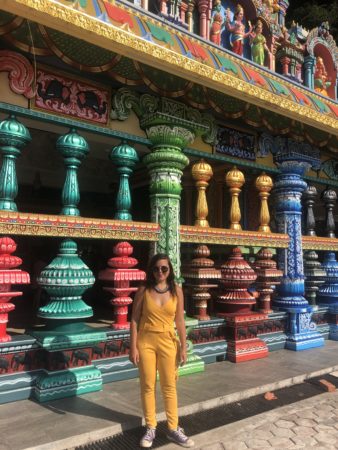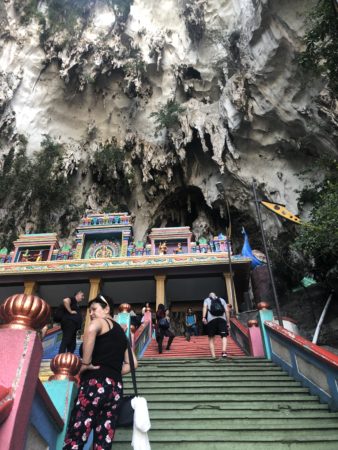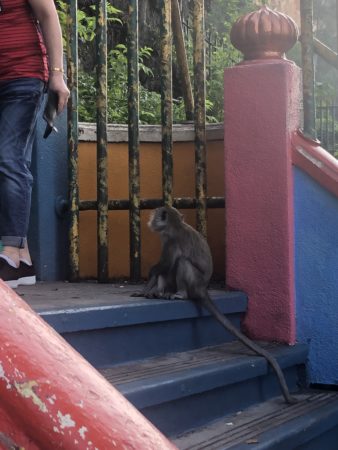 There are some little spots to grab a coffee or some food right in front of the temples, and I ended up getting a coffee and some Indian grub for breakfast (it didn't break the bank, and it was delicious!) before heading back into town.
I decided to do what I do best, once again, and eat my way through Kuala Lumpur for my last few hours there.
I started with Chili pan mee; a super spicy noodle dish filled with ground park, potato leafs, and fried anchovies. This was my absolute favorite dish I had in Malaysia, and maybe all of Southeast Asia in general! It will definitely test your ability to handle spice, which I was all about.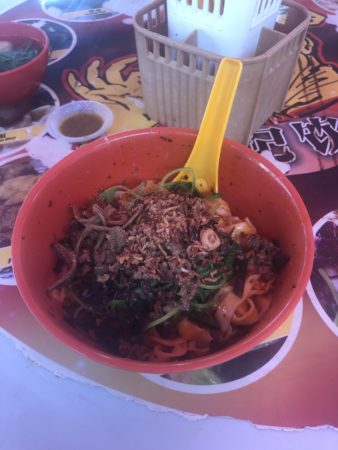 I then walked around some markets, many of them filled with durian (not just fresh durian, but durian candy, gum, even durian coffee!).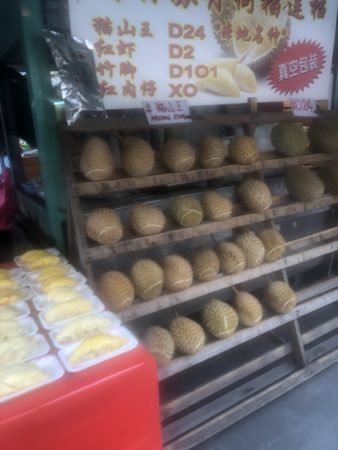 After the beer, I grabbed some roast duck in a sweet sauce, another Malaysian staple, but really…I should've just gotten more spicy noodles (my mouth is watering thinking of them now!). I got a Tiger beer to pair with it, and the beer was twice as much as the duck!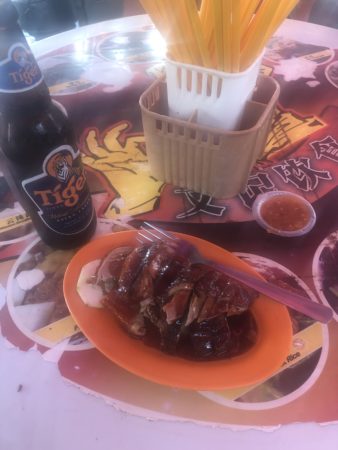 I went back to my room and called it a night before venturing off to Vietnam the following morning.
There was plenty more I wanted to / could've seen in Kuala Lumpur, but I definitely feel I got a good sense of the city's vibe, and I promise if this place is worth anything, it's trying some of their local dishes!