I wasn't sure if I wanted to go to both Coron and El Nido, as they are both in Palawan and I have heard that they are both fairly similar. I ended up seeing both and am glad I did, because despite the similarities, they have some vast differences too.
When you go to the Philippines, you may not want to see both and may have trouble narrowing it down to one (it's not exactly cheap to get from point A to point B). Hopefully this guide can help you narrow it down to which one suits your needs more!
Coron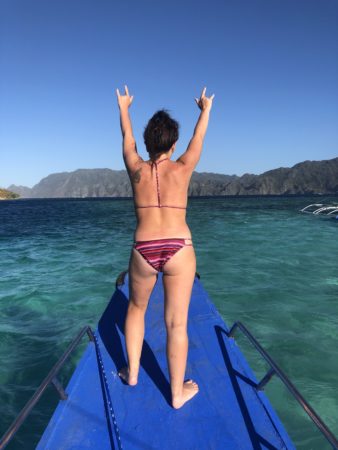 I will start by saying, Coron was my personal favorite place out of everywhere I saw in the Philippines (don't let that deter you yet; everyone is different!).
From Manila, I snatched a $80 flight to Busuanga (smallest airport I've ever been to!), and after about 40 minutes, I landed in Coron.
For 150 pesos (3 USD), there was public transport from the airport to the center of town (and they drop you off directly in front of where it is you're staying; there is no need to prearrange travel!).
My hostel was $17/night which included free breakfast (this is outrageously pricey for a hostel, especially in the Philippines, but it seems as though Coron did not have many cheaper options). The hostel was centrally located and the wifi was half-decent (sparse for the most part, as is all of the Philippines).
Now, let's talk the activities: Coron does not really have any picturesque beaches. It's more known for snorkeling and diving (especially diving; there are tons of Japanese WWII shipwrecks here). Three dives at Reggae Dive Center (a place that was recommended to me by several people) only cost 70 USD (crazy cheap!). I did indeed dive some shipwrecks despite not having my advanced certification (most shipwrecks they brought us to only went down about 20 meters so I was just on the cusp). This alone made Coron worth it. It was an awesome experience!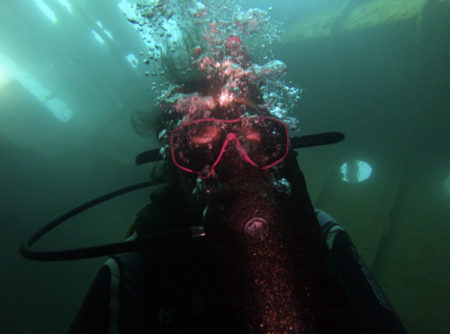 I also signed up for a tour called "The Ultimate Tour." It cost about 24 USD, and made a stop at 7 places and included lunch. The most memorable place was Kayangan Lake. The water is insane and it makes the entire tour worth the long day (you truthfully just stop at tons of places to go swimming for 20 minutes to an hour, and then jump back on the boat– nothing to complain about but it does get repetitive). Be aware, in 2017 two Czech tourists died in this lake from drowning, so now it is a requirement to wear a bright orange lifejacket– so much for a picture perfect lake!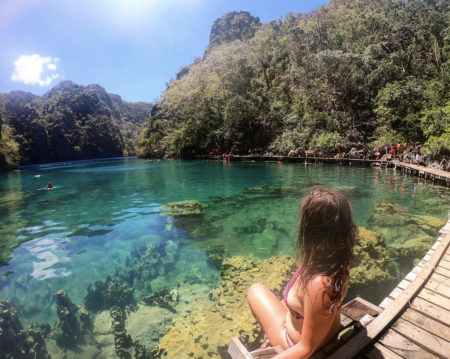 I rented a motorbike for one of my days there for 300 pesos (6 USD) for five hours. I went in a direction that led me to pretty much nothing, so though it was an experience and didn't come close to breaking the bank, I'm not sure I'd recommend renting a bike here as I'm not sure how much there is to discover (still fun to ride the bike, though!). I did end up crashing a girls' birthday party and getting a tasty bowl of chicken adobo, though! (I also had to stop at some point to let a herd of cows cross the street.)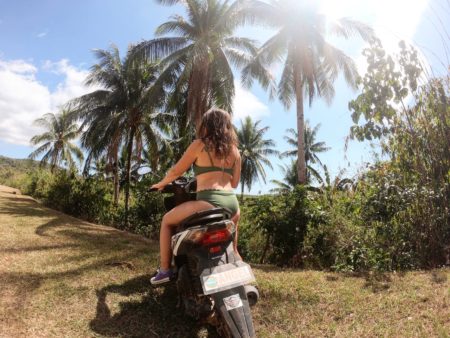 Be careful when driving these things! I got side-swiped by a jeepney who knocked my mirror off.
The food in Coron was the biggest thing lacking. Everything is overpriced, and not exactly authentic Filipino food (it is definitely catering to the mass amount of tourists that flood into this city). There are tons of vegetarian restaurants, and a lot of Western places to eat at (I caved and got a glass of white wine at a Western restaurant, and it was more expensive than the majority of my meals in the Philippines!).
Overall, if you can find a way to get to Coron without breaking the bank, I would highly recommend it if you like adventure and some of the clearest waters you've ever seen.
El Nido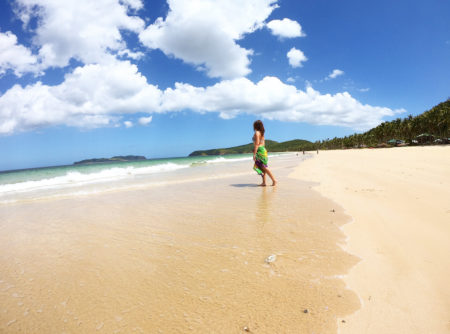 The ferry from Coron to El Nido was 1700 pesos, or about 34 USD. That's not crazy expensive, but being in El Nido certainly is.
While Coron is known mainly for its diving and snorkeling, El Nido is known for those picturesque perfect beaches that you envision when you think of the Philippines. White sands, crystal blue waters; just pure perfection.
I stayed in a hostel about a fifteen-minute walk from downtown El Nido for $15/night which included three hours of free rum and cokes every night (highly unnecessary, but highly appreciated). Once again, this is astronomical in hostel prices, but El Nido and Coron aren't exactly the most budget-friendly places to be in the Philippines.
Activities here are similar to those in Coron (you can dive, but it's more for coral than for shipwrecks, and the prices were a little bit higher here), and they have tour packages that will run you about the same as they did in Coron (25 USD).
I opted to skip the tours and do my own thing. I wanted to check out the infamous beaches. My first day, I headed to Las Cabanas. I took a tricycle and it cost me 200 pesos roundtrip (4 USD). Not bad! I sat on the beach and ordered a pina colada and some food, and it cost about 12 USD (a little pricey for a subpar meal), but the scenery was incredible.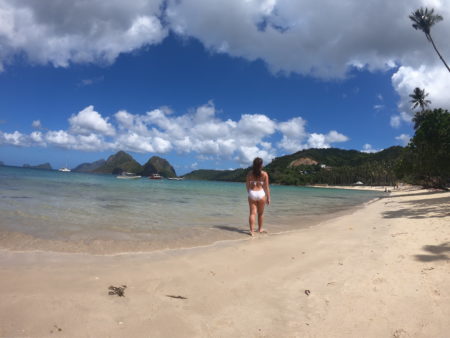 On another day in El Nido, I rented a tricycle to bring me to Nacpan Beach, which is allegedly the nicest beach there. It's a bit of a drive (45 minutes away), and the roundtrip was 1200 pesos. It would have been 1200 pesos if I had been with someone else, also, so in this case, traveling solo just cost me more money. (1200 pesos is 24 USD). I wanted to see it so I decided to go anyway. I found out later there is a bus that would've taken me roundtrip for 600 pesos, so, learn from my overpriced mistake.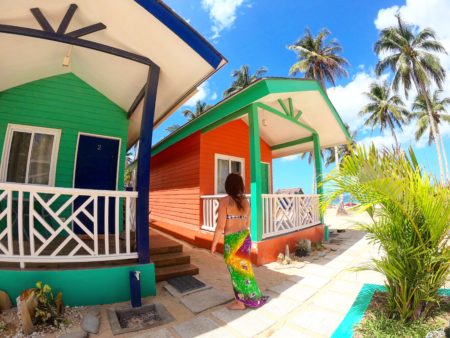 Nacpan Beach definitely wins for the most breathtaking beach I've ever seen in my entire life. However, once you're down there, just know everything is going to be triple in price because there are only so many restaurants to choose from. I inevitably got hungry at some point and ordered chicken and rice which was almost 10 USD (crazy for the Philippines).
I also ended up singing karaoke down there with a family and it was one of my most fun memories there.
The food in downtown El Nido is very clearly catered to tourists; there are bars with swings inside, tons of vegan / vegetarian spots, and a huge lack of authenticity. I found it to be even pricier than Coron. If you are okay with eating Western food, I think you'll be alright and find some decent places (I found a pretty good Italian place and a Greek restaurant where I finally got my hands on a salad– but I paid).
And, just like Coron, the wifi is pretty sparse (I noticed it worked best in the middle of the night; around 2am, assuming because no one else was using it at that time).
The biggest problem with El Nido, in my opinion, is getting to and from there. You can either take a ferry in from Coron (if you are coming from that direction), or, you would have to fly into Puerto Princesa (you CAN fly into El Nido but flights are extremely sparse and not cheap whatsoever), and from Puerto Princesa, it is a five-hour bus journey to El Nido. So you're easily eating up an entire day just on travel. I left El Nido this way (El Nido–> Puerto Princesa) and while it only costs 12 USD, the flight from Puerto Princesa to Manila was almost 200 USD!
So, overall, I'd say El Nido is more for you if you're more into relaxing and vegging out on the beach, and not fully diving into the Filipino culture but more-so just looking for a place to drink fruity drinks and chill (nothing wrong with that, by the way!).
In conclusion…
Food: Coron
Beaches: El Nido
Activities: Coron
Getting around: tie!

Cost: Coron
My vote definitely goes to Coron, but to each their own! They obviously have vast differences and like I said, if you're more into relaxing and just chilling out, definitely go for El Nido. I just prefer a little more adventure!