I was headed to the Philippines, so naturally, one of my top bucketlist items to tackle was swimming with whale sharks.
I had seen all of the glorious photos over instagram of these beautiful creatures who had been described as "gentle giants," and I very much wanted to be a part of their world.
I purposely booked my flight into Cebu instead of Manila, strictly because Oslob is on the island of Cebu. Shortly afterward, I booked a tour through Viator to be picked up in Cebu City to get transportation to and from the whale shark expedition. The tours do not come cheaply; I saw some upward of $200. I managed to snag one around $110, but let me warn you of this: I had THREE tour companies cancel on me after booking, because I was "one person," and they required a minimum of two.
When I finally booked a group that stayed with me, they informed me they were primarily based out of Bohol (a separate island), so I would need to pay about $50 more to secure my spot. I ended up agreeing because I was so desperate to get someone to take me at that point. (So, now we are $160 deep).
The morning of, I was supposed to be picked up at 4am. The woman who was picking me up got lost and did not arrive until 5am. To put it frankly, the entire experience was going sour before even arriving, but I told myself it would be worth it. I had read hundreds of articles online saying it was inhumane, but I thought, how could it be inhumane if they are in the ocean? I was excited to finally see these "gentle giants" with my own eyes.
The ride from Cebu City to Oslob is somewhere between 3 and 4 hours, and I slept pretty much the entire way. We arrived around 8:30am, and it happened to be the last day of Chinese New Year, aka incredibly packed.
When I went up to the counter to sign in, they told me we were too late and they had overbooked for the day. You can imagine the level in which my blood was boiling, as my driver had picked me up late so I assumed it was because of this.
I later realized, it was not just because my driver was late; this is an incredibly unorganized tourist activity and they are willing to sucker as many pennies as they can out of every person that signs up to do it. They eventually agreed to let me go but I was the LAST person of the day.
Which leads to another thing; I had to wait another three hours as they only let "so many boats go out at once to protect the whale sharks." They give you some instructions, like how it is "illegal to touch the whale sharks and you can face up to 6 months in prison," and that you cannot wear sunscreen because it messes with the ecosystem (which is indeed true).
But do you know what really messes with the ecosystem? Overfeeding animals to keep them in a captive situation for touristic purposes. The tour operators are not even giving the whales what they would normally eat; they are feeding them guts and garbage to keep them coming back. If someone threw me french fries all day, I would certainly return on the daily, but you can imagine what that would do to my health in the long run.
I eventually got in the water, and the people that are so desperate to get their damn photo (I was originally one of them, I have no qualms in denying that) act like such lunatics (I mean, I am a fairly well swimmer and I got kicked in the face several times). The water is incredibly murky between the plankton and the kicking that it quickly becomes a negative experience, and a memorable one for all of the wrong reasons.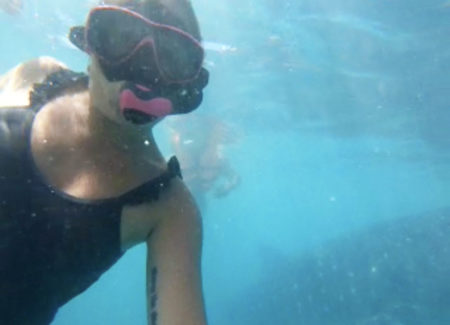 I opted to get out of the water early and appreciate their beauty from the boat (which is much nicer).
My advice, if you're asking for it, is do NOT participate in this activity. I had read the awful reviews online from other travelers and I did not want to believe it was actually a cruel thing. It very much is. It is another version of Seaworld in which animals are coming to a part of the ocean they would normally not migrate to simply because they know there's junk food waiting for them at the same hours every morning. And if your experience is anything remotely close to mine, it will be packed and hardly an intimate experience.
I wish I had listened and not believed what I wanted to.