"Your body is not a temple, it's an amusement park. Enjoy the ride." -Anthony Bourdain
One of my biggest influences in travel, of course, is the late and great Anthony Bourdain. Some of my most profound travel moments have been brought to me by none other than …food, so Bourdain quickly became a big influencer on all of my trips.
When I arrived in the Philippines, I had made a vow to be as open-minded toward the food as possible. Everyone warned me, "The food is disgusting." I watched all of the Filipino Parts Unknown episodes, and while some of the meals looked … interesting, it made me excited to explore a cuisine I knew absolutely nothing about. Below is a tremendous list of everything I ate while visiting the Philippines (and which cities I tried it in).
1. Lechon
Ahh, lechon. Crispy pig. Something I would never typically order. I am not a vegetarian but the thought of eating pork breaks my heart. Not in the Philippines. I go everywhere as open-minded as possible (I am willing to eat almost anything while on the road).
Anthony Bourdain claimed to have had "the best pig ever" at Zubuchon in Cebu City. After a very frustrating travel day (thank you, AirAsia, for misplacing my bag), I chinned up and headed out to grab some grub. I realized I was only a 5-minute walk from the infamous restaurant. The day was looking up!
I ordered lechon and was given the option to get it spicy, to which of course, I said yes.
As I said, I am not typically a pork eater, but damn, this dish could turn me into one. The skin crackles and the rest just melts. It's insane. It came with a side of mung bean soup (also, insanity) which, though I did not ask, I am pretty sure had little pieces of chicharrones in it.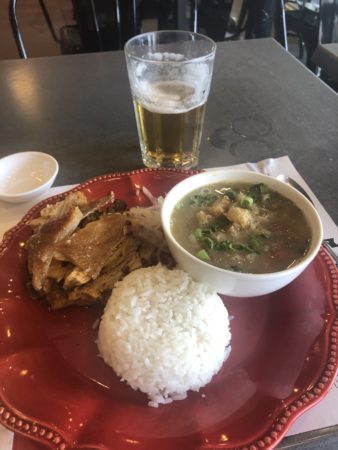 Lechon, rice, mung bean soup, San Miguel: $5
Cebu City
2. Adobo
Adobo was one of the tastiest things I consumed in the Philippines, but alas, it is served everywhere and my body could only take so much of it (as with anything…except for cheese fries. I could eat them all day everyday forever).
It is either chicken, pork, or seafood that is marinated in vinegar, garlic, soy sauce, peppercorn and eventually browned on the stove top.
My first version of adobo was Pork Adobo in Cebu City; it was fatty and tender and delicious. Most filipino dishes come with a side of vinegar, chili, and calamansi (similar to lime), served, as with most dishes here, a heaping portion of rice. It did not disappoint.
My second version was in Coron at a tiny little restaurant way out of the popular area (I rode on a motorbike and ended up stopping here). It was served more like a stew, with potatoes, onions, bay leaf, and in a broth that was similar to a soy-based chicken noodle soup. I much preferred this version.
Pork Adobo in Cebu City: $4
Chicken Adobo in Coron: $2
3. Crispy Pata
Eek, here's where past vegetarian Kaitlyn starts to squirm, but current open-minded-travel-accept-all-other-cultures Kaitlyn thrives. I had heard of Crispy Pata and wasn't sure if it was something I'd allow myself to try, but truthfully, what is the difference between eating the belly or the knuckle of an animal? Yes, that's right, crispy pata is crispy pork knuckle.
My last night in Cebu City, I was starving after a few San Miguels (San Miguel may be the best local beer I've ever had, for the record), and I stumbled upon a 24-hour stand / market with a limited menu (those are the best places to eat, also for the record). I thought, "Well, here's my chance!"
I ordered crispy pata and within minutes, a plate of hot fresh pork knuckles was in front of me.
I first tried it on its own before doing what I did to almost every meal here, and dousing it in vinegar, chili and calamansi. Agh, I hate to admit it but I was not a fan. It may have been the way it was prepared (it was extra greasy, but what else would you expect from a deep-fried pig hand), and I still managed to get through about half of the dish. Not my favorite, but I still recommend you try anything and everything when you're on someone else's land.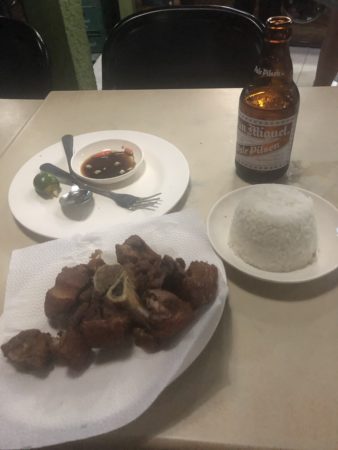 Crispy Pata in Cebu City: $1.50

4. Halo Halo
The mysterious Halo-halo which literally translates to "mix-mix" was one of the highest items on my must-try lists while in the Philippines. But truthfully, I was a little terrified. You see, at least with crispy pata and other bizarre menu items, I at least slightly understand what the ingredients are. Halo-halo? Not a chance. I watched several videos, read several articles, and yet, I still couldn't even attempt to grasp what the hell was in this concoction.
My time in the Philippines was running out and I hadn't tried it yet. Fate had it that while I was walking to downtown El Nido, I passed a tiny stand with a group of school girls in line for their halo-halo. I thought, these girls know what's up, and I followed suit.
"One halo-halo," I muttered.
"Halo-halo? Yes! Yes! Ok, great! You ever try halo-halo?" Did I mention Filipino people are beyond friendly?
I watched this man begin to concoct my mystery dessert and he attempted to explain to me what he was putting in but he might as well have been speaking Japanese.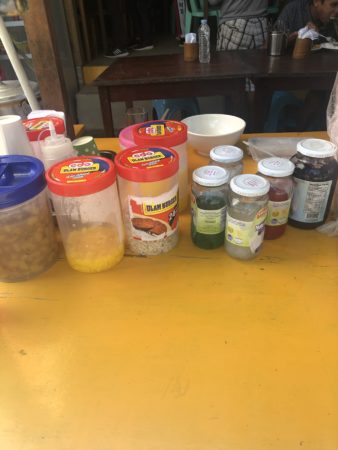 He added a slice of "caramel" (flan) which he grabbed from the fridge, put a little bit of ube on top, and handed me my halo-halo. I was a little hesitant to eat it in front of him because I was afraid I'd hate it, but he looked at me like he was excited to watch me have my first halo-halo experience. So I dug in.
And guess what?
Halo-halo is DELICIOUS!! I mean, who thought of this? It tastes like the leftover milk at the bottom of your fruity cereal bowl. It's insanity. And that caramel on top? I was digging around to find more pieces of it. All of it was insanity. It is insanity. I can't say anything else about it. It's insanity. Try it.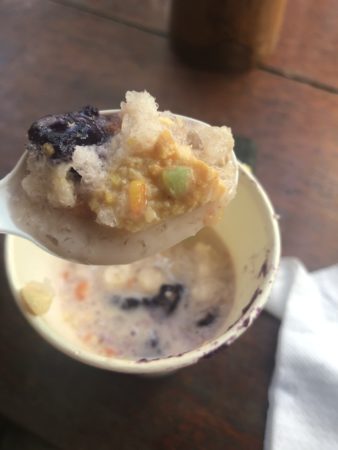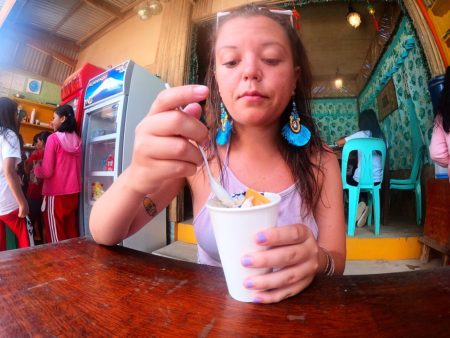 Halo-halo in El Nido: $0.50
5. Kare-kare
Kare-kare was another dish that deeply confused me (shrimp paste? Peanut butter? Toasted rice?), but here I was in the Philippines, not leaving until I had consumed it.
I had my first, and only, kare-kare experience at a little restaurant in Coron. Because I was in Coron, the server recommended I try it with seafood.
About twenty minutes later, out comes a giant pot of kare-kare.
"Is this meant for two people?" I asked.
"Yes," he replied.
(Thanks for the heads up, buddy).
I dug in and…no. Just, no. I was not a fan, to the point it was my least favorite thing I consumed here. However, I must admit I believe I ordered kare-kare from the wrong restaurant. I say that with confidence because the rice was so overcooked that it was gummy, and the kare-kare honestly had zero flavor. So it wasn't something that I didn't like about what I expected to taste, it's that I tasted absolutely nothing.
And it was a ripoff.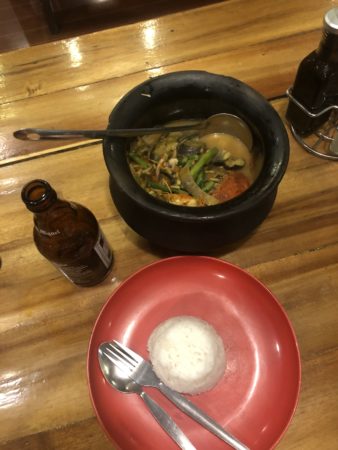 Kare-kare (for two) in Coron: $6
6. Tapsilog
While in the Philippines, you will see many items that end in the word "silog," particularly for breakfast. Silog basically just means it comes with garlic rice and an egg (or eggs). I tried Tapsilog from a food market I found in Cebu City. Tapsilog is a combination of two dishes: Beef tapa (cured beef) and Silog (read three sentences ago).
Beef tapa is beef that's been cured in sugar and vinegar, and then cooked. I did not expect it to have a sweet aspect, because I tried it before knowing it was cured in sugar, so you can imagine the surprise when seeing what looks like just beef, and then tasting total sweetness. I didn't hate it to be honest, even though the place I ordered from completely butchered the cooking of my egg!
Tapsilog in Cebu City: $1.25
7. Sisig
You'd be a damn fool to go to the Philippines and not try Sisig at least once. It is the face of a pig cooked on a sizzling platter, mixed with vegetables and chilis, and sometimes topped with an egg (unfortunately, I never got the egg version but really wish I had).
Sisig is greasy heavenly goodness. The Italian in me desperately wanted a big piece of bread to sop up all of the leftover grease / remaining chilis I had on my plate (am I an animal? Yes). There's not much else for me to say about this dish other than, like my hero Anthony Bourdain said, "I can think of fewer dishes that would pair more perfectly with an ice cold beer." It's damn true. Try it and get yourself a San Miguel!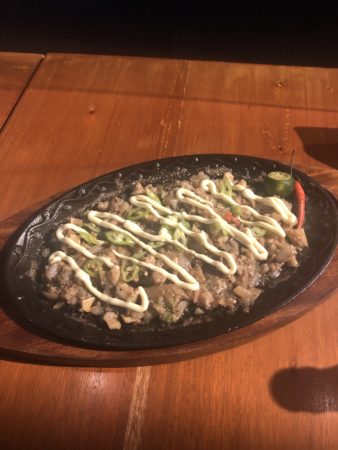 Sisig and a San Migel in Manila: $5
8. Lumpia
Of course, you HAVE to try Lumpia! It is probably your safest bet if you're not an adventurous eater, and most restaurants offered it vegetarian. It is the Filipino egg roll, and traditionally it's filled with cabbage, carrots and chorizo served with a sweet chili sauce. I opted for the chorizo version from Zubuchon (same restaurant as the lechon), and I did not realize it came with 8 pieces. I suffered through four of them before giving up. (8 would be enough for 4 people as an appetizer, easily).
8 pieces of Lumpia in Cebu City: $1.50
9. Jollibee
"I sneer at fast food, revile it at every opportunity but I am also a hypocrite because to me, Filipino chain Jollibee is the whackiest, jolliest place on earth." -Anthony Bourdain
I had to try it! I ordered a yumburger with cheese and a chickenjoy. It came with a cute little packaged side of rice and I swear, just being inside that place could put a smile on anyone's face. What was so alluring about this fast food chain? Tony was right (wasn't he always?).
I devoured both and had a photoshoot with their signature bee-mascot outside ("I hate mascots. You know they fart in those suits."). The food is served with a mystery brown sauce (think the saltiest gravy you've ever had) and it honestly makes everything better.
The yumburger has a sort of liquid cheese on it and… I would take it over McDonald's any day.
Jollibee, you low-key stole my heart.
"I hate myself." -Bourdain, after finishing his meal.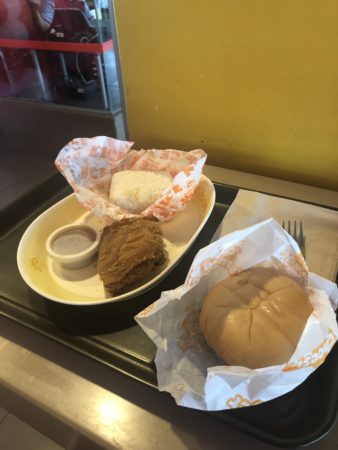 Jollibee (one yumburger, one chickenjoy, and one side of rice): $2
10. Sizzling Squid
I have a fun little game I play when I travel called "restaurant roulette." I pick a random restaurant, I don't look at the menu, and I ask what the server / employee / bartender / food stall worker / WHATEVER recommends. This has worked both in my favor and not, but each and every time it's a memorable "throw-all-caution-to-the-wind" moment that I always and forever appreciate.
So, my first night in Cebu City, I asked my server, "What do you recommend? What's your favorite thing on the menu?" and with no hesitation, she said "sizzling squid!"
Bring it on, sister.
Shortly thereafter, a plate of literal sizzling squid appeared in front of me. It was stuffed with sisig and topped with fresh tomatoes (little did I know, that would somehow end up being the freshest meal I had there).
It honestly was one of my favorite things I ate throughout the entire trip, and I can promise you I would have never ordered it (squid is delicious but easy to overcook, so I am hesitant).
Throw caution to the wind, play restaurant roulette!
Sizzling squid in Cebu City: $3
Overall, the Philippines cuisine impressed me, possibly because I had heard such horrid things about it beforehand so my expectations were low. I will admit I got pretty sick by the end of it (my body can only handle so much pork). On one of my last days there, I found a Mediterranean restaurant and was thrilled to see somewhere offered a salad! It is definitely a re-use of the same ingredients over and over. Please, remember, you are in a poverty-stricken nation, so expect to see every part of the animal utilized (I mean…face, knuckle, brain, etc.) and try to not just go to Western restaurants out of comfort (I did a few times, most were overpriced shit). Eat at the mysterious food stall, ask a local what they recommend, and don't you dare miss out on Jollibee.