When venturing on my round-the-world trip, I didn't even consider getting my PADI open water certification in Australia; I automatically assumed it would be highly overpriced.
I was browsing snorkel tour options when something came up that said, "Get Scuba Certified in The Great Barrier Reef" for $450. From my prior research, getting certified in a "cheaper" country, such as Indonesia or The Philippines, would still run me somewhere close to $350. I began to do some research.
Australia has laws in place strictly for scuba divers; the guidelines are much tighter. There are designated areas each company is allowed to have (therefore, you won't risk losing your instructor underwater; something that is very possible), and you don't risk getting cut by some random boat motor (something very common).
Take my money.
The company I used was Down Under Dive, and before I even dive into this article (ba doom ch), I will outright say I couldn't recommend them enough.
I was informed it would be a four-day commitment, and that you are not allowed to fly at least 24 hours after your last dive (since you will have been completing four dives in total; multiple dives add to the time of fly-waiting period). Of course, there is no way to prove when you are flying but for your ear drums' sake, wait.
Day 1
The guide picked me up from my hostel as part of the price inclusion, and I was brought to an office right in the heart of Cairns. I was led to a classroom, and I lucked out; it was only myself and one other woman in this particular class (8 had signed up, but there had been some weather issues so they couldn't make it to Cairns in time!). It was definitely a perk because we were each given very special individual attention.
On day one, we had to sit through some videos, which truthfully, though they were as corny as you could imagine, were pretty informative. We learned about pressure changes (your lung expansion changes as you go up and down and it is vital to know this information) and how important it is to equalize several times while going down on a dive. We also learned about the different types of equipment and how to assemble diving gear.
After lunch (be prepared for 9-10 hour committed days), we got in a pool to practice our skills. First and foremost, the instructor made sure we could swim. While, surprisingly, it is not essential to know how to swim in order to dive (this information shocked me), having at least the basic knowledge of swimming is an absolute necessity. We had to swim ten laps, followed by floating on our backs for ten minutes. Once we passed that, we were good to go.
We put on our diving equipment for the first time and jumped back in the water. We learned so many random little skills that it's hard to determine where to begin: from what to do when you get water in your goggles (while underwater), to what happens if you run out of air, to how essential it is to always have a buddy. Before I knew it, the day was over.
Day 2
Day 2 is pretty much a repeat of day one, only a little more advanced, and with a final exam. The final exam involved 80 questions (I only got two wrong!). The first half of the day was with videos (a lot of them about animals which I, and I imagine many others, are very curious about), followed by emergency procedures and how to escape the water quickly and safely if something is to go wrong. Everything I learned in such a short period of time is truly fascinating.
After the exam, we were back in the pool to do some more exercises. This time they were a little more intense but overall, the work level was about the same.
I remember our instructor high-fiving us, what felt like out of nowhere, and said "congratulations, you're ready for the ocean!"
He dropped me back off at my hostel and in the morning, he'd pick me up for what would be one of the coolest days of my life.
Day 3 (the fun begins)
I was eager to get today going. I woke up at least two hours before scheduled departure time (and you don't have much to get ready for when you're about to dive 12 meters into salty water), but I was antsy and ready to go. My driver pulled up at 7:45 on the dot and after chugging two coffees and a sad attempt to eat some toast with peanut butter, I jumped in the car and off we went.
He dropped myself and my diving classmate off at the Cairns pier, and told us to head to "gate 5" for the boat "evolution." We got on our boat, signed in and were each given a number (to ensure everyone is back on the boat after their scuba / dive!), and we then had to go off to get assigned some fins and snorkels (I had purchased my own mask / snorkel previously; highly recommended if you plan to dive / snorkel honestly even more than five times in your life. The ones you rent will be garbage and hinder you from seeing things the way they should be seen).
The boat ride out to The Great Barrier Reef was rough. It was a little bit of a windy day, but that gets to be times 1000 when you're on a boat. They handed out sick bags and gave specific instructions as to what to do if you felt uneasy. And let me tell you… a lot of people became uneasy. They also sold medicine for $2 on board if anyone even thought they may get sick.
The water suddenly turned a shade of turquoise blue and the boat began to park. My instructor told me to come down and start getting ready so we could be the first ones in the water, and just like that, I was jumping into the Great Barrier Reef for the first time, fully equipped with scuba gear.
We practiced some basic things that we did in class. We had to keep an eye on our gage for air, and we also had a gage for temperatures and depth. The next thing I knew, I was next to coral and species of fish that I had never seen before / couldn't even begin to recognize. Everything about it seemed completely surreal. Though, I will admit, this first dive was a bit musky; there were a lot of particles in the water (mainly sand and plankton) due to the windy weather. I was not by the least bit disappointed but I do feel I should give a fair warning that water will not be as clear if the weather is not (This has also happened to me in French Polynesia and The Bahamas).
After our first dive, we were given lunch and a moment to relive the beauty we had just experienced. In fact, when we got out of the water from our dive, we had thirty minutes to spare and were told we had "free time," so naturally, I jumped right back in to snorkel and take photos.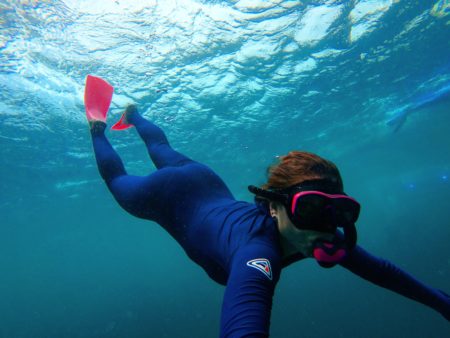 That was when I realized I had absolutely made the right decision for diving there. Snorkeling in The Great Barrier Reef is absolutely a privilege, but you see maybe 1/100th of what you see while diving.
After about two hours, we were about to go in for our second dive, this time at a new location. Right as we were about to jump in, guess what I saw? A turtle. But I wasn't allowed to have my camera for safety precautions (fair enough)
We went under the water and low and behold, we found such turtle. We swam next to him for a good two minutes (although, time is hard to tell when you're underwater; it may have been 10 seconds or twenty minutes… just kidding I know it was about 2 minutes, but my point has been made!). This dive was hands down my favorite. I saw a clam bigger than ME. I saw Nemo. I saw such an array of colors and the visibility was insane; this dive gave me chills and made me fall in love one hundred times. I'm sorry to you that I don't have pictures of it, but I am grateful for me that I was able to experience it and I hope my words can emphasize how much I think everyone who has even the slightest bit of desire to see the underwater world to go out and do it.
After the second dive, we were let back on the boat, had to do some math with our instructor (this course was no joke!), were given a free glass of wine along with some fruit, cheese, and crackers, and eventually we were brought home to do it all over again the next day.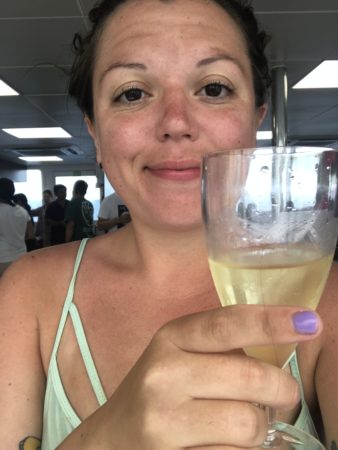 Day 4
Similar to Day 2 in the classroom, Day 4 of the dive was similar to Day 3, only a little more intensified. It was our final day!
Same deal; I was picked up; brought to gate 5, got on such boat, got my fins, watched people get sick on the boat.
The employees from Down Under Dive were incredible; "Today, by the end of the day, you're going to be a certified scuba diver!!"
We were brought to the same destinations as the previous day (This changes strictly based on the weather, but the conditions were very similar to the day before).
On our first dive, we practiced the most intense of skills that we had learned, and after that, we were pretty much cleared (he told us our fourth dive was strictly a fun one, aside from one or two skills to be proven!).
We got back on the boat after dive number 3 and I felt an array of emotions. I felt like I was just an inch away from accomplishing something I had been dreaming of forever; on top of that, I will admit, knowing I could bring my camera on this dive let on an extreme amount of pressure. I "had to get the perfect shot." I had a mere twenty minutes to do so, if even that.
We jumped in the water, did our one little test, and off we went for our final dive. I saw a white tip reef shark sleeping on the sand. I saw a few more clams. I saw dancing coral. I saw things I can't particularly explain, but I highly encourage you to go out and see them for yourself.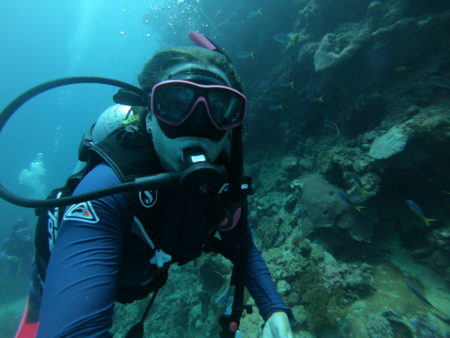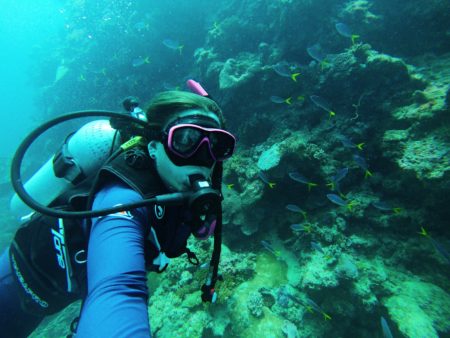 We can gage our air intake during each dive, and I went through my air WAY faster during the fourth; and I am almost certain it's because I had my camera. It makes me sad to think capturing the moment to prove to others puts that much stress on ourselves; but it must be true; even my instructor said it's a common pattern. Shame on us human beings (I am willing to admit I'm part of it).
Once you exit the water, you must await your final results. I was nervous, to be honest, but… I passed!
When all is said and done, this was probably the top experience / highlight of my life. I cried every night after class because I couldn't wrap my head around the fact that I was lucky enough to have the opportunity to get trained to scuba dive here. It is a privilege, and I am fully aware of that, and an honor. I did this mainly because I truly have an interest in oceanic life, and I want to do what I can to protect them. I have always felt lost with where to start, but it seemed like getting PADI certified couldn't hurt.