Who says you can't see a city in a day?
While you may be exhausted and your legs may be cramping from walking a total of 21 miles (no joke!), why go to a place if you don't plan to explore as much as you possibly can? (I'll sleep when I'm dead!)
I knew I wouldn't be getting a real feel for everyday life in Sydney as my time was so limited, but I was keen on at the very least, seeing the hotspots and eating some of Australia's well-known cuisine (Tim Tams, meat pies, barramundi, and a Lamington- which I couldn't find at any bakery!).
After landing late Thursday night, I woke up at 6:30am Friday, got ready, grabbed a double espresso, and hit the streets at exactly 7:30am. I was staying near Central Station, which is pretty much the center of the city, making it an easy commute via train to get anywhere, but my preferred form of transportation is always walking. So…walking I did.
It was about a forty-five minute walk to my first stop, the Sydney Harbour, which would also knock out the Opera House.

Along the way, I hit Hyde Park, where I saw palm trees in the middle of a park, Archibald Fountain, and a pelican!
I arrived to the Harbour at some point between 8 and 8:30, and the timing was perfect. There were so few people there that I am never NOT waking up early to go sight seeing again!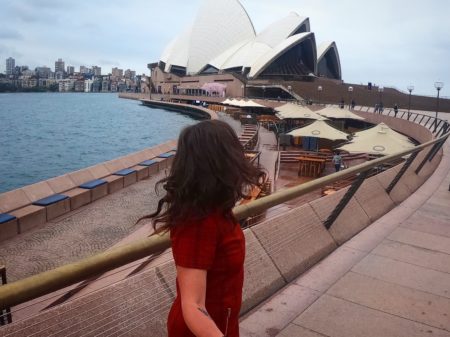 I was in Australia during the Chinese New Year, so there were statues / popups all around the city. I started to walk from Sydney Harbour to Darling Harbour, and noticed this gem along the way.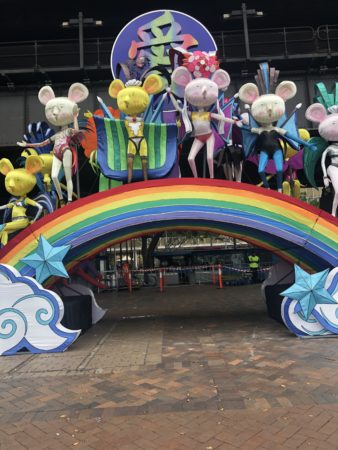 I wanted to take a photo of it, so I waited until a lovely Chinese family was done taking photos and I snapped a few shots. While I was putting my GoPro away (mind you, it's no later than 9am at this point), and there was blatantly no one else around, I hear a voice behind me, "Would you mind?" in an incredibly condescending tone.
I turned around to see a snobby man in a fedora waiting with his camera in his hand. "Oh, sure, I'm sorry, I don't have eyes in the back of my head so I didn't know you were standing there." C'mon dude, there are much nicer ways to ask! Oh, and the fun didn't stop there, "Well now you know, so move" is the word for word reply I received. I was dumbfounded that someone on this earth believed they were that entitled that they felt that was not only an appropriate thing to say to me, but an appropriate tone in which to speak to me. I believe I felt my jaw drop as I scanned around to see if there was anyone else who heard it, and to my luck, there was! A lovely young woman who was clearly on her way to work (in uniform) locked eyes with me, gave me a "wtf" look, and we started laughing (mind you, I still hadn't moved).
"Would you like to share some of your entitlement? You clearly have plenty to spare," I jauntily said to him as he continued to scoff (still haven't moved). "There's no need to be rude, sir," my new lady friend chimed in.
"OH I'M THE RUDE ONE?"
Uhhh, yeah sir. You are.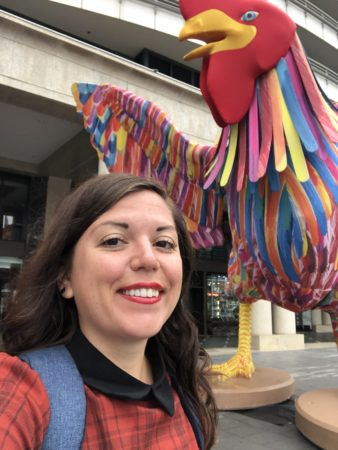 Anyway, I carried on with my day but my point in telling you that is, DON'T LET ANYONE BULLY YOU! Especially if you are a young chick on your own and a dumbass in a fedora tries to tell you what to do.
As I was saying, I headed off to Darling Harbour, and when I arrived, truthfully, I thought, "This is it?" It's not much. It's pretty much a park full of overpriced restaurants, playgrounds, and birds. I decided to get my first meal in Australia, an "avocado smash," which is just a piece of avocado, more or less, smashed onto a piece of toast. Well, those birds must've been a lot hungrier than I was. As I was walking, i felt something attack the back of my head, and those birds STOLE MY DAMN TOAST! It was comical, to be honest, but also startling.
So, after my breakfast was stolen from me by a flock of bird thieves, I headed back for a small nap. I got back to my room around 11:30, never ended up napping, and was out the door again by 1pm.
Meat pie time! I went to Hannah's pies, apparently one of the best in Sydney (which is not why I chose this place, it just happened to be closest to my hostel). Though I wanted the real deal of getting a "mince beef pie," I had been eating so much lamb in New Zealand (where I had arrived from), that I opted for chicken.
It was a pretty basic pie. Chicken, gravy, mushrooms. The crust was extra flakey and delicious.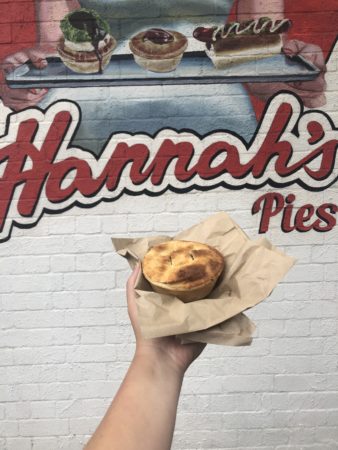 After my chicken pie, I walked around and stumbled upon Paddy's Marketplace. It is one of my favorite fashion markets I've ever been to; it was dirt cheap and filled with tons of different interesting items (in the heart of Chinatown!).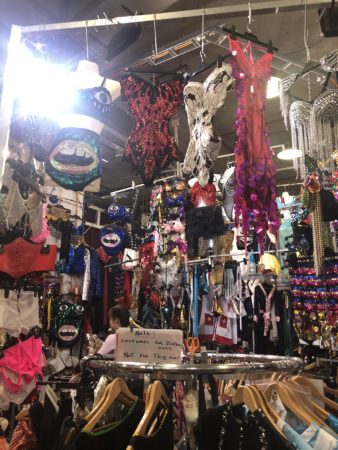 From there I ended up next door at Market City Place, a giant mall in the heart of Sydney. Everyone in the world should learn from Sydney's malls; there was everything from a grocery store to a nail salon to one of the coolest food courts I've ever seen!
I ended up getting a gel manicure and my eyebrows waxed for around 40 USD. And I grabbed a pack of Tim Tams from the grocery store (I opted for dark chocolate).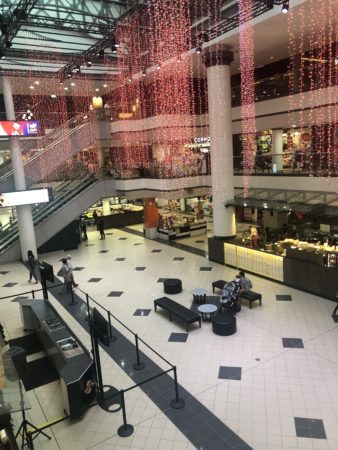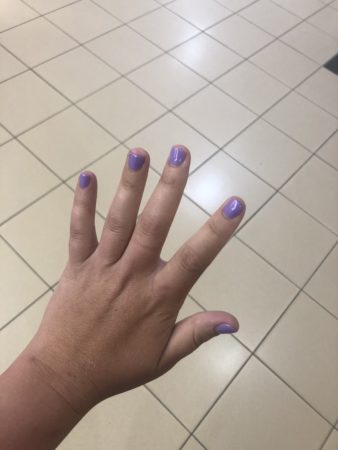 8318527D-EFAB-4144-983C-B003962AF936
Oh, and the mall had a shop called "Market Bottle," so it's safe to assume that I bought a bottle of Australian Pinot Grigio.
I went back to my hostel, drank my Pinot Grigio, worked on this site a little, and passed out early, because…I still had twelve hours left!
On Saturday, I woke up at 6am with the intention to head to Bondi Beach. Of course, it was a rainy cloudy day with no signs of it stopping, but ya know what? I'm all the way in Australia and I have no idea when I'll be back, so rain or shine, I'm going to the damn beach!
I drank my double espresso, and despite being an hour and a half walk verses a 25 minute train ride, I opted to walk. I once again got my day started around 7:30am. I walked. And walked. And walked. And truthfully, it's not the most scenic walk, but there are plenty of parks so I saw plenty of dogs (which was enough for me).
Part of the walk included walking through a promenade lined with shops and restaurants. Since it was so early, almost nothing was open, but my immediate thought was, "I'm in Santa Monica, California!" Vegan Lebanese restaurants, fresh fruit juice stores, trendy overpriced hip beach attire, coconut ice cream shops, etc. I was clearly entering a very cliche surfer / hippie / youthful area. Hello, Bondi, New South Wales.
I eventually made my way to the beach and it felt surreal to see Bondi Beach in person with its perfect boomerang shape. I was surprised by how busy it was considering it was only 9am (I suppose a little later than I intended), and how cloudy it was.
I snapped a few photos in front of this gem (after stripping on the street into my bikini), and headed to the beach.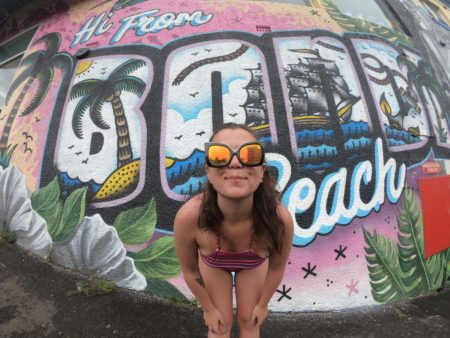 The water was freezing and a little murky due to the rain / clouds. I just observed. There was a plethora of surfers (one guy got out of the water limping and the back of his suit was completely shredded), and everyone just seemed fearless. I loved the vibe here.
I started walking around and discovered a wall of artwork.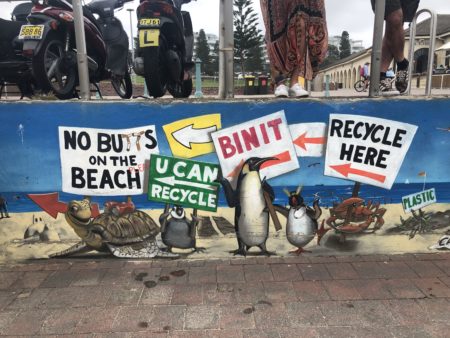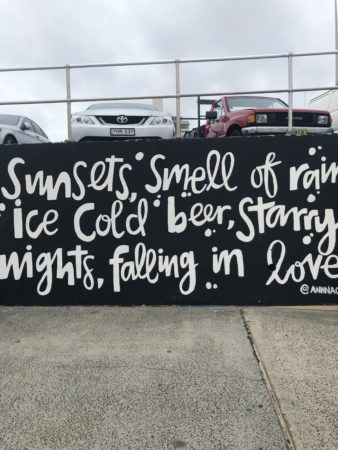 I ended up giving into trend and bought a juice which included "rocket melon," which I later learned is cantaloupe. I attempted to walk back but my legs were starting to give up on me.
I stopped by the little shopping promenade I had gone through hours earlier which was now completely filled with people (11:30am). I stopped somewhere to try barramundi, a popular fish served only in Australia. Between that and a glass of wine, I was wiped. I took the metro back to Central Station which cost me about 3.50 USD (expensive for a metro system, I must admit). I went back to my room, packed up, and got ready to leave for Cairns.
Sydney is absolutely a bustling, young, party-centric city. I am thankful to say I saw it and I would highly recommend you making your way through to do what I did (see the sights and experience the Aussie culture), but truthfully, I felt ready to go after seeing what I saw.