When I was in the seventh grade, we had to do a presentation on a place we would like to visit someday. I remember googling the furthest most beautiful place in the world (I guess I was always who I am!), and a magical place popped up called "Tahiti." I saw that it was French (I had just started taking French classes), and I remember making a powerpoint presentation lined with palm trees and crystal clear waters.
Fast forward to 15 years later, and here I am, planning my Round-the-world trip. I knew I wanted to start in Tahiti.
In my seventh-grade and current head, Tahiti was a tropical island with blue water / white sand beaches, drinks out of a coconut with an eco-friendly straw, a hammock to rest in where I could write my heart out in my little travel journal, so I moved forward and booked a one-way to Pape'ete, French Polynesia (which was on the island of…Tahiti).
Tahiti is indeed an island in the country of French Polynesia, but most of those other factors don't ring true. In fact, there are almost no white sand beaches in Tahiti, Pape'ete is a hustling bustling city that happens to be lined with palm trees and on the water (but nowhere to really swim), and I didn't find too many drinks out of coconuts. After doing some research, I realized two days would be enough of a decent feel to get a feel for Tahitian life before heading to an island that had all of those things that my little wanderlust heart so badly desired.
I booked the cheapest AirBnb I could find and made sure it was close to the ferry. For $34 a night, I got an Airbnb with a fairly comfortable bed, my own room with a lock, a ride to and from the airport, and on a street that had a few good cafes and lunch spots. Good enough for me! The downsides were: no AC, and I quickly learned the people in French Polynesia sleep with the door open to let some cool air in. Whatever floats their boat (it was completely safe, but the sounds the animals make are…questionable).
On my first day there, I headed out to Plage Lafayette, a black sand beach due to volcanic sand. Being on the high that I had made it all the way to Tahiti, I setup my tripod and began to have a photoshoot. With my back toward the water, a very typical white girl mistake I made, I did not realize just how strong the waves were and suddenly, the water had eaten all of my stuff. No, I mean all of it. Phone. GoPro. Wallet. Purse. Keys to the Airbnb. Tripod. I don't know what Herculean strength I garnered in that moment, but I managed to take my measly little hands and save ALL OF IT (half true, I later realized I was missing an essential piece to my tripod leading me to buying a new one in New Zealand).
Now that I, along with all of my belongings (but really, could you have imagined if I lost all of my stuff on day one?!) were completely covered in sand, I was hesitant as to how to get back to the part of town I was staying in. I wouldn't feel comfortable or right getting into a cab covered in dirt, and I, of course, didn't have a towel to clean up. Right behind Plage Lafayette is a way-too-fancy-for me resort, so my original plan was to just beg them for a towel to use and offer to pay a cleaning fee, but then…
I saw a pool.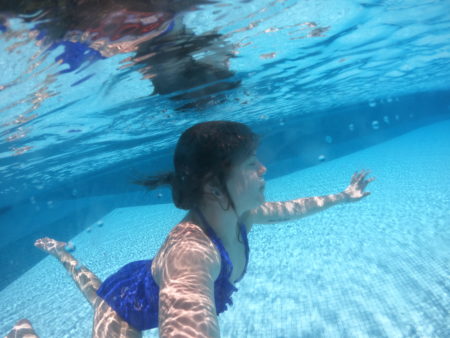 It was only about 10am, so there weren't too many people out. I figured, at the very least, I could dip in, wash a little bit of sand off of my cameras and gadgets, and if I got caught I could apologize and run away, but that wasn't the case at all! I ended up swimming, testing out my new under water dome for my GoPro, doing some writing, and eventually ordering a drink. I figured ordering a drink would be a gamble because they may ask what room number I was in, but when I insisted I wanted to pay immediately, they were totally cool. They even eventually brought me a plate of free olives (which was very sweet, but if there's one food I loathe, it's olives!).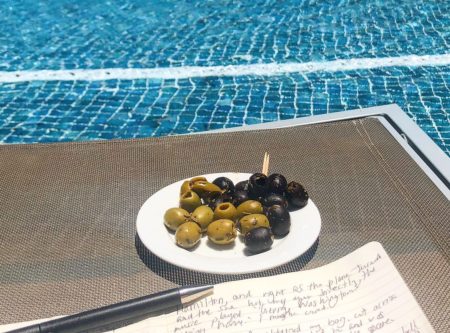 I eventually headed back as I could feel the sun completely singeing my skin off, and had no problems getting accepted into a taxi.
I wasn't finding myself to love Pape'ete, to be completely honest. I have said it before and I'll say it again, big cities don't tend to appeal to me. At the end of the day, they are filled with trash-lined streets, overpriced mediocre food, cat callers, and you have to clutch your bag extra tight because people are looking out for the tourist who's not paying attention.
I did manage to stumble upon Pape'ete Market, which had vendors selling anything from shell necklaces to bamboo hats. I wasn't planning on buying anything, especially something hard to transport on day one, but I stumbled upon a little food hall and bingo.
I asked someone if I wanted traditional Tahitian food, what should I order? He told me three things: Poisson cru, casse-croute, and go to a night market called Place Vaiete to see what the locals eat on a daily basis (a lot of Chinese / French influence).
While Tahiti was beautiful, it wasn't what I had expected (and that is perfectly fine!). It was an island that I hardly had the chance to explore because I was based in Pape'ete. Pape'ete is a wonderful hub to get to where you're going, whether it be Mo'orea or Bora Bora, but there isn't a ton to do in Pape'ete itself. However, I'm glad to say I have finally stepped foot in the world that seventh-grade Kaitlyn dreamed of.