I had heard about a small organization called Coral Gardeners through a high-profile instagram account I follow (@gypsea_lust). She is notoriously known for posting pictures of her flawless perfect body with beautiful landscapes (I mean seriously, check her out…her instagram is as dreamy as it gets), but what really caught my eye was when she had planted coral in an effort to save our planet.
I was immediately curious and followed their instagram to get to know more information (ah, the world we live in). I already had plans to head to Tahiti, and Mo'orea was just a thirty-minute ferry ride away, so I was persistent on getting involved.
My dreams were turned into a reality on Monday, January 21. I arrived to the Coral Gardeners headquarters (a tiny little spot with ten employees max). Myself, along with a dude from Chicago and an Australian chick, were given a brief introduction as to how the business became about and their ultimate mission.
The people of French Polynesia strongly rely on fish for food. While in the large scheme of things, it seems as if we'd save coral to save our fish as in to not kill them, the people of French Polynesia want to save coral so they can save the fish so they can then kill the fish to eat them (there is no negative connotation in this, it is a means of surviving). If there is no coral, there is no fish, which would mean for the locals, limited food supply. I was incredibly happy to be informed of this as it gave me a different outlook verses just going straight up hippy dippy and saying "save the animals!!" to become vegan. There are plenty of different routes to take.
Our lovely guide also informed us that even without trees, the coral reef would die. When it rains, the trees catch all of the rainfall which removes pollution from reaching the coral.
I could go on and on about how important our coral reefs are, but let's get to the process that these genius boys have passed on to us.
We got in the water and were brought to a "coral garden," a little fence-like area where there were pieces of broken coral attached to bamboo and placed strategically. We were able to observe all of the coral and eventually select a piece that we wanted to plant.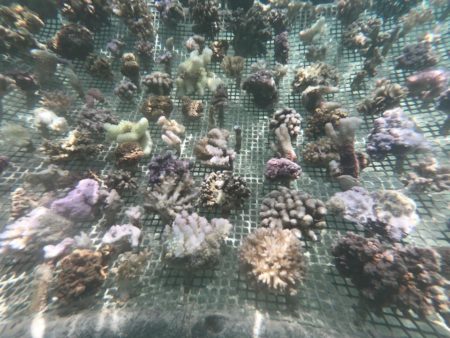 The broken coral came from the sand; these boys found the pieces of coral in the water / sand, attached it to a piece of bamboo with glue and once replanted, nature does it's own work and it grows from there.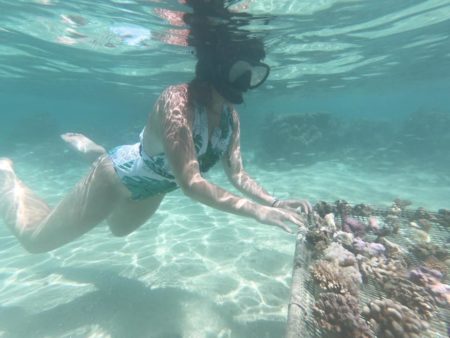 Now, the replanting process.
We each had to drill into a piece of nearby coral to place the bamboo stick in so our coral would have a place to grow.
After planting, we were told we need to name our coral. Mine was Lola. She was bright pink and frilly. I learned the type of coral she was is Poscillopora Verucosa.
After all is said and done, you are e-mailed an adoption certificate of your coral with exact GPS coordinates and its name.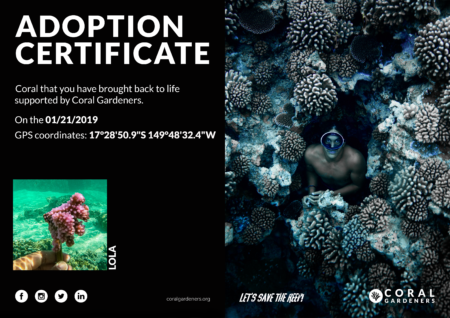 This young group of people are not only changing the world, but encouraging others to get involved, and it was a beautiful thing to participate in.
If you are heading to Mo'orea anytime soon and interested in planting coral, or just curious as to more about the process and more information on the science behind it all, I highly encourage you to reach out to Coral Gardeners!
Instagram: @coralgardeners
E-mail: ecotours@coralgardeners.org