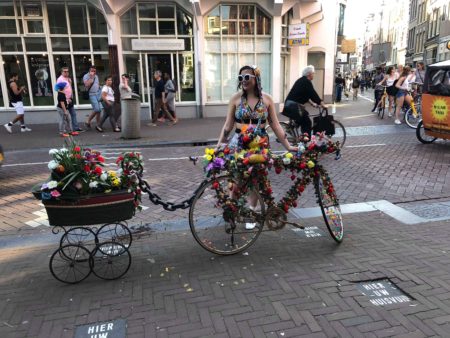 Yes, yes, I know..I am the ~solo female travel expert~, but sometimes a little companionship doesn't hurt!
My best friend of over ten years, Katie, had booked a flight to go to Amsterdam for 420. Now, I admittedly am not a huge pot smoker. I'm not against it and I've definitely hit a joint or two in my day, but I don't regularly partake. With that being said, I am always down for an adventure. Katie and I had discussed me possibly joining her, because, once again… I am always down for an adventure.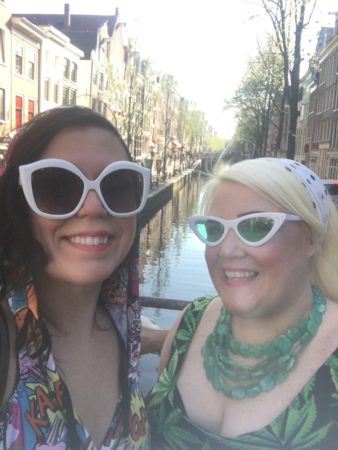 I said, why the hell not, and booked my flight. I found us an AirBnb and man, oh man, people must take 420 seriously, because I kid you not, 98% of all airbnbs were sold out, hotel prices were triple standard rates, and even hostels would run us at least 80 USD a person (for a shared room!). We settled on an AirBnb that was a little removed from town (but Amsterdam is not too big, so a little removed meant a fifteen-minute bus ride, max).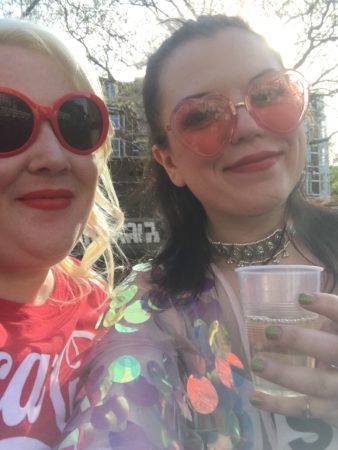 Since we had booked separate flights, I was getting there first. I arrived to our AirBnb (which was a shared home as opposed to entire apartment), and to my bewilderment, there was a freaking BABY there! This was not listed in the details of the apartment (though I think that's an important key note). I didn't necessarily care but I thought it would make for a hysterical story since we were there for, well, a weed-induced weekend.
Katie showed up and we joked about the baby in the apartment. We got ready and off we went!
We found one of the many cafes we had heard about, Jolly Jubilee (we ended up going back to this place at least five or six times over the course of the next two days). We bought a joint and smoked and were laughing that it was just a norm for these people (stupid Americans).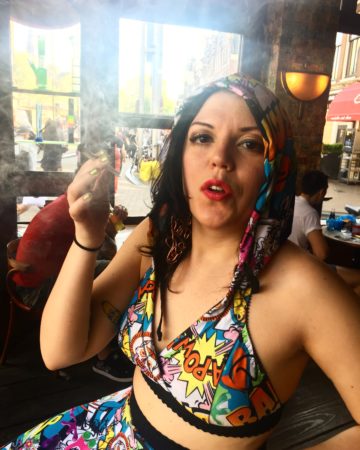 Amsterdam is a charming city at the very least. It's romantic, beautiful, dreamy and eccentric. I quickly fell in love with the canals and was enjoying getting lost in the streets lined with french fry and waffle shops. I was also enjoying eating as many fries and waffles as I could (call it munchies if you will).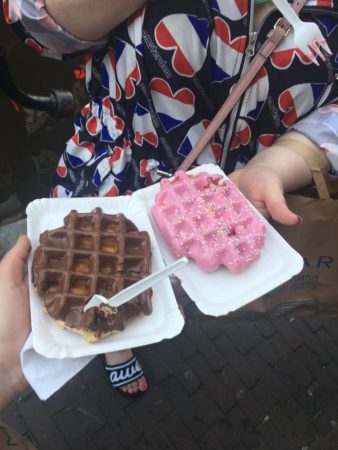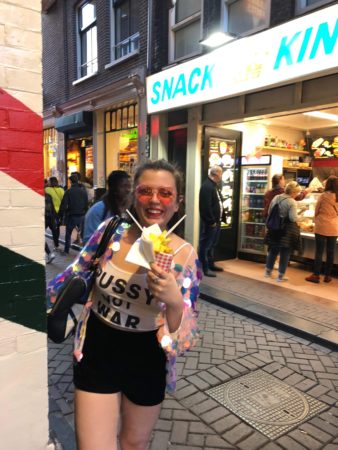 During our short time in Amsterdam, we went to a floating flower market, went to the Van Gogh museum, the Lichenstein / Banksy popup (where a European woman yelled at us calling us cheap Americans, thanks for the great insta caption lady), smoked more weed than I've ever smoked in my life, saw the I LOVE AMSTERDAM sign, ate french fries at least 20 times and waffles maybe 22, took a boat ride on the canal, and created some memories that will last a lifetime. The trip didn't run us too much money (if it wasn't 420 it probably would've been half the price), and didn't interrupt our work schedules too much (I was only there for two days!).
If you find a cheap deal on a flight to this awesome city, I highly recommend you to not hesitate and go for it. Even if you aren't into smoking, the culture Amsterdam brings is unlike any other European city I've been to and it is hands down one of my favorite places I've seen!