Germany. It was never at the top of my bucket list but I decided to go on SkyScanner to see where would be cheap-ish to go in February, and based on my options, I went for a direct flight with Lufthansa into Berlin, and out of Munich. I scored the ticket for a little under 500 USD. I didn't really know what to expect, but I was excited to try some German sausage, see some castles, and learn about the country's corrupt history.
BERLIN

I started off in Berlin, and it was FREEZING. I mean, f**king FREEZING. I had brought tons of cute dresses with tights (that I planned to layer with winter jackets, scarves, etc.) but I had absolutely no choice but to fully cover up all of my instagram-worthy outfits. It was, on average, negative ten degrees celsius, or fourteen degrees fahrenheit.
My first night in Berlin I ventured out to get some knödels, a German dumpling consisting of flour, potatoes, and either a meat or vegetable. I got one cheese knödel and one mushroom knödel served with a little side salad (and of course, a giant German beer), and MAN! They were tasty. Everyone told me the German people would be stoic, and the food would be primarily meat, but in Berlin I didn't have either of these issues in the slightest bit. Berlin is comparable to Brooklyn, as in it's very young, progressive, and has a plethora of vegan / vegetarian options.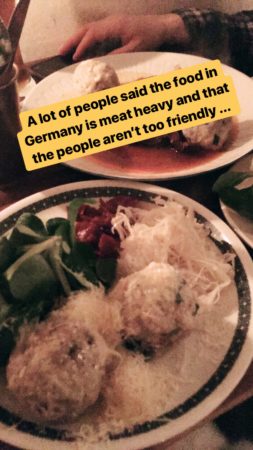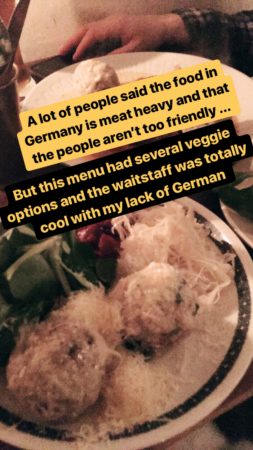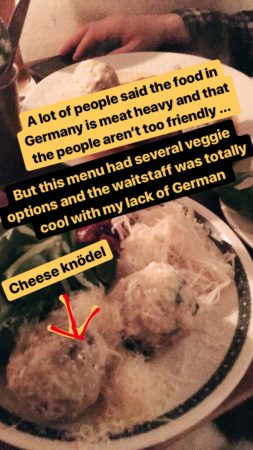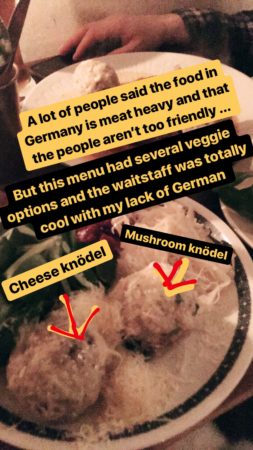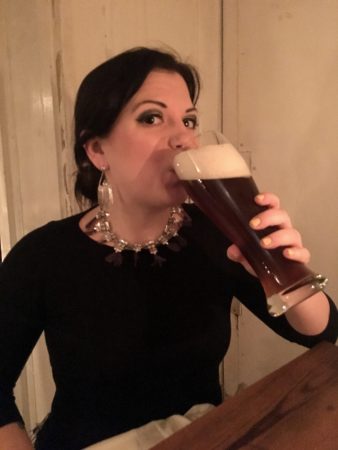 The next day, I headed out to see the famous Brandenburg Gate. I made the poor choice of walking around all day instead of using public transit, which led me to having to stop in several places just to get feeling back in my legs (all in which I'd grab a beer or a bite, but it meant I was spending twice as much).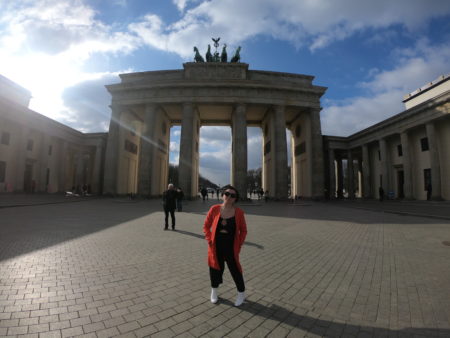 I am always a huge advocate for walking around instead of taking cars or trains, because it will leave you with so much more room for discovery. I stumbled upon an adorably funky children's playground, and an American church!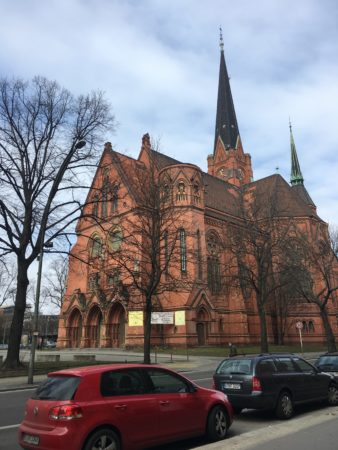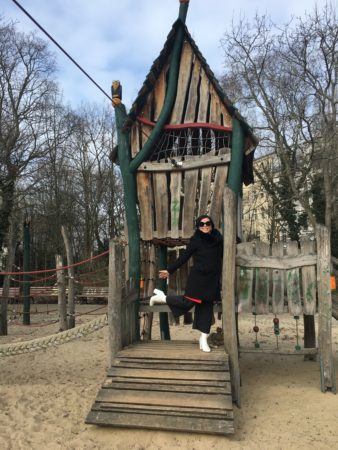 I even ended up turning the corner at one point, and voila! There was the Berliner Dome! Though it was on my list of what I wanted to see while I was there, I didn't realize I was going to hit it, and it was quite a pleasant surprise.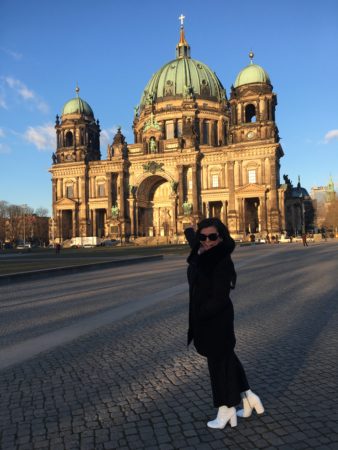 For dinner, I headed to the infamous Hofbrau biergarten, where I finally ordered some schnitzel and dark German lager. Holy effing shit, that schnitzel was hands down the best thing I ate my entire time there. And I gained a new obsession with dark German beer. I did finally understand the Germans not being so nice once I was there, though. I understand it's a large busy biergarten, and I'm a dumb American, but yikes my server was not happy to serve me, or to be alive, for that matter.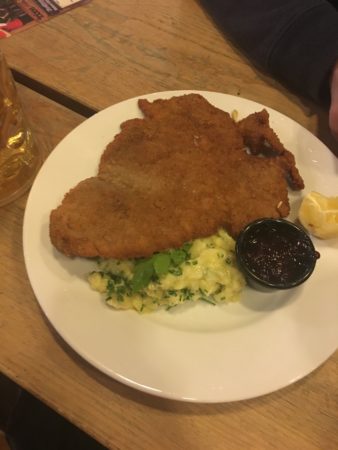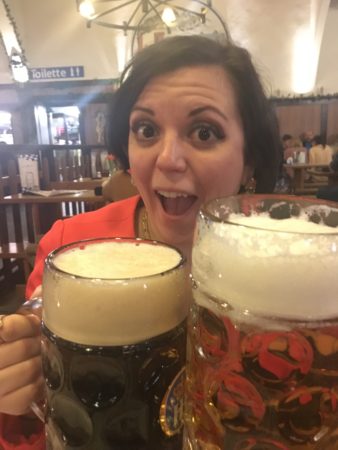 The next day, I headed out to see the Berlin Wall. This is the day the cold really started to take its toll on me. I had three layers of pants on, and my legs were still completely numb. It led to me getting frost bite the next day when I was in Prague!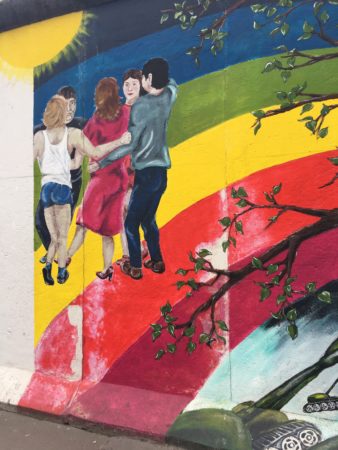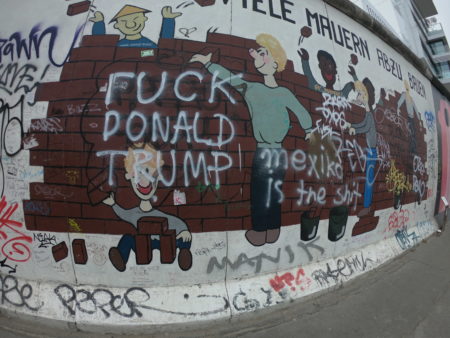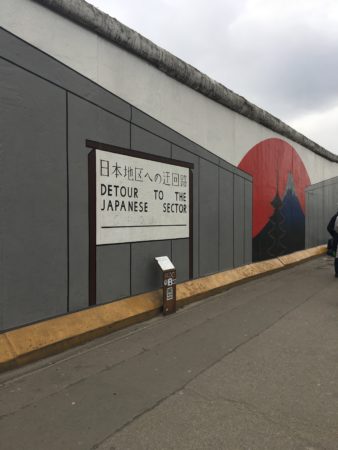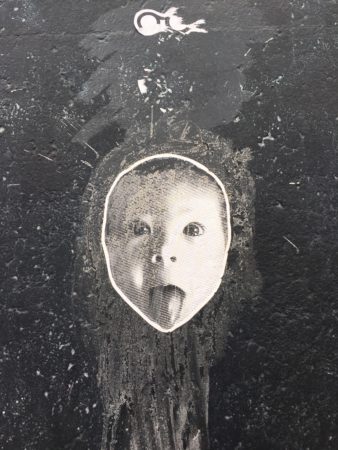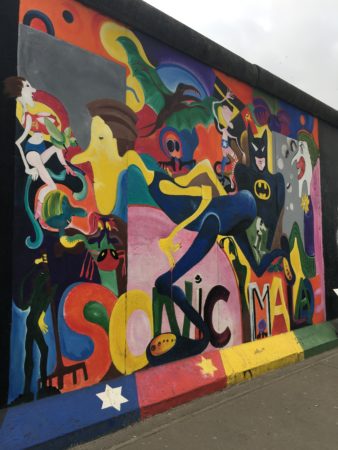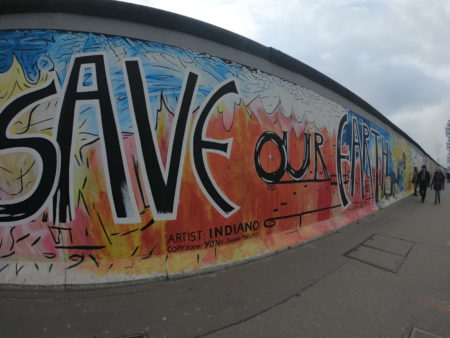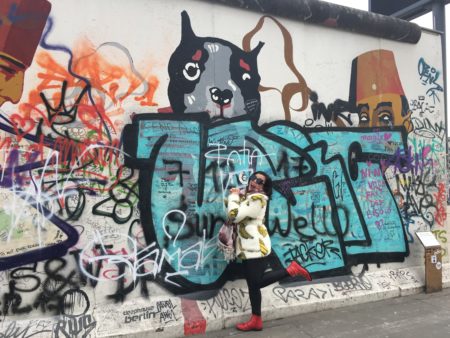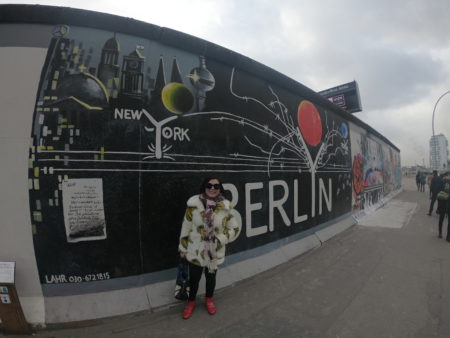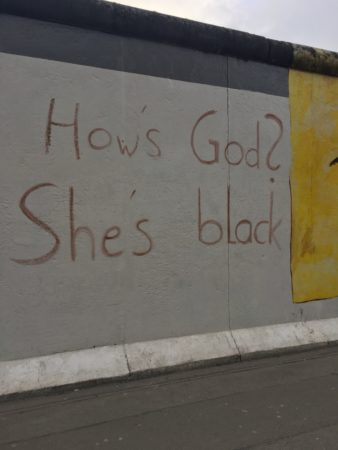 The Berlin Wall was probably the coolest thing I saw in Berlin and I was inspired by all of the art work.
Afterward, to warm up, I got some famous curry fries!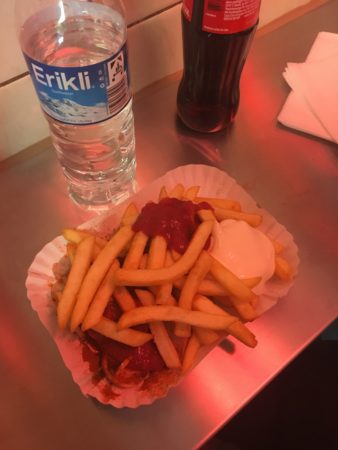 Anyone who knows me knows I am basically a walking potato. So to eat fries in a moment I wanted to cry from being so cold was a gift sent from the heavens. Fun side note: as a baby, my first word was "dada" followed immediately by "French fries!" My mom is still insulted that I said French Fries before Mama.
To end my time in Berlin, I got some Turkish food near my airbnb (I was staying in a heavily Turkish-influenced area so I was curious). It was hands down the cheapest meal I had there and it was DAMN tasty! I ordered a little bit of everything!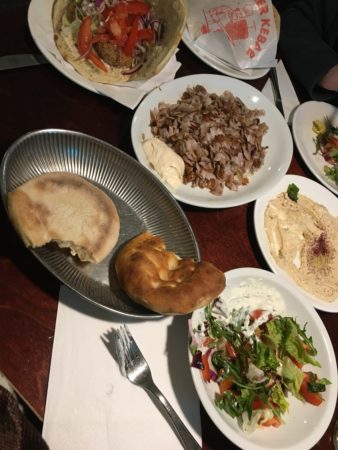 I obviously couldn't wait, and before taking a photo, bit into the pita bread!
Overall, I would say Berlin didn't exactly meet my expectations, even while not expecting too much. I thought it was dirty, I didn't always feel super safe, it was reasonably priced but nothing necessarily blew me away. By far the most interesting part of Berlin was learning about the history, but we'll get to more of that when we discuss…
MUNICH
I was SO excited for Munich, mainly because it was just a little bit warmer than Berlin (I think anywhere on the planet was warmer than Berlin the week I was there). I had a lot on my itinerary that I wanted to tackle so I was excited once I arrived to the main station. I stayed at an Airbnb a little off the beaten path but still a nice walk from Marienplatz (the city center). The architecture in Munich is nothing short of stunning; I think it is the most intricate I've seen out of all of Europe (at least where I've been). I could've stared at the buildings for hours and not get bored.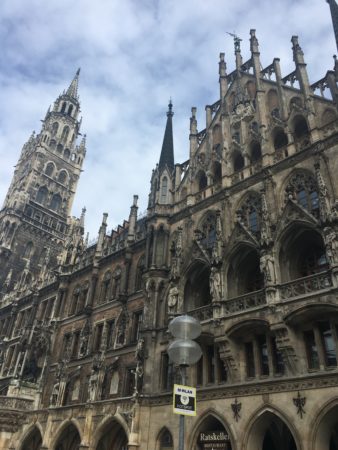 I ended up at a biergarten fairly close to where I was staying to give schnitzel another shot, and the first thing I noticed was the prices in Munich were way higher than those in Berlin. And, the schnitzel didn't even compare to the one I had in Berlin! However, I did finally get my hands on a giant German pretzel, and that did not disappoint.
One of my favorite things to do in every country I visit is check out the grocery store. It gives me a sense of what the locals eat, and a little glimpse into their everyday lives.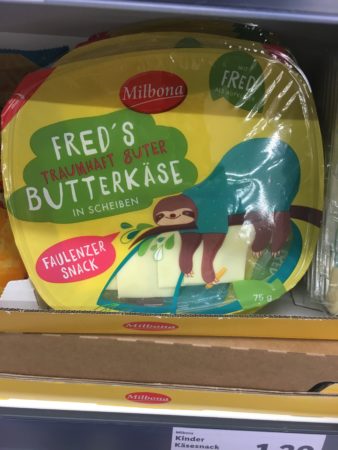 Butter cheese with a sloth on the front!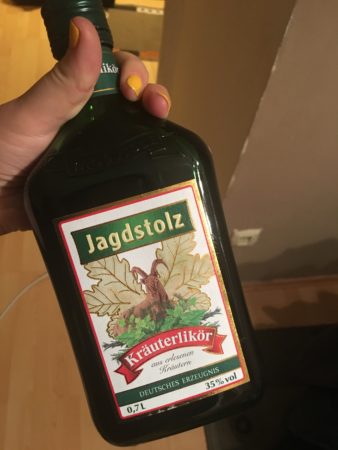 German "jager" for 99 cents (which I obviously bought).
I headed to Dachau Concentration camp to learn a bit more about Germany's dark history. It was gut-wrenching and sickening, but eye-opening and necessary.
This is where they were told they were going to shower (Bath house)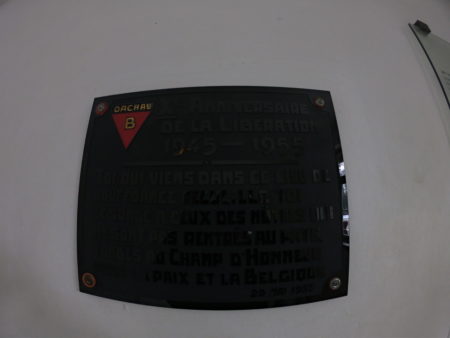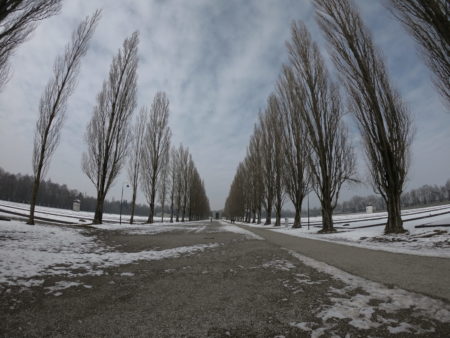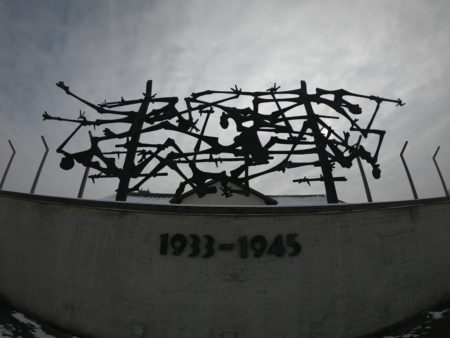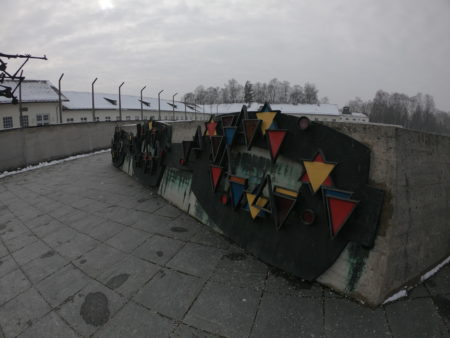 Though it was heavy and a little hard to handle, I HIGHLY recommend everyone go. It is such an important piece of history and to stay blinded by it does not mean it didn't happen and that we shouldn't go to remind ourselves of how horrific it was. I feel it is the best way to ensure something like this will never happen again, however, with the world we currently live in, I am not always confident.
After leaving the concentration camp, it was still early enough in the afternoon that I had a lot of time to explore Marienplatz. Out of all of Germany, Marienplatz was the most breathtaking place I saw. Once again, the architecture is just so unique and stunning, there is no way to fully describe it.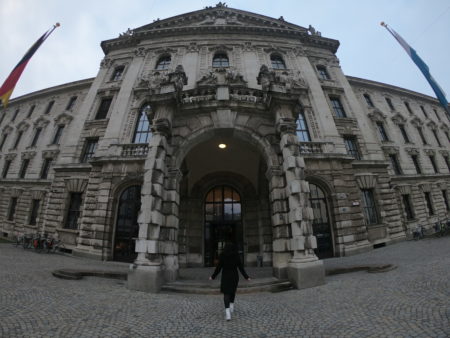 I was in Germany, so I, of course, had to go to just one more biergarten! I went to the famous Hofbrauhaus. The place was PACKED and had a "seat yourself" policy. It was nightmare-ish to find a table, or a seat for that matter, but once I did, I ended up next to these guys from Luxemborg. I ordered some things I wouldn't typically try like weisswurst (white sausage), but also gave schnitzel one last go (still, the best one was in Berlin).
Once again, I noticed the huge price increase compared to when I was in Berlin, however, I was also at the most famous bierhaus arguably in all of Germany.
My last and final day there, I headed to Neuschwanstein Castle. It was about a two-hour trek from the center of Munich, but I wanted to see the Austrian Alps, and also I hadn't seen a German castle yet!
I booked a tour through viator, and departed Munich around 8:30am. The ride out there was beautiful! I felt like I was in the movie The Sound of Music. Once we arrived to the castle, we were given a few hours of free time to stroll and do as we please.
I made my way up to the castle and it was magical. I felt like a princess (a princess who eats sausage and drinks beer, but a princess nonetheless).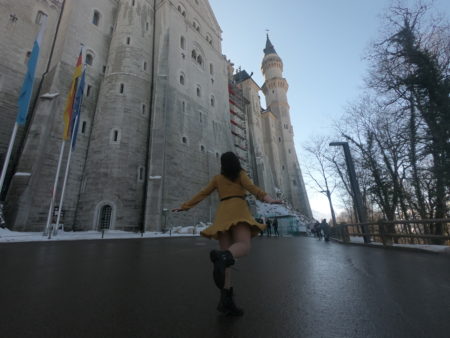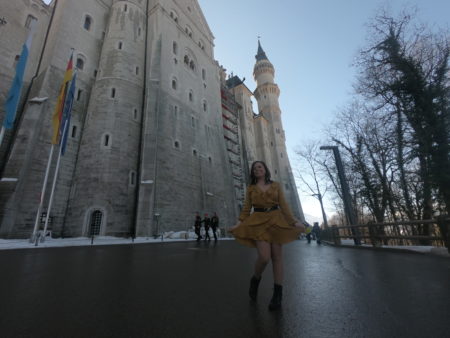 I went inside to learn some of the history of Ludwig, and I was told that he was mentally unstable so they declared him unfit for power. What a concept! Do you think we could apply those rules today?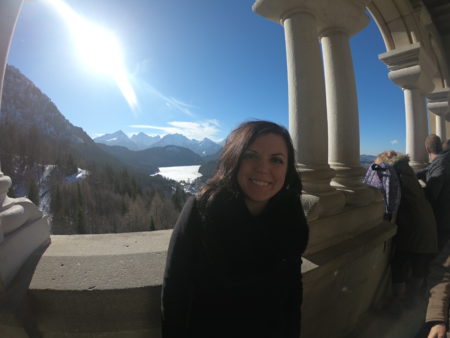 Once I got back to Munich, I grabbed a glass of Gruner, and got an early night sleep for my morning flight the next day.
So…which German city do I prefer?
Cleanest: Munich
Better food: Berlin
Better architecture: Munich
Cheaper: Berlin
More culturally enriching: Munich
Nicer people: Berlin
..so though it seems as if it would be a tie, if I had to choose, I would say I enjoyed my time in Munich much more than Berlin. It all depends on what you are looking for! If you are looking for a younger, party-scene with a lot of street art and to save a little bit of coin, Berlin is probably your better bet. But if you are more interested in learning the history (not to say you cannot do that in Berlin as well), having more day trips, and seeing the Bavarian region, Munich is more likely for you.
Leave a note in the comments if you've been to either and let me know what your thoughts are!