I headed to the isolated island of Caye Caulker, Belize in September 2016.
In order to get to the island, you need to fly into Belize City (or get to Belize City), and take a 45-minute water taxi from the port. At the port, I got a few unwanted cat calls, stares, etc., but I brushed it off and jumped into my water taxi.
I arrived in Caye Caulker and it greeted me with palm trees, partially cloudy skies, and glistening blue waters.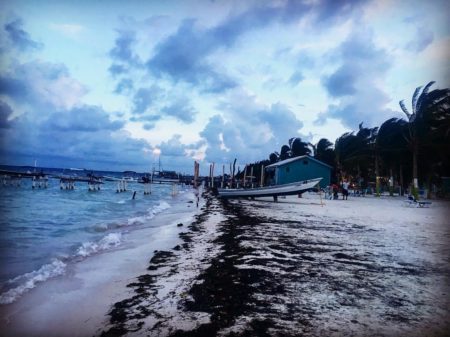 I found a crazy good deal on an AirBnb ($60/night) to have an entire HOUSE to myself, closely neighbored with the owners of the property and their two dogs. The house included a bike for me to ride around the island. Perhaps the most beautiful thing about Caye Caulker is there are NO CARS; the island's phrase is "Go Slow," and believe me folks, they do.
I spent a few days there doing everything from drinking rum punch (a lot of it), spending time at the local coffee shop and writing, riding my bike around the island (I rode around it about 30x in the proximity of my three days there), to going to bed early to make sure to catch the beautiful sunrises when I awoke.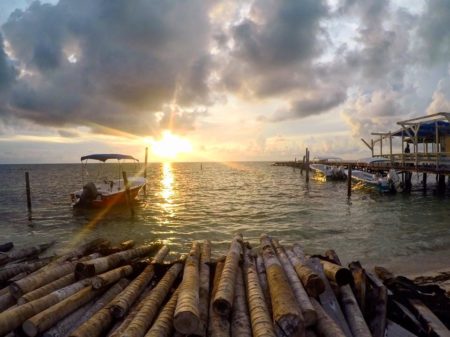 My last day, however, was by far a standout. I woke up at my usual 6am to catch the sunrise, and headed out to the beach. There wasn't a single soul out and it was pure paradise. I felt like a lazy slob just sitting there, when I noticed a piece of trash lying on the sand. I decided to pick it up, and suddenly became addicted to picking up all of the garbage (as it's home should NOT BE ON A BEAUTIFUL ISLAND IN THE CARIBBEAN! This infuriates me). I went from enthusiastic from the idea of doing something good to completely infuriated; the trash was never-ending! I took a photo to remind myself to always do this, but the sun was so bright I didn't quite capture it as well as I wanted to.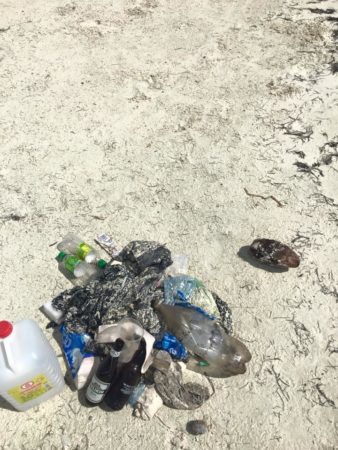 I mean, there were t-shirts, beer bottles, milk cartons (?!), and so much more. Completely unnecessary and infuriating. Luckily, to interrupt my anger and disgust with the human race, came the most beautiful race of all…dogs!
Two dogs came running up to me out of nowhere, and started to take some of the trash to play with (primarily the water bottles). I played fetch with one of the water bottles and my mood instantly flipped. We jumped into the water together and they were as lovable as ever.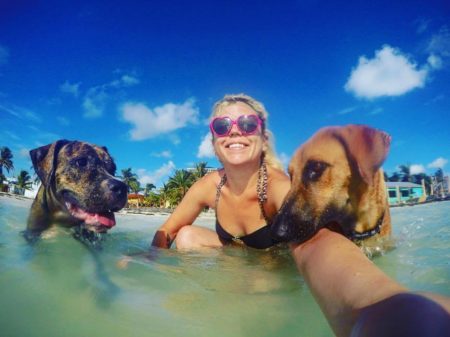 I mean C'MON, look at those faces!!
I was honestly having the best morning of my ENTIRE LIFE; I love animals and I loved making them happy. There was a convenience store right on the beach so I walked in and bought them some food (picky bastards didn't like what I got them, though!).
As we continued to play on my secluded private beach, a lone man started to walk up to me with a cup of coffee in his hand. He said to me, "Are you the dog whisperer?" in which I wanted to reply, "Yes, and you're a human, so go away."
However, instead I was polite and said "I like to think so." I remained friendly and he asked me what I wanted to do in Belize for my last day there, etc. I said I just wanted to hang out with the dogs. He didn't seem to care that I only wanted to hang out with the dogs. I talked to him for about 30 more minutes because I was pretty much left with no other choice; I wasn't leaving my new dog friends and he wasn't leaving me. He insisted on asking me for my number to which I replied my phone wasn't working because I was in another country, but I would take his. I tried to shoo him away but him not catching the hint and me trying to avoid being in a situation where no one else was around, I figured me taking his number was the best solution at the time. I knew the only way out was to go back to my AirBnb to get away from him, even for twenty minutes, but let me tell you, it SUCKED having to leave those dogs. I think I could've stayed there all day with them.
I left my dogs (don't worry, I saw them again later), went to the AirBnb and basically just sat there, annoyed, for about thirty-forty minutes. Not letting this creeper ruin my last day there (and now it was almost 11am, so I was sure more people would be out), I headed back out on my bike. When I had left him, he told me he'd WAIT for me in the same spot (no means no, buddy).
I rode my bike quickly and passed him! Luckily he didn't see me, but he was indeed waiting. I found a bar at the end of the island and went inside to grab a drink and a bite. The bar was right on the water so I jumped in with my drink and started splashing around with some kids. About forty minutes later, I turn around, and who's there? Creeper McGee! This crazy ass hole found me. He looked at me and waved. I turned around and did not wave back. At least at this point, I was SURROUNDED by people so he couldn't get away with much.
He comes into the water and said, "Why didn't you call me?" I said "My phone doesn't work and I'm just trying to enjoy myself." He then put his hand on my lower back. I made sure to cause a scene and told him to get the fuck away from me (in those exact words). He laughed, like a typical un-phased man, put his hands up and said, "Whoa whoa whoa." Whoa whoa whoa is right buddy, get the fuck away from me.
I then left that place, which is when I found the dogs again! Feeling a little disheartened (this island is so small that I ran into the same people day after day, so I felt like this creep was watching me no matter where I was), I focused my energy onto the dogs. One of them was incredibly itchy (they weren't the cleanest, after all). I bought a fresh bottle of water from a little vendor and gave the little buddy a bath.
I continued to bike around the island, and at sunset I ended up at The Lazy Lizard, the infamous famous sports bar right at the split of the island. I wanted to grab one more Belikin and watch the sunset. My dog met up with me again (he was following me!), and we watched the sunset together (several people asked me what his name was, and I said I have no idea, I'm just fostering him for the day! They all thought I was nuts).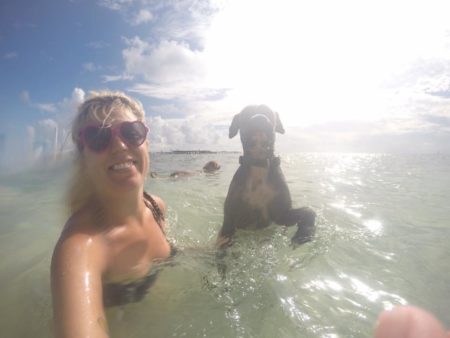 Oh, and then I look up, and who's there? Creeper McGee again. He approached me AGAIN and said, "You know, I'm not going to drug, rape, and kill you, I just want to talk to you." WHAT! Who says that unless they are literally going to drug, rape, and kill you. Then he offered me weed, and feeling extra saucy (thank you beer, thank you pussy power), I replied… Well I replied a simple "no." and ignored him and continued to move on. I had no desire to fight with this dumbass, and once again, there were enough people around that I felt fairly safe. And now I had a guard dog!
At the end of the day, nothing too threatening happened. I made it back to my AirBnb safely, and more importantly, I made it back HOME safely. But this was probably the most uncomfortable I had felt on a trip up to that point. It's one thing to be in a major city where you can jump from point A to point B and have no one notice because it's a lot easier to get lost. But to be secluded on an island with the same 900 people for a few days in a row and to continuously run into someone who you don't want to see makes for one uncomfortable vacation day. Luckily, the dogs of the island saved my mood and still made me love Caye Caulker, enough so that I would return in a heartbeat, despite one creepy dude.