On my way to Finland I was lucky enough to snatch a flight on Norwegian Air with a 9-hour layover in Oslo. Anyone who is even slightly familiar with my travel style knows that my favorite thing EVER is to get a layover in a new city that's long enough to actually leave the airport. It's a great way to almost get a two-for-one deal.
The flight left NYC at 10pm at night, and is about 7 hours long. With that being said, a red-eye plus jet lag equals one fairly exhausting trip. I arrived in Oslo and was definitely exhausted, but I knew I wanted to take advantage of my time there. I grabbed an espresso and headed out.
There is an express train from the airport called flytoget, and you simply swipe your card and are able to board. it takes about twenty minutes to get to Oslo City Center from the airport. The train does not come cheap, though. At 180 kroner, it's equivalent to about $27, and that's only one way! They weren't joking when they said Norway is expensive!
I went in December, so everything was decked out in Christmas gear. All of the streets were lined with tinsel, lights, decorations, etc.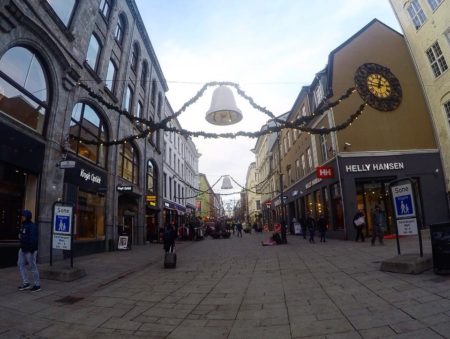 There are tons of clothing stores, home goods stores, Christmas pop-up shops, and cafes. I was starving and had trouble finding any food other than McDonald's or Subway, but eventually stumbled upon a place called The Scotsman. They had an array of beers on tap and friendly bartenders. I ordered the fish & chips which came with tartar, mushy peas, and pickled onions, and a Ringnes pilsner (local brewery).
For the two, it cost me 280 kroner, or almost $45. Don't get me wrong, the fish and chips were AMAZING; crispy on the outside and delicious and soft on the inside with the closest things to perfect fries one could imagine. I did learn I'm not a fan of mushy peas, however. For the steep price tag, I realized I didn't want to blow through all of my money in just my short 9 hours there, and also I was feeling sick because I was so incredibly tired (I had two sips of the beer before I gave up).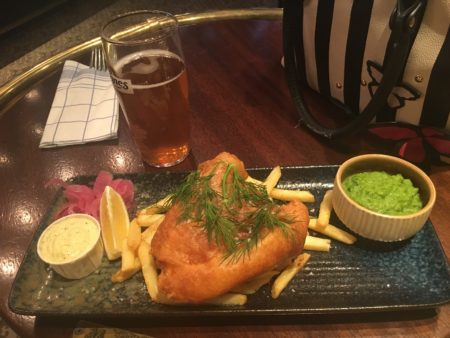 I headed out and continued to walk around, saw the Opera House, and watched the beautiful sunset at about 3PM!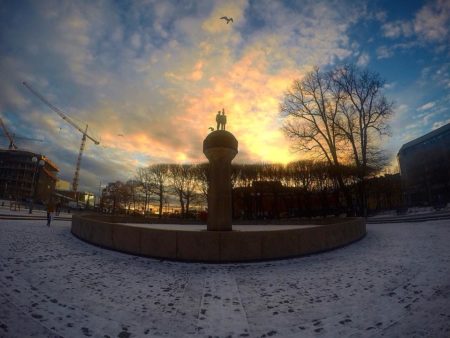 I was feeling pretty run down, so I decided to head back to the airport early. I got to the airport four hours before my flight, grabbed a slice of pizza (49 kroner, aka 7.50 USD!), got engulfed by the beautiful Christmas decorations, and eventually, headed to Finland.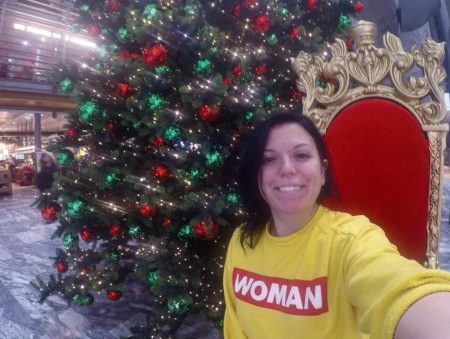 Obviously, only a few hours in a city / country does not allow you to FULLY see it, and it can feel a little overwhelming to try and decide on only one or two things to do. Oslo isn't particularly known for one specific thing (Paris? Eiffel Tower, Delhi? Taj Mahal, Barcelona? La Sagrada Familia, etc.), so I figured my best bet was to just wing it. I am still grateful to have seen this quirky country, its BEAUTIFUL people, taste some of its highly overpriced (but fairly delicious) food, and step foot on more unfamiliar ground.