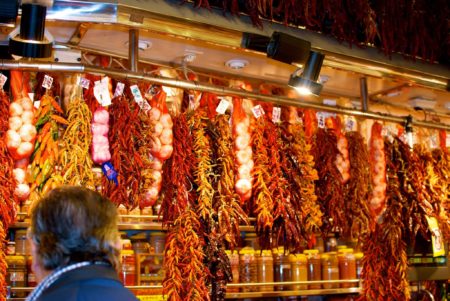 Paella, padrons, jamon, patatas bravas, albondigos… the list goes on and on. I had done minimal research on what to eat in Spain, but once I was there, I almost immediately fell in love with the cuisine. I went to Barcelona in November 2014, and to this day, it remains my favorite food city.
I traveled to Barcelona with my sister, Kim. We grew up in an Italian household so we know how to eat. As soon as we dropped our luggage off at our AirBnb, we already went on a hunt for some good eats. Our first stop was El Passadis del Pep.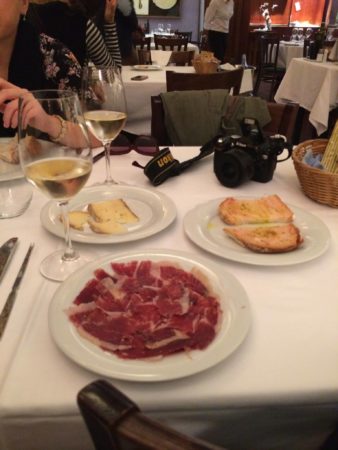 We started with some complimentary jamon, manchego cheese, and bread. We ordered a bottle of cava to get the party started (Barcelona is, after all, a well-known party city). After our meat and cheese, we ordered Spanish-style clams, padron peppers (beware of the padrons! Most are sweet, but a few can be extremely spicy!), and snails.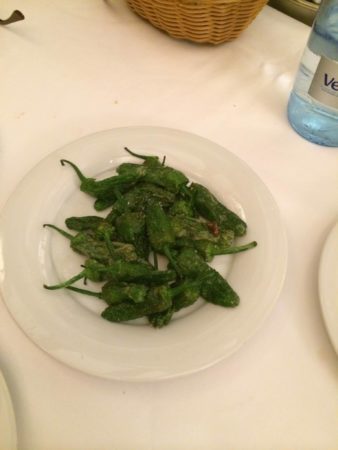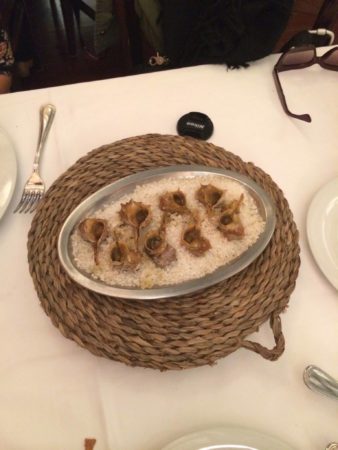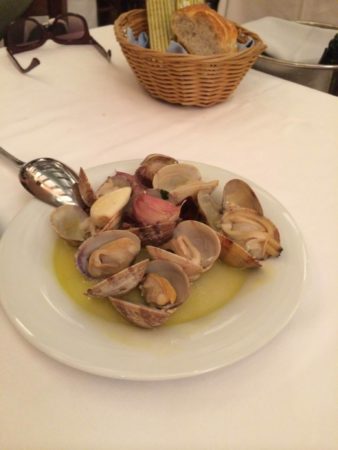 Our waiter was extremely lovely, and once we were full, he gave us a complimentary bottle of both limoncello and vodka! We had a few appertifs, and with full bellies and hearts, we went onward to expore La Sagrada Familia.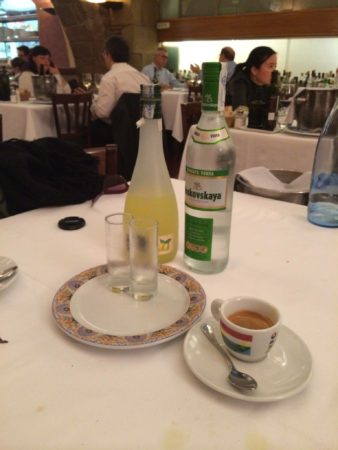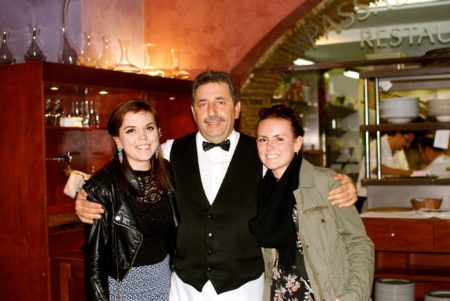 El Passadis del Pep Pla de Palau, 2, 08003 Barcelona, Spain
The next day, we headed to the infamous La Boqueria, a large market that sells everything from fruits, chiles, and vegetables to cured meats, cute marzipan desserts, and wine! It's an incredible place, full of color and delicious smells. I didn't want to leave. I could've stared at the selections all day.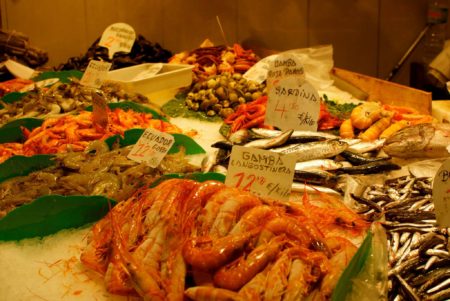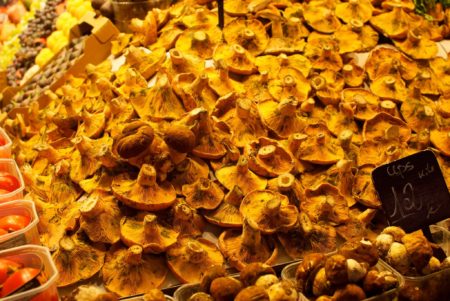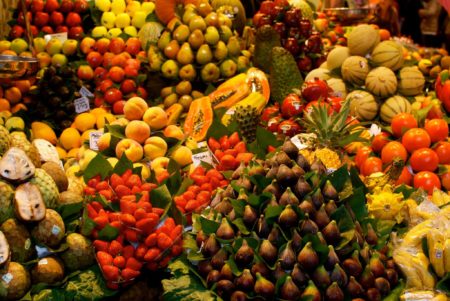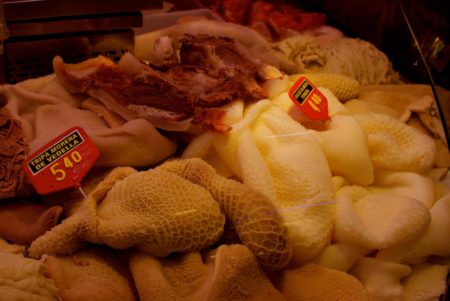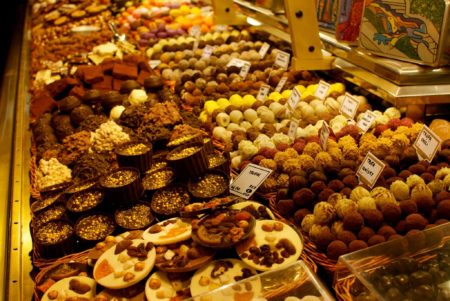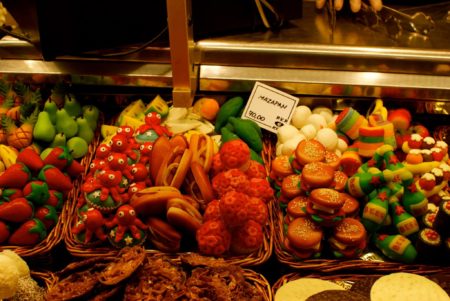 La Boqueria La Rambla, 91, 08001 Barcelona, Spain
After buying a few things, we headed out to grab some sangria and eat some tapas at Nou Celler.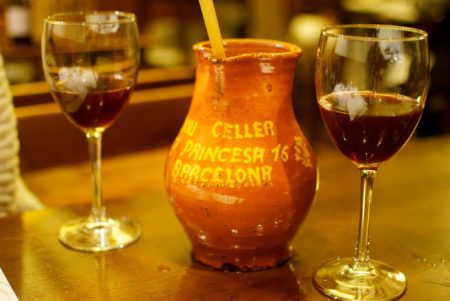 There, we ordered Sangria (duh), patatas bravas, pan con tomate, and more jamon. There is jamon EVERYWHERE in Barcelona, and though you may get sick of it at some point (by day four we had had enough, despite how delicious it is), you must try it at least once. In America, this particular ham is about $80/pound, and in Barcelona, some places give it to you totally complimentary!
Nou Celler C/ Princesa 16, 08003 Barcelona, Spain
After Nou Celler, we headed to the Picasso Museum, which is a must-see for anybody visiting the city!
That night, we stumbled upon a restaurant which to this day remains one of the best meals I've ever eaten, not only abroad, but in my lifetime. The restaurant was Can Cisa/Bar Brutal, with two separate entrances (Can Cisa on one side, Bar Brutal on the other). It is a notorious wine bar with delicious unique tapas (you can order your traditional Spanish food but they have a much wider selection than the norm). We ordered squid with a chickpea puree, scallops, more jamon, and more padron peppers, with, of course, a bottle of sparkling wine.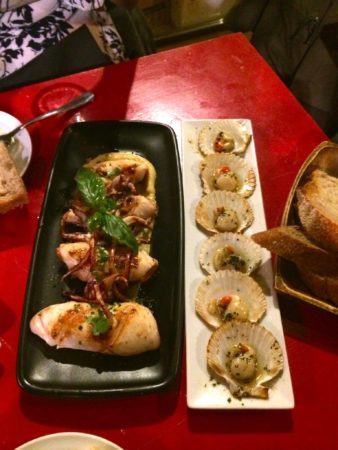 That squid with the chickpea puree was nothing less than heaven on a plate.
We happened to sit next to two gentlemen from Switzerland, who were a little more chatty than we had preferred, but it was innocent. They offered to buy us another bottle of wine, and obviously we didn't turn it down. They then gave us roses and we pretty much chugged the wine and fled.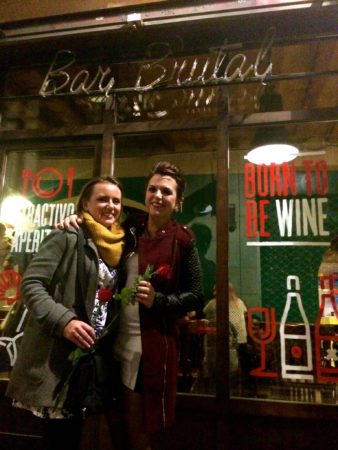 Born to be Wine
Can Cisa/Bar Brutal Carrer de la Princesa, 14, 08003 Barcelona, Spain
After our lovely meal, we found a redly lit gin bar, Rubi. The bar made various types of gin; infused with various ingredients: lavender, honey, rosemary, thyme, chili, etc. We tried a few different cocktails and off to bed we went.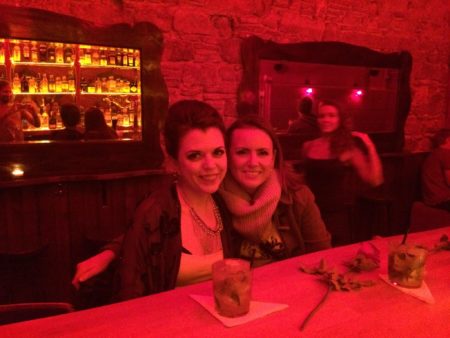 Rubi Carrer Banys Vells, 6 08003 Barcelona, Spain
The next day, we got churros and chocolate for breakfast (we actually did this pretty much every single day), along with some cafe con leche. The coffee in Spain is strong, sweet, and delicious. Even if you don't have much of a sweet tooth, I highly recommend you give churros and chocolate at least one chance while you're in this country. The chocolate isn't watered down hot chocolate, it's a thick gooey chocolate dip that will just warm your soul. There are cafes to get these delicious treats pretty much on every corner, and I can't say one was better than the other, so go with your gut and just try one out!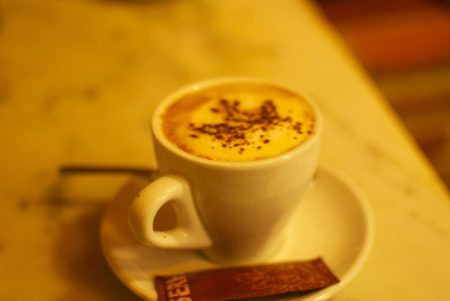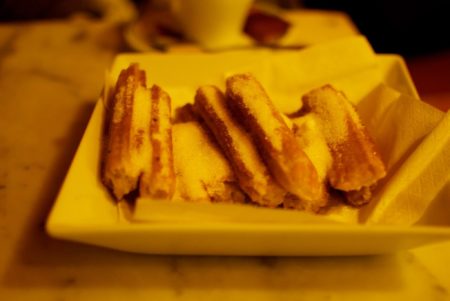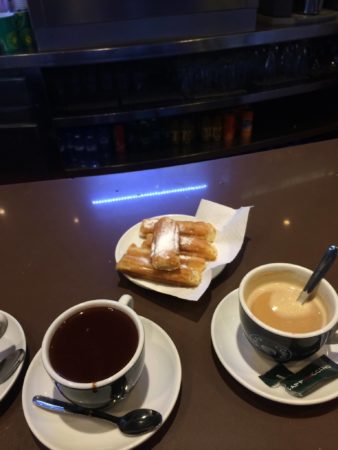 We headed on to explore La Rambla, the bustling street filled with vendors (and pickpocketers, so beware!), and eventually stumbled upon Bar Lobo, a hip little tapas place. We ordered tempura asparagus with romesco sauce, Sangria (once again, duh), more peppers because we were obsessed, and zucchini crisps. Everything was SO delicious, but I must say, I prefer the old school tapas style, though it was fun to try something modern since the food does tend to get repetitive. Also, the sangria at this place was some of my favorite!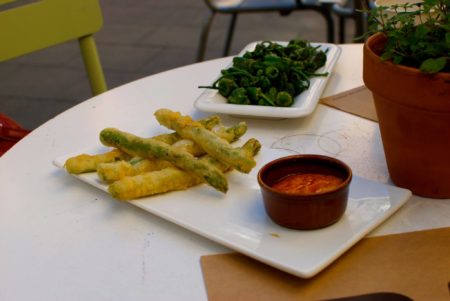 Bar Lobo Carrer del Pintor Fortuny, 3, 08001 Barcelona, Spain
With only one night left in Barcelona before heading off to Paris, we realized we hadn't tried any paella yet. We reserved a last minute spot at Can Majo, a lovely little restaurant right by the water. Though we were pretty stuffed, we ordered these baby clams sautéed in garlic and white wine, and we hands down agreed that was the best thing we had eaten the entire time we were there. We also ordered the seafood paella which was loaded with prawns, clams and scallops. Despite being pretty stuffed from such a heavy eating vacation, we wiped our plates clean and took a stroll on the beach.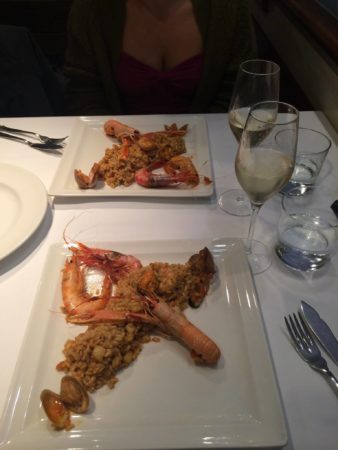 Can Majo Carrer de l'Almirall Aixada, 23, 08003 Barcelona, Spain

Barcelona has much more to see than just food, but if you are on an adventure to find some of the best eats in the world, I would put this city right at the top of your list.