I headed to Nice, France after the most perfect few days in Italy, and went into it a little disheartened (it's slightly difficult to leave your dream destination).
I studied French for five years in grade school, though I don't get to practice much, I have always been fascinated with the culture. I had been to Paris before but was excited to see a new part of the fancier side of France. I arrived late at night so I decided to take a cab to my hotel (I found a hotel right on the promenade for 90 USD a night, score!). I jumped into the cab, and of course had done my research prior to getting in; it would be about a ten minute car ride, so you'd figure a maximum of fifteen to twenty euros. WRONG. I've never seen a cab meter jump so rapidly. They weren't kidding when they said the south of France is expensive!
The meter hit twenty-six euros and I had arrived at my destination. I handed the driver thirty euros, and he did not give me change. I said, in butchered French (mistake number one: if you're going to speak French, you better do it right), "Can I please have my change?" and he said "No, no, it's tax." I said I want a receipt, he said it was too late. Realizing I wasn't going to win this argument and frustrated after a long day of travel, I just let it go and went into my hotel, a little defeated.
I dropped my luggage off and decided to walk around and roam the streets.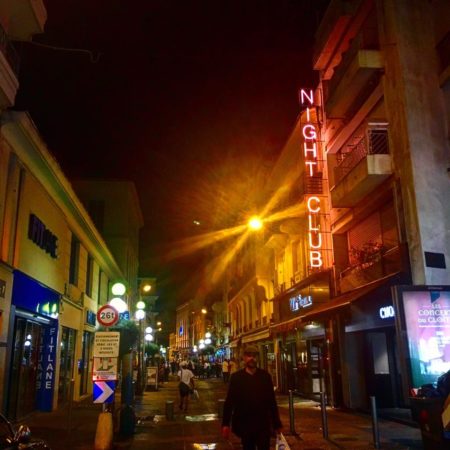 I learned quickly that Nice is rather small, and immediately felt like I was getting a good feel of it. There didn't seem to be too much to do; definitely a rich person's paradise. The streets were lined with tiny bars, cafes, and restaurants. Most kitchens were closed but I was getting hungry, so I found a little bar that still was serving small appetizers. I got some chicken and a glass of rose (when in Rome..or Nice). The waitress was clearly American so I picked her brain as to how she was able to live in France. She was on a three-month working visa for the summer. Atta girl!
Though that bar was cute, I wanted something a little grittier; I was in France after all; I know they have a good rock'n'roll scene from my prior trips to the country. I found a little dive bar with a bunch of 20-30-something year-olds smoking cigarettes and drinking wine. I attempted to order a glass of white wine, a phrase I was positive I had mastered in French (as I said, I studied the language for five years, and if you've read any of my other posts, it's clear that wine is usually the priority).
"Un verre de vin blanc, s'il vous-plait," I said.
"It's okay, you can just speak English," she replied in a less than friendly, overly annoyed tone.
"ONE GLASS OF WHITE WINE PLEASE," I said in my tangiest American dialect.
I work in hospitality, so I understand the frustration of not being able to communicate properly, but give credit where credit is deserved. In my opinion, it would have been much ruder if I had just assumed she spoke English. Oh well, A for effort. I awkwardly drank my one glass of wine, suddenly feeling very insecure, and headed back to my hotel for some much needed sleep.
I was on about day twenty of a three to four week trip, and up to that point, I had primarily stayed in hostels. The feeling of having air conditioning blasting, and to have my very own queen sized bed with ultra comfortable sheets and pillows was a feeling I cannot explain. I slept sixteen hours! This is why I believe it's sometimes okay to treat yourself to a budget-friendly hotel, or at least a private room in a hostel or air bnb. The power of sleep is real.
The next day I got breakfast which was included in the hotel (another reason why sometimes staying in hotels is worth it; free breakfast!). I ate some croissant, nutella, fruits, and boiled eggs. After breakfast, I headed to the promenade to enjoy some beach time. As I walked along the promenade, I was greeted with some of the most stunning views I've ever seen. Palm trees aligned along architecturally beautiful buildings, and a coast that went as far as the eye could see.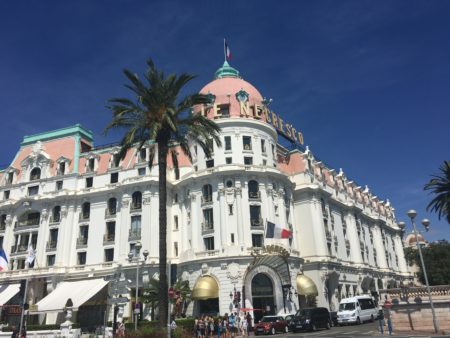 The beaches here were unlike anything I've seen before; milky skies and blue waters lined with rocky pebbles. Topless girls were everywhere, families were playing in the water happily with their children, and there was just an overall sense of elegance and joy.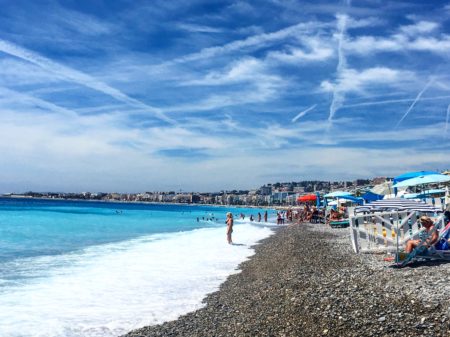 I opted for some photos and tried to fit in, but I think I failed.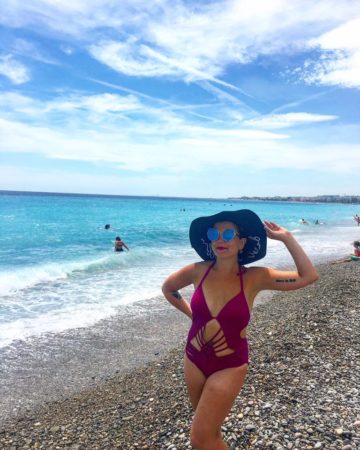 I went in the water but it was quite rough, and the pebbles instead of sand didn't quite help. I cut my feet a few times and knew the only remedy was wine. I attempted to order in French again, and this time, my waiter was a little more pleasant and responded in French as well. I felt slightly better after my encounter with the girl from the night prior.
After my glass of vino, I decided to roam the streets more. One of my favorite money-saving tips and just overall ways of seeing a new city is simply by walking. Maybe it's the New Yorker in me.
I was once again greeted with a new stunning view every time I turned the corner. I found a little patisserie and treated myself to some French pastries and an espresso (their double espresso is about a quadruple espresso by American standards; merci France!).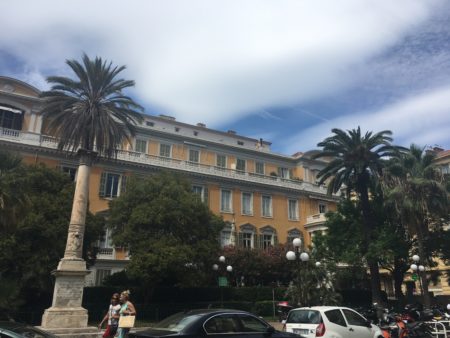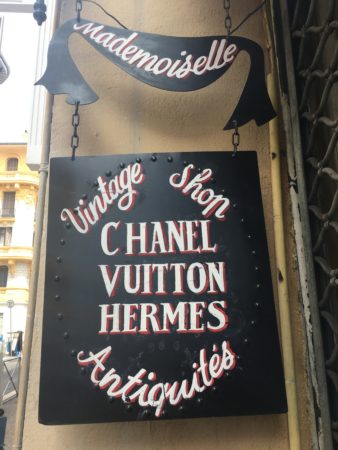 Nice is notorious for having delicious food, so that night, I stumbled upon a restaurant called Fine Gueulle that looked casual yet refined, and most importantly, delicious. I walked in and was seated right away. I was sitting right next to the kitchen window, and was able to hear the banter between the waitstaff and the kitchen. Hearing these types of interactions always hit home for me as I am able to support myself by working in restaurants, and I know both the struggle and the reward of having to deal with either wonderful or incompetent customers (such as those stupid Americans who speak poor French, like myself).
I ordered a pissaladière, a French pastry that resembles a thicker pizza, usually topped with onions, anchovies, and olives. I knew Nice, and the South of France in general, was notorious for this particular dish so I was looking forward to trying it, despite the fact that I LOATHE olives. Well, Fine Gueulle didn't exactly make an olive lover out of me, but it was the first time in, maybe ever, that I didn't find myself peeling all of the olives off of a dish! I did take some out, but I was able to eat at least half of them, which is a miracle for me. The bread on this pastry was DELICIOUS, slightly crisp on the outside and perfectly chewy and moist on the inside. I immediately knew I had made the right choice by stumbling into this spot.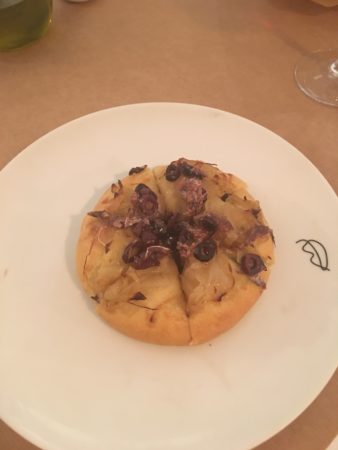 After that, I ordered duck with ratatouille, another dish Nice is notorious for. The duck was as tender as ever, and the potatoes that came with this ratatouille were hassleback style, cut super thinly but still intact at the bottom. This dish was DIVINE, and alone made the trip to Nice worth it.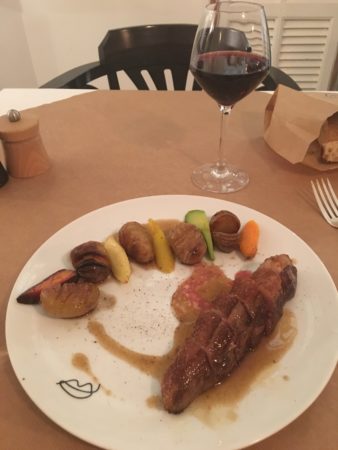 As I was devouring this duck, I heard a waitress politely confront the kitchen to ask if they served ketchup. The very typical French chef said, "What does she think this is McDonald's? Does she want a happy meal?" and as he was going off on his tangent, he caught me out of the corner of his eye eavesdropping, and said "…sorry," and awkwardly laughed. I said "I work in a restaurant, I get it!" Sometimes telling people I'm a New York bartender gives them an immediate respect for me; despite the fact that most Americans who find out I'm a bartender immediately follow my statement with, "So what are you actually going to do with your life?" as if bartending doesn't allow me to do things like spend a summer in the south of France *eyeroll*.
The chef and I continued to banter a little, though he was obviously very busy, and he ended up sending me dessert. It was a s'mores tart, which I wonder if he knew was what I had my eye on whether he was sending it to me or not.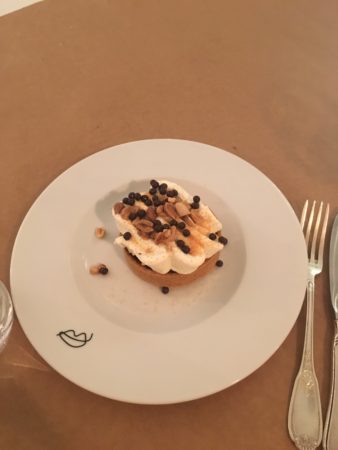 The shell was made out of graham cracker, it was filled with chocolate mousse and topped with crunchy chocolate bits, whipped marshmallow and candied almonds. Delicious!
After paying and thanking the staff, I left the restaurant with a full belly and heart. I continued to walk around and stumbled upon some color-changing lights in the middle of a town square. I also stumbled upon a little carousel that looked like it was straight out of the 1940's.
The next morning I kissed Nice goodbye and headed to Paris.
Overall, Nice was lovely, but it was INCREDIBLY expensive, only fairly friendly, and there isn't a whole ton to do. I could see myself as an old rich lady loving it here, but as a young adventure-hungry solo-traveler, I'm not sure I hit the nail on the head with this charming French city.