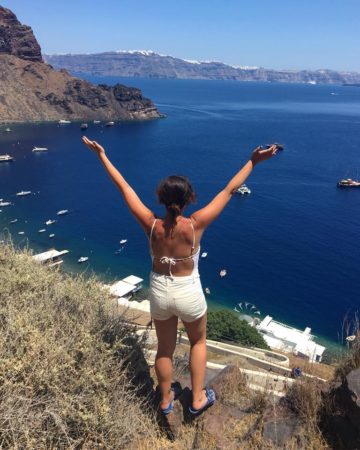 Day One
I had heard from plenty of people that five days in Santorini was too much time, and I should knock it down to four and consider going to a different island for a day or two. I decided to take it slow (I'm usually a speedy traveler as time does tend to be an issue since I have responsibilities back home) and stick with my plan of spending five days there. I stayed in Youth Hostel Anna, located on Perissa Beach. It was about a forty-five minute drive from the picturesque Oia that everyone raves about, but for nine USD a night, it was a little hard to turn down.
I couldn't have made a better choice. The hostel was across the street from Atlas Bar and Cafe, and I find one of the best ways to get to know the locals is to make friends with your bartender and pick their brains (I'm a bartender myself, and I LOVE helping tourists when they pop into my work). I could tell right away I was going to like this bar; there were a slew of regulars sitting at the bar drinking LITERS of beer (not pints, LITERS) and throwing back ouzo like there was no tomorrow. I made myself comfortable at the bar, ordered a Mythos and some grub (baked feta with oregano and lemon, paired beautifully with some fresh pita bread). I began to chat with the bartender, David, who was a rather outlandish man originally from Canada. He had moved to Greece and now owned this bar in Santorini, worked a few months of the year, and spent the rest of his time traveling around with his children. When I told him I'm from New York, he said "New Yorkers know how to drink," and poured me some ouzo. After a lovely nightcap introduction to my first night in Santorini, I headed back to the hostel to get some sleep.

Day Two
The next morning I headed over to Perissa Beach (a five-minute walk from the hostel). Before snatching a spot on the beach, I grabbed breakfast from a cute little cafe. For 7 euros, I received 3 eggs, a block of feta, fresh tomatoes, cucumbers, greek yogurt with honey, orange juice, a coffee, and toast! It was an insane amount of food for such a little price. Aside from all of that, the cost of breakfast included a guaranteed beach chair right on Perissa (each restaurant lined along the beach gives you a beach chair for the day with a purchase).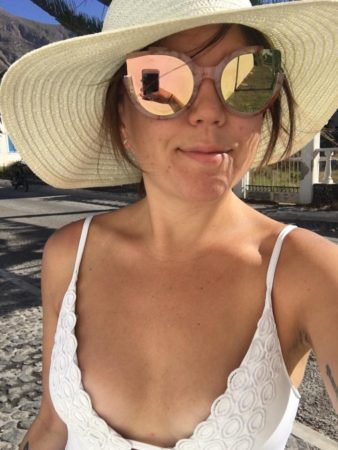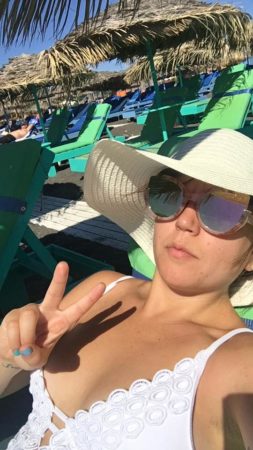 Perissa beach is a black sand beach; full of black pebbles from lava from the nearby volcanoes. There are wooden boards from visitors to stand on, which are highly necessary, because this beach is HOT! The sun soaking up those little black pebbles makes for feeling like you're actually walking on lava. I hung out at the beach for about two hours, but the heat was sweltering and that was about all I could take. There are waiters that will come up to you if you fancy a snack or drink! And also, because it's the world we live in, the beach has WiFi.
After heading back toward the hostel, I decided it was about time to try a true Greek gyro. I found a little spot right by the hostel, and the gyros were between two and three euros, stuffed to the max with delicious fillings (chicken, lamb, tzatziki, onion, tomato, lettuce, etc.).
It was delicious! I still crave that damn gyro to this day!
Day Three
Today was the day I decided to head to Oia! I put on my pretty white dress and got a lot more dolled up than I typically do on a day of traveling. I walked to the nearby bus station and headed toward Fira. The bus ride from Perissa to Fira is about twenty to thirty minutes. At Fira, you transfer to another bus which will take you to Oia. The entire cost for the two busses is about five euros, verses a taxi which is about thirty euros. We arrived in Oia and off I went. My decision to stay in Perissa quickly reassured me that I had made the right choice. Though Oia is breathtakingly beautiful and it would be a dream to wake up to those views, the prices of the food, drink, shops, etc. nearly tripled. An average hotel stay up there is 200 euros a night, verses the 9 I was paying.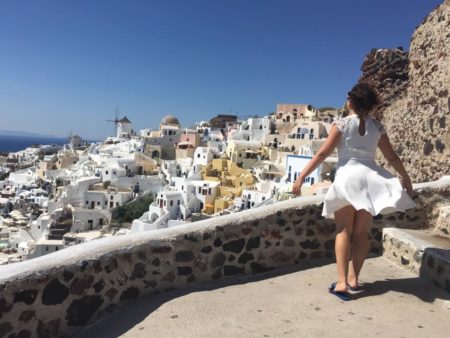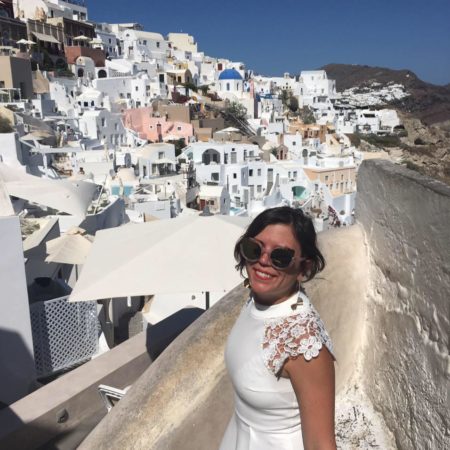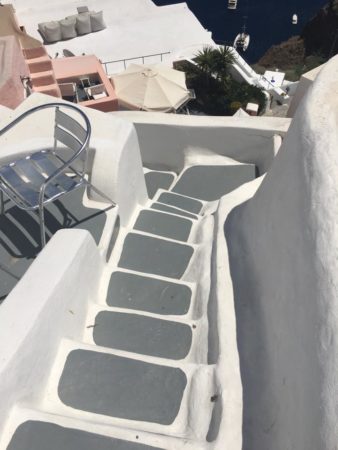 I did end up treating myself to some grouper at a lovely restaurant aligned right with the houses, and it cost me over fifty euros for the meal, a glass of wine, and some water. Delicious, but not exactly budget-friendly. (Also, another tip to keep things budget friendly, don't order wine out, as tempting as it may be!)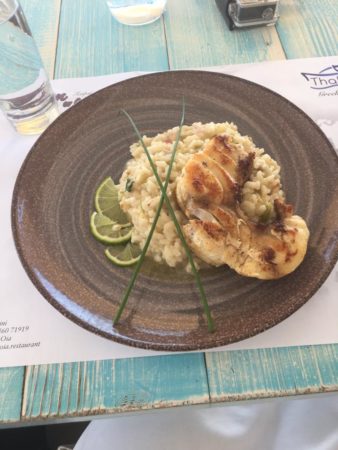 Here's a fun fact about those classic white and blue houses in Santorini: though, yes, blue and white are the official colors of the Greek flag, the houses are not only painted to match that, but white is the color that reflects off the sunlight allowing them to stay cool even in those scorching hot summer months! This has been ongoing since 1974.
After my grouper and a little more roaming, I decided to head back to Perissa Beach. I took a nap and decided to head for a stroll to watch the sunset along the water.
I ordered some calamari and baklava as those were two dishes on my Greek-must-try-food-list that I hadn't checked off yet.
After the sunset, I wasn't totally sure what I was doing with my next two days there as I felt I had ticked quite a few things off of the list. I asked Anna, the woman who worked at my hostel if she had any recommendations, and she said I should go hiking at a volcano and swimming in some hot springs. For 25 euros, I could sign up for a tour via the hostel, so I figured, why not? The tour included a boat ride to the hot springs, a boat ride to the volcano, and bus ride home from watching the sunset in Oia. Though I had already seen Oia, I heard the sunsets were a must-see, so I opted in.
Day Four
I woke up early to catch my tour bus straight from the hostel. We headed over to the volcanoes and were split into four groups (there were a lot of people from various hotels and hostels participating in this particular tour). I got grouped with many people, but in particular, a solo Australian dude, and we ended up hanging out for the day since we seemed to be the two stragglers.
We headed out on the boat toward the volcanoes. I was a dummy and only brought flip flops, not thinking that we would be hiking on freaking VOLCANOES. I managed to make it with only a few falls (in typical Kaitlyn fashion, even if I had on the world's best hiking sneakers). The views at the top were beautiful, and the hike was fairly easy.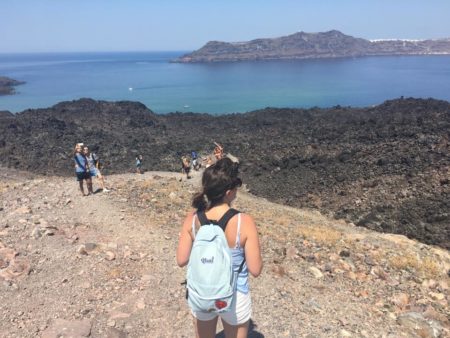 Granted the water was beautiful, I have to be honest and say that this was probably one of the most boring hikes I've ever done. It was just a lot of black cobble and not much else. If it wasn't surrounded by those perfectly blue waters, I would say don't waste your time. But if you have an extra hour or two to spare and want to get a little bit of a workout, go for it.
After hiking back down the volcano, we got back on the boat and we were able to jump in to go swimming toward the hot springs. Fashion fail number two of the day, no one had warned me that white will be stained if you wear it in hot springs. Well…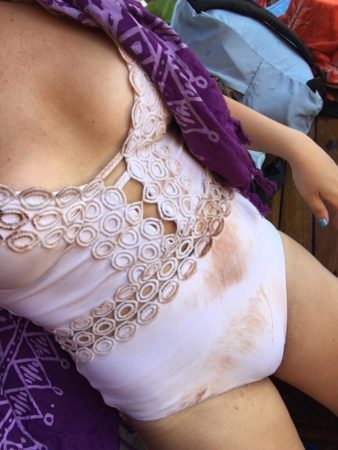 RIP to that bathing suit!
The hot springs were a pretty ~cool~ experience, despite them ruining my new swimsuit.
We got back on the boat and they opened up the bar. My new Aussie friend and I decided to throw back a few Alfa beers. From there on, we headed toward Fira for some walking around time, and we were given the option as to whether we wanted to walk to Oia, take a bus, or a ride a donkey.
I highly encourage you all to NOT ride the donkeys from Fira to Oia. These donkeys are put to extreme labor in sweltering heat and the misery on their face is apparent. When they stop for a break, their owners force them to keep going. Greece is nearly 100 degrees Fahrenheit in the summer, so imagine carrying a human being on your back going up strenuous hills for SIX MILES back and forth every single day. Watching these donkeys broke my heart.
In honor of the donkeys, my Aussie friend and I decided to do the hike ourselves. It was NOT easy, it is HOT and uphill for the most part, and takes about two hours with no breaks. It's a six-mile hike! But when those little white houses start to peak over the hill just as you're about to reach Oia, it all becomes worth it.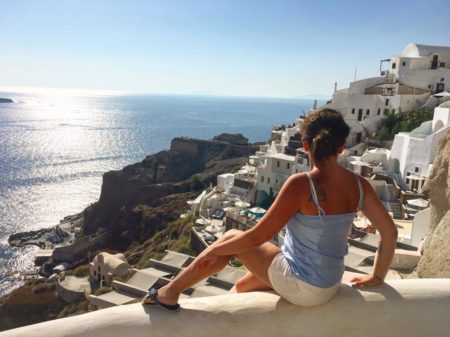 Our reward was some more beer just before the sun began to set. We paired up with some girls from Amsterdam that were also on our tour and we all headed to find a spot to catch the sunset. It's fair to say there were literal MOBS of people waiting to try to catch the sunset. The place was so packed we were lucky to get there as early as we did. And it's no lie that this sunset is absolutely breathtaking.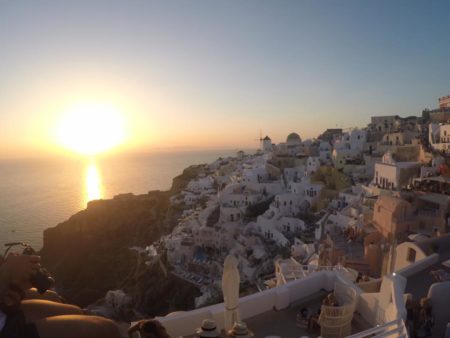 After the sunset, I caught a bus back home, said bye to my friends for the day (and haven't spoken to any of them since; another beauty of traveling; short lived friendships with memories to last forever), and immediately passed out.
Day Five
With one day left to go in Santorini, I decided to do a little bit of a repeat of my first day. I headed back to the same spot to grab the seven-euro breakfast and snatch a spot on the beach. I did some reading and writing, soaked up the sun, and went for a swim. I decided to check something off my bucket-list that I've been wanting to do forever; a scuba diving lesson!
I went to Santorini Dive Center on Perissa Beach and signed up for a one-on-one first timer lesson. I was told the cost would be sixty euros which was slightly out of my remaining budget for Greece, however, it was something I always wanted to do and it wasn't going to make or break me, so I went for it. They told me to come back at 3:45pm to get ready.
I was terrified but I was ready to conquer. I showed back up at 3:45pm and they picked me out a wetsuit and set me up with my gear. My instructor was incredibly helpful and made the experience go much smoother than I had imagined. He taught me all of the signals and told me he would ensure I was okay, and if I wasn't, we would come above water. Of course, I am as clumsy as ever, and the water was slightly rough that day, so I kept falling and the poor man had to basically prompt me up before we were even underwater.
Under we went, and it was a life-changing experience. I suddenly fell in love with marine life and wanted to know all about these little fish's lives. One thing that really burdened me was the amount of trash and litter that goes into the water. There was garbage everywhere, and my instructor picked up every single piece he could. We stayed under for about thirty minutes and it was a magical experience.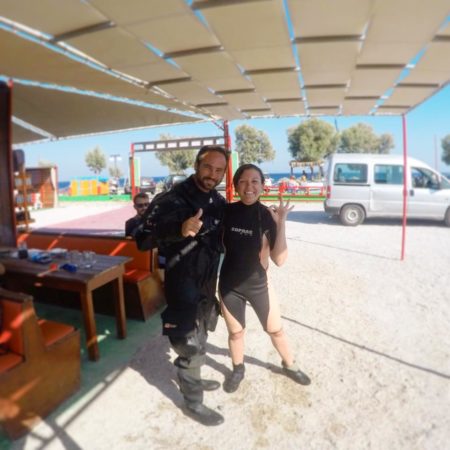 Once I was done, I went to Tranquilo, a vegetarian cafe right next to the dive center. I got these little tomatoes filled with Greek yogurt and of course, a beer.
My scuba instructor ended up stumbling upon me there and offered to pay for my beer. I gladly accepted, considering mama was running out of money. After that, I decided to head back to Atlas Bar and Cafe to see if the people who were working there my first night in town were there again, so I could thank them for their hospitality. They were, and I ended up having a few more drinks than I had planned on. The owner David invited me to go island-hopping with him and his kids for the weekend on his boat, but I unfortunately was leaving the following morning. After a few too many ouzos, I headed back across the street for one last night of sleep in Santorini.
Here is a breakdown of my expenses in Santorini:
5 nights at Youth Hostel Anna: $45 USD
Food and drink cost for 5 days (including copious amounts of wine and one fancy pants meal in Oia): $226.73 USD
Tour of Volcanoes, hot springs, and Oia: $29.83 USD
One scuba diving lesson: $71.60 USD
Cabs to and from the port (arrival and departure): $11.93 USD
Total spending in Santorini in 5 days: $385.09
This cost could've been kept lower had I decided to not take the scuba lesson and if I had eased up on the wine and food just a hair (clearly that's where most of my expenses were going; almost 20% of that cost was the ONE single meal in Oia!), but I wasn't sure when I'd have the opportunity to go back so I decided to treat myself. I sacrificed staying in a fancy hotel in Oia as I'd rather experience the culture and food verses a luxurious retreat. Greece overall was a beautiful country with even more beautiful people. I never once felt unsafe or threatened; I felt comfortable asking questions that I would typically be hesitant to ask in fear of appearing vulnerable. I highly recommend Greece to both solo and budget travelers alike.