Chiang Mai was my favorite city I saw in Thailand. It's a perfect blend of adventure, culture, delicious food, friendly people, and nature. I had five days there; here are the highlights of my trip:
Grand Canyon
The Grand Canyon is a natural pool about thirty minutes outside of Chiang Mai. I don't even think I would've found out about it unless it was for a guy I met in my hostel, Diogo. He had been there two days prior and lost his GoPro in the water, and wanted to go back to look for it. I rode up with him and another guy from my hostel in the equivalent of a chicken coop.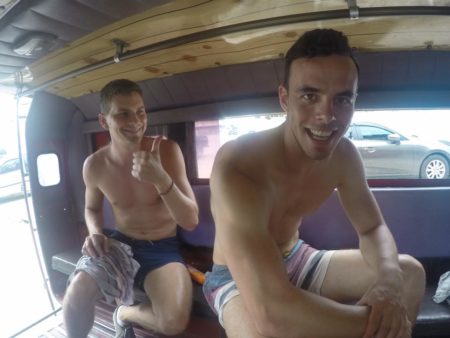 Once we arrived, I learned there are two ways you can get into the pool. One; you can go in from the rocky, shallow area, or two, you can jump in from a 30-foot cliff. Obviously, I chose the cliff.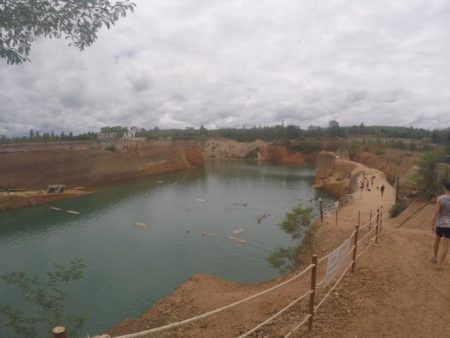 I watched other people jump first to ease my nerves a bit (I'm not great with heights, but a sucker for adrenaline). Once you watch so many people do something, you just start to feel like if they're all okay, I'll certainly be okay. Ummmm…this was not exactly the case at first.
I suppose my main fear was slipping on the rocks, but I managed to grow a pair of ovaries and just do it. It was one of the most fun things I did my entire time in Thailand, and now every time I go somewhere new and hear of a cliff jump, I'm all in.
2. Elephant Sanctuary
Before I begin on this subject, I do not mean one of the elephant sanctuaries where you ride the elephants to get cute pictures for your Instagram. Riding elephants is one of the most inhumane things you could do, and irresponsible to the tourism and culture of the country you are visiting. Harming animals is an absolute NO and must be avoided no matter what the circumstances are (when I see people riding animals my blood begins to boil). I asked the woman who worked at my hostel where an ethical elephant sanctuary was, and she informed me of Elephant Nature Park.
To be honest, I didn't know what to expect. I LOVE animals, but didn't know much about elephants. I learned quickly that they are gentle giants. And by giants, I mean, massive huge well… elephants. Also, they don't give a shit if you're in their way; when they are walking toward you, you better move.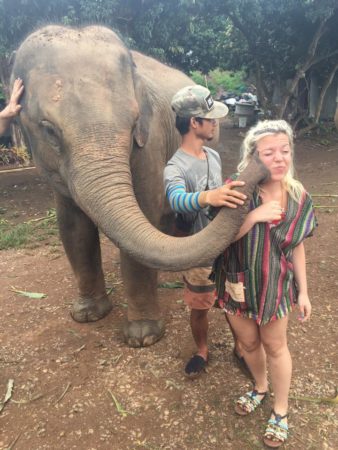 I was a little frightened at first, not by their demeanor, but by their size. I got close to one and gave him some bamboo.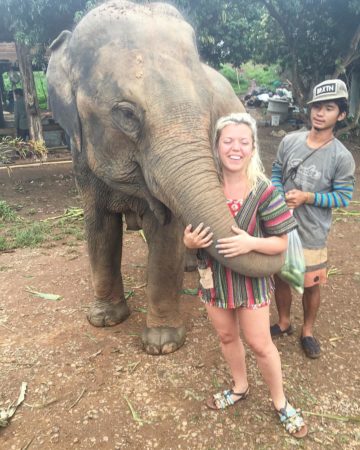 I told you! Gentle giants.
After the bamboo, we were given the opportunity to bathe them. These elephants seemed incredibly happy. We were rubbing them with mud (it was dirty, and I stepped in a few mysterious warm mushy spots). If you're squeamish, perhaps this is not for you. We were in the water and watched elephants take a dump in that very water we were in. But they were splashing around and having a great time. It was a surreal moment and it was awesome.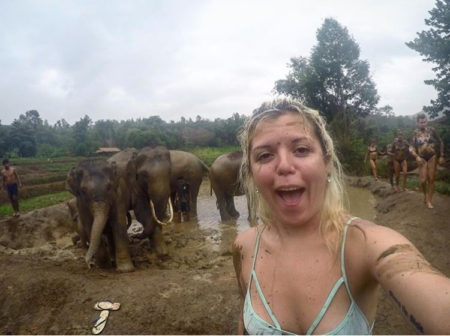 At the end, you are able to rinse off and shower before heading back, though I highly recommend a real long shower as soon as you return to where you came from!
3. Ladyboy Show
Oh man. This was a fun one. I went with a few people from my hostel after getting dinner and drinks before. These girls can dance, and don't be fooled; they are damn beautiful.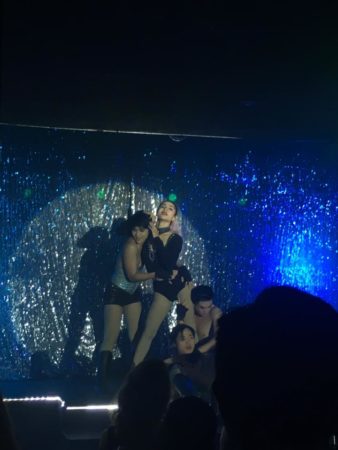 If you're a guy and you're in the audience, be open-minded. These girls do not hold back. The host(ess) of the show went all in while singing a rendition of Whitney Houston's "I Will Always Love You." She grabbed a poor innocent boy's face and made out with him for a good five-ten seconds. The entire audience was CHEERING so the kid was a total trooper and went along with it.
Afterward you can get a picture with your favorite one. This was mine. Look how much more womanly she is than me. I should take lessons from her.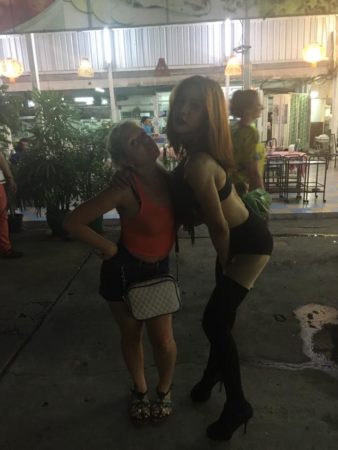 4. Temples, temples, and more temples
It is basically impossible to NOT walk by a temple every five minutes when in Chiang Mai. They are everywhere. This was at the end of my trip, so I was a bit templed-out, but I did still see a few.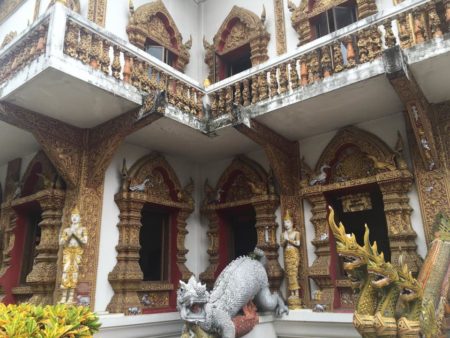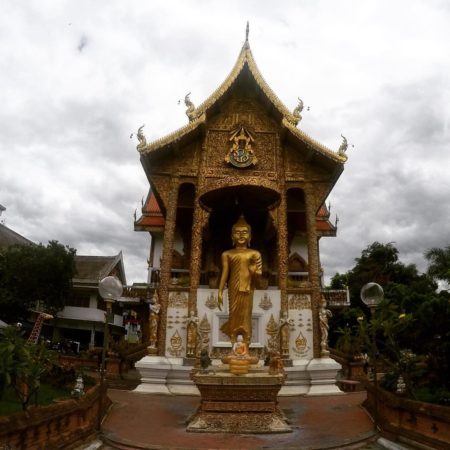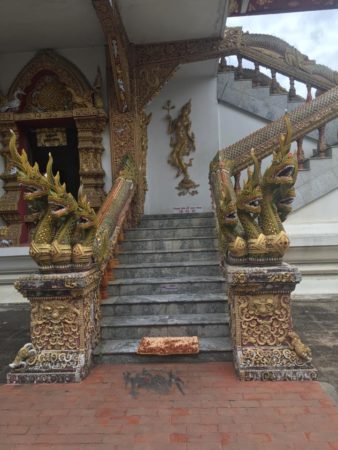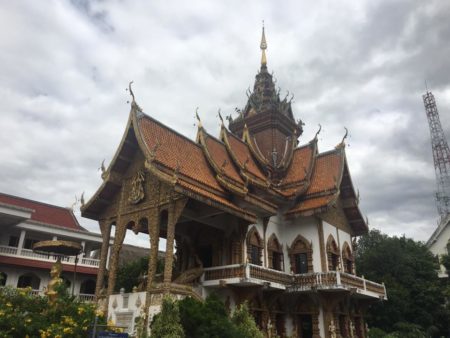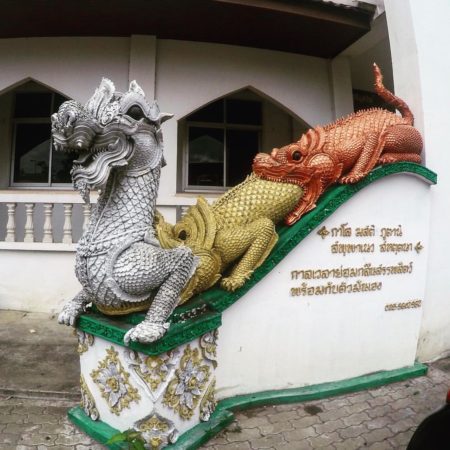 Each one is completely unique and has something different to offer. Since my time was limited in Chiang Mai, I gave myself half a day to go temple exploring so I could see what else the city had to offer. I would love to go back and see the White Temple of Chiang Rai! If you have time, I hear it is totally worth the trip.
5. Night Markets
Right by where I was staying (pleasant hostel; highly recommended), there was a night market that started at about 7PM. It was lined with food options that were special to the region, frozen sangria stands, live music, etc.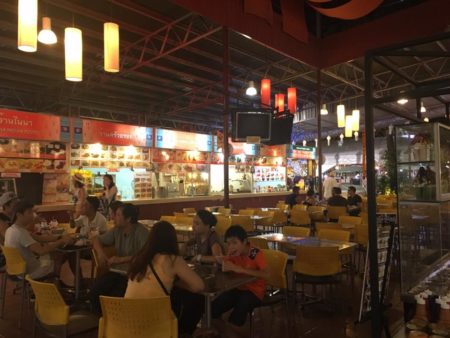 Aside from that night market, I met a fellow Brooklyner in my hostel and we joked about how obsessed with Anthony Bourdain we are. On my last night in Chiang Mai, I was walking home from watching Muay Thai, and I ran into him on the street. He said he was off on a Bourdain-inspired night-market hopping venture and asked me to join. We went to a place he recommended which was known for serving odd parts of the animal. I tried some beef intestine, chicken liver, and cow heart. I was not really a fan of any of them, to be totally honest, but at least I can say I tried! We then stopped by a store to drink the ever so infamous Chiang Mai clear whiskey.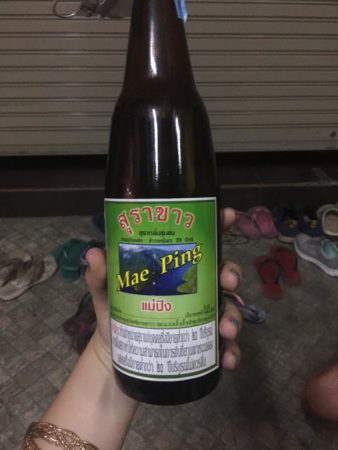 We killed the bottle of whiskey and talked about life back in New York. It was a great way to wrap up my time in Chiang Mai.