Based on a cheap ticket I found, I used Colombia as a hub to get into Peru (why not explore an extra country along the way?). Since I am, for the most part, a budget traveller, I knew in Peru I wanted to stay in hostels, but in Cartagena I found a GREAT deal on a hotel inside the old walls of Cartagena for $50/night. I thought to ease my way into the trip, I'd treat myself to a hotel.
On my first day there, I dropped off my bags, and off I went. I found a restaurant called La Cevicheria, which I would later learn is a sought-out after spot to get some great grub. I grabbed an Aguila beer while I waited, and was eventually sat at a table. They asked if I minded sharing with another girl who was also alone. "Sure!" She was from Mexico and we discussed what each of us were doing traveling solo (she actually was not traveling solo, she had just left her boyfriend and was headed back to Mexico but had a long layover in Colombia).
I drank some beer, a few mescal margaritas, saw some dancing in the square, and headed back to my hotel for a good nights sleep.
On Day 2, I woke up early to go to Castillo San Felipe de Barajas and get a view of Cartagena.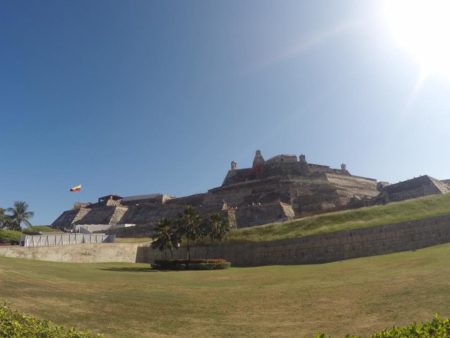 I walked around, got a few catcalls (expected in Colombia, I suppose), and eventually hopped in a cab to go to Bocagrande. I got a little overconfident in my Spanish speaking skills, and accidentally gave a cab driver 70,000 pesos instead of the 7,000 he asked for. He of course did not correct me (stupid American!) and I realized my mistake as soon as I got out of the cab. I was left with minimal cash and was about 3 miles from where my hotel was. I walked around the beach, attempting to not feel like a total idiot. I realized Bocagrande actually wasn't the nicest beach in the world, so after seeing it, I decided to just walk back to my hotel. I assumed there would be an ATM at least somewhere along the way but no such luck. I tried to stop at a few bodegas to ask where I could get "deneiro" and nobody really knew, or at least nobody really knew what the hell I was asking since my Spanish is no Bueno.
I made it back to the Old Walls and went back to La Cevicheria, my safe place!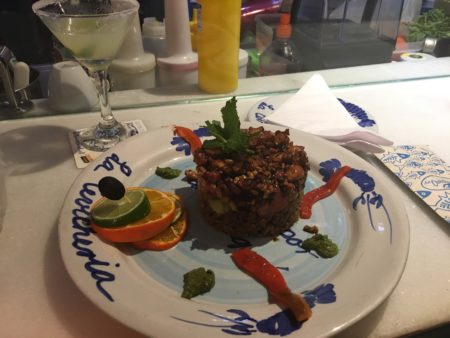 That night, I went out to walk around and do some people watching. I found a little arepa stand and got a delicious michelada and arepa to end the night.
On Day 3, I headed over to Isla Baru.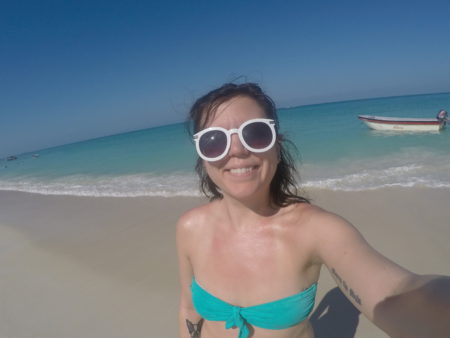 I took a tour which was only $40, included roundtrip transportation, a cocktail, a meal, and some fresh fruit throughout the day.
The beach was white-as-snow sand contrasted perfectly with aqua blue waters. Throughout the day, I observed couples splashing each other, watched a little girl go from being terrified of the water to full-on swimming over the course of a few hours, and having a few delightful conversations as travelers tend to do. At one point, a Brazilian woman came up to me and offered me some sunscreen. My fear of trusting people at this point (after being ripped off by the cabbie, also at one point being ripped off at an ATM) was at an all-time high, so I thought, "is this a scam? Is her family going to steal my stuff?" I said "no, I am okay, thank you," and clutched to my bag. She said "you are so red!!" She was not lying. My shoulders were basically bubbling. I changed my mind and accepted her offer.
As usual, some people are just kind (it's never a bad thing to be aware of where your bag is, though).
Overall, I recommend Cartagena, Colombia for a quick getaway. It's close to the states, direct flights from JFK on JetBlue are reasonably priced, it is overall safe (just be weary of your funds!), and the food is damn delicious.