Luckily for you, if you live in the States, the Caribbean is a short (and often cheap) flight away. A good friend and I sporadically found a cheap flight and with little hesitation, booked our trip to Aruba.
Here were the top highlights of our three days in Aruba:
1. Kukoo Kunuku
We landed in Aruba, and on our way over to the Renaissance (which was where we were staying), we asked our taxi driver what we should do for our three days there. She said "Kukoo Kunucku!" We asked what that was and she explained it was a party bus. It was my friends's birthday at midnight that night and though that type of frat-party type of thing isn't usually up my alley, I thought hey why not?! I purchased us two tickets and told her happy birthday!
We ate some mediocre touristy overpriced food and took a three-hour nap #partyanimals. We woke up and started to get ready, went out and got a few margaritas before we were off to our party bus.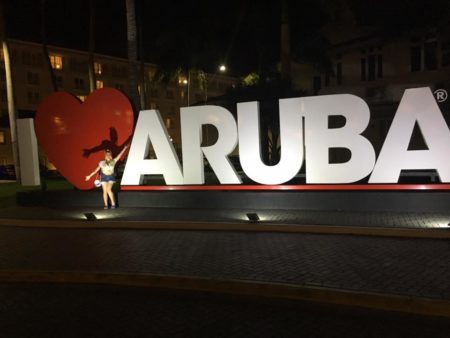 We got on the bus and it really was fun. The hosts of the bus keep it lively and try to make sure you're alert and entertained. I had left a note when booking the reservation that it was my friends's birthday, and they put it on the outside of the bus for her!
Note: When you go to the bars included in the Kukoo Kunuku tour, they do not accept any form of card as payment. Luckily I had just enough cash to cover both of us. By the last bar, I believe I had 23 dollars left, and it was midnight, so I ordered us two shots of tequila and some French fries and had one dollar to spare!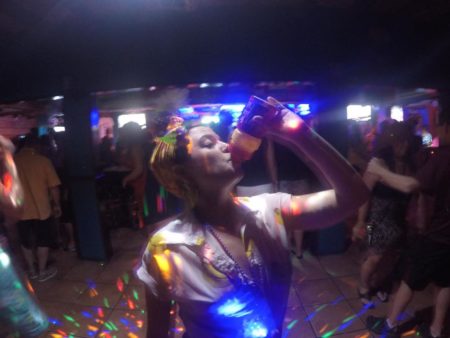 Overall it was a fun experience, we met people. Was it worth as much money as it cost? Eh, tough to say. What are you looking for? If you're interested in meeting people, go for it. But they take you to isolated bars and you are stuck strictly with your tour group the entire time, so you better hope there's someone in there you connect with! Overall, it was a fun experience and I have no regrets on participating.
2. Eat at the Old Cunucu House
If you've read any of my material yet, you'll know that my number one and main priority is food. I just want to eat all the time. Life is too short to eat frozen potatoes and stale bread, so when I go somewhere new, I always ask locals where to eat and what it is that they actually eat. I asked a taxi driver (a misogynistic one at that) what his favorite things to eat were, or what he ate growing up. He said okra soup and iguana soup were very popular and hard to find anywhere else. He also recommended we go to The Old Cunucu House to get a real taste of Aruba. This place was in the middle of a quiet street and we went fairly late at night which, to me, added to the experience. I got Calco Stoba (conch stew). The flavor of the sauce was out of this world, however, I quickly learned I was not a fan of conch (a little too chewy, but glad I tried it). I drank the sauce like soup and left the conch alone for the most part. We also got Keshi Yena as an appetizer, which is a shell of Edam cheese, filled with shredded chicken, more cheese, sometimes potatoes, olives, onions, etc. and then baked, topped with even MORE cheese. The waitress looked at us like we were crazy because that dish alone is heavy enough to feed two people, but of course we devoured everything, plus a bottle of wine. The food was delicious and the place felt removed enough to give us the vibe that we were getting a taste of the real deal.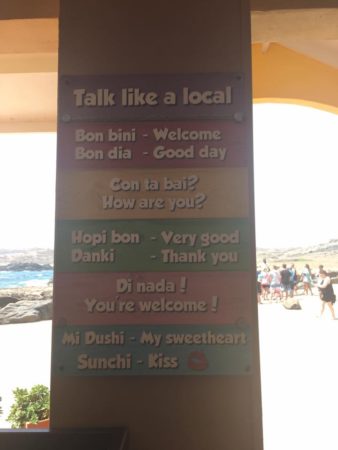 3. Swim with the flamingos
From the Renaissance Port (yes the Renaissance hotel has its own port in Aruba), you can take about a ten minute boat ride over to Renaissance Island, the only private island in all of Aruba, and go to the most magical place one could ever encounter, called FLAMINGO BEACH. I am obsessed with flamingos and have had, what some would say, an abnormal infatuation with them since a young age. Flamingo beach is strictly for adults, however, a skip and hop step away, there is another beach which is family-friendly. The island has various bars and restaurants, so you won't go hungry, and because we live in the world we live in, there's free wifi along the entire island (there are even outlets attached to some of the palm trees which genuinely left me feeling uneasy).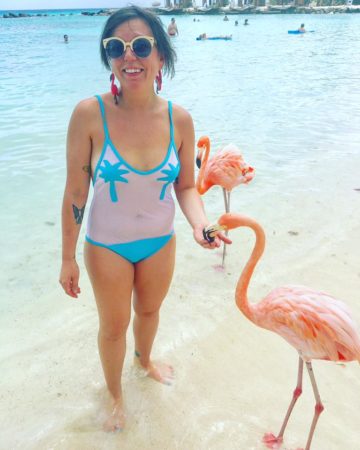 I may or may not have cried when I saw the flamingos. I love them. I love them so much.
4. Jump off a cliff into a natural pool
Whether a cliff is a hundred feet high, or ten feet high, jumping off of one is something I'm always interested in. We found a small natural pool, and the only way to get in was to jump! It seemed higher than it was, notice my shaking in the video below. It was only about 10 feet, and when you get in, there are rocks to sit on, little blue crabs roaming around, and perfectly warm water. I didn't want to get out!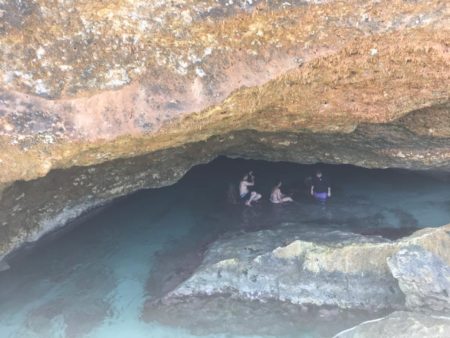 5. Go to Black Sand Beach
One of the seven natural bridges in Aruba is on black sand beach, which is a beach full of black pebbles from a volcanic explosion. The views are stunning and I recommend getting there in an ATV. But don't be a fool like me, WEAR SNEAKERS! I wore flip flops because I thought "beach!" but it's very slippery and I cut my feet a few times.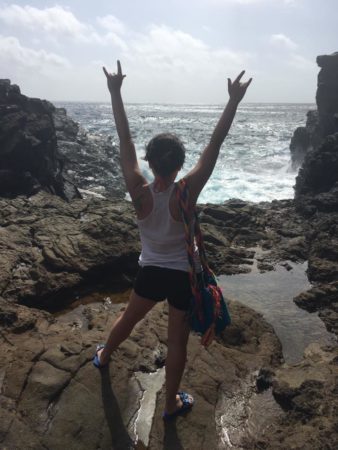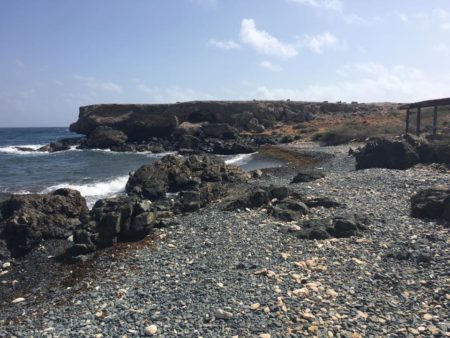 Aruba is a beautiful island and I was surprised by how much I liked it. Going in, my main concern was seeing the damn flamingoes, but leaving, I was full of gratitude with how wonderfully the locals treated me and how much history this tiny little island had to offer.