One of my best friends Julie had just gotten out of a two-year relationship and needed a last minute date for a wedding in Puerto Rico. She knew she could count on me as being spontaneous enough to drop everything and go.
A week before the wedding, I decided to dye my hair blue. I was unaware, however, that calling this wedding classy was a giant understatement. It was for Puerto Rican royalty (and that is not an exaggeration). The blue hair was, basically, not acceptable at the wedding (oops).
I was still invited to go, but I didn't want to cause unwanted attention, so I decided to still go to Puerto Rico and just skip out on the wedding. Why not? A night alone in San Juan kind of sounded like a better time to me anyway, and I still got to spend the other few days with Julie.
If you ever find yourself in a similar situation, here are a few of my top recommendations of how to have an awesome weekend in San Juan:
Bar Gitano
1. My friend Julie and I stayed in a penthouse in Condado that we found on AirBnb. Saying we are both obsessed with food is quite the understatement, so basically as soon as we dropped our bags off when we arrived, we went out on a hunt for some good eats. We asked some locals and everyone recommended "Bar Gitano," which luckily was right underneath where we were staying. We were greeted by a friendly bartender named Tommy. We ordered some drinks and an array of tapas, and the food, service, and drinks were incredible. So much so, that I believe over the course of four days, I returned five times. My bank actually sent me an e-mail making sure my card had not been hacked at Bar Gitano.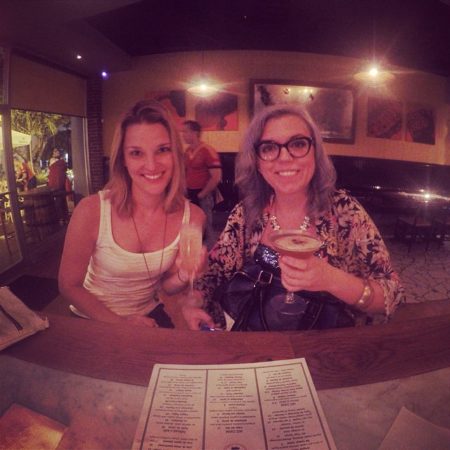 **Plus side: They have live music at night!
2. Eat everything (especially mofongo)
Going further with my Bar Gitano moments (another reason why this bar completed our trip), Tommy introduced us to the chef Eric. We informed him that we were going to Jose Enrique (a popular but somewhat hidden restaurant in San Juan), and he told us he knew the chef. When we arrived to Jose Enrique, our server brought us a round of drinks and a few appetizers and said "You're Eric's friends! These are on us." The food alone was wonderful, but the hospitality topped everything off.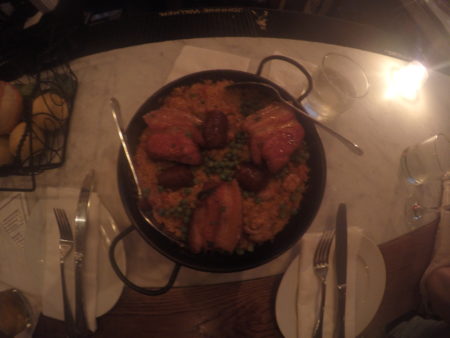 3. Going EVEN further with Bar Gitano, Eric had told us since we both loved food so much that he wanted to take us to a special restaurant in San Juan that you can't look up online and only the locals know about. He brought us to La Casita Blanca. He explained to us what the different meals were and what the history behind them was. We ordered arepas (pork and crab), poor man's stew which is basically corned beef and rice (he said to us, the woman makes this for the man when she is angry at him for coming home late because it requires minimal effort and is made with cheap ingredients, though still delicious), and a few other local specialties. We were given a complimentary shot of sambuca at the end of our meal.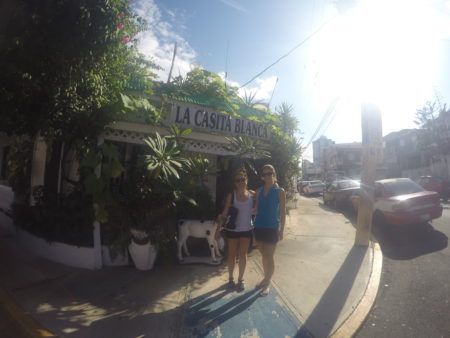 4. We wanted to explore the different neighborhoods in San Juan and we heard Santurce was where all of the cool kids hung out. Julie and I aren't much of "nightclub" people (though I love a good drink), so we went during the day to check out the street art. The streets were lined with boutiques, cafes, bars, and restaurants. I'm sure it was more lively at night but we didn't get around to it (we were too busy eating).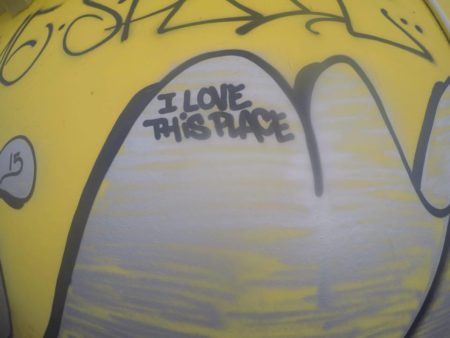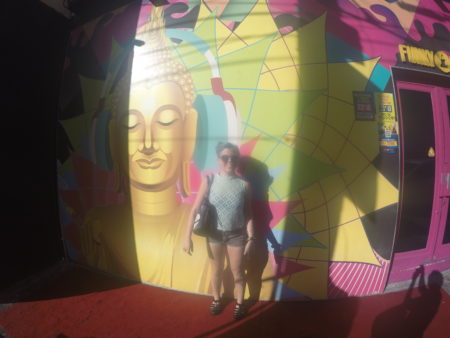 5. Puerto Rico is known for its pristine beaches, however we went in November and the weather didn't totally agree with us. I had just bought a pair of Quay sunglasses in Santurce, and from there we headed to Condado beach. Like a real idiot, I was taking selfies on my gopro (like a real shameless douchebag) in the water, and caught the exact moment that a wave came in from behind me and knocked me flat on my ass. I was left with bruises, and no sunglasses. They lasted a whole five minutes, which is only a little bit shorter than my usual track record. Aside from the bad weather conditions we experienced, the beach was indeed beautiful, and even if the weather is shit, you can sit at a restaurant and still enjoy the view.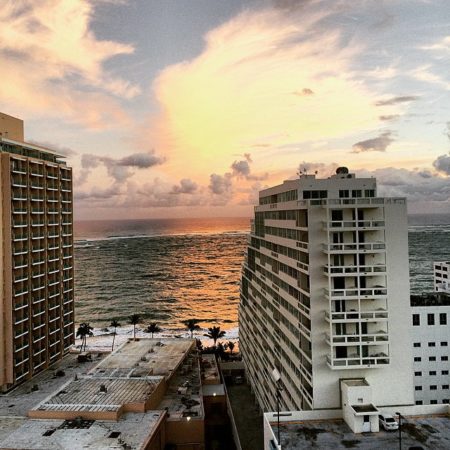 Sunrise over the water.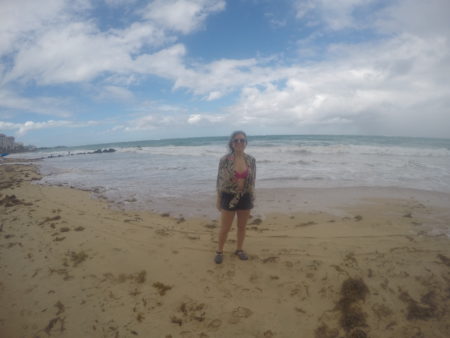 6. Ziplining
Aside from the wedding we were allegedly attending, Julie's birthday had happened recently so I wanted to treat her to something special. I bought us a ziplining excursion! We headed out early in the morning, had super helpful guides that eased our nerves, and off we went. We ziplined on eight different tracks and had wonderful views. It was an adrenaline rush (eight adrenaline rushes, to be exact), and I was happy to check ziplining off of my bucket list in such a beautiful setting.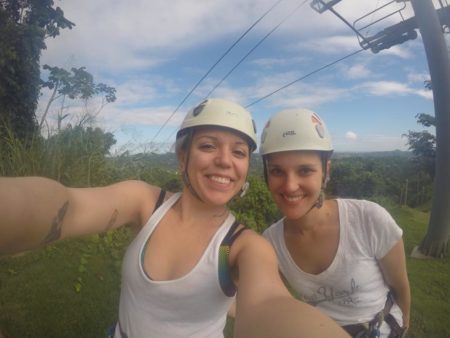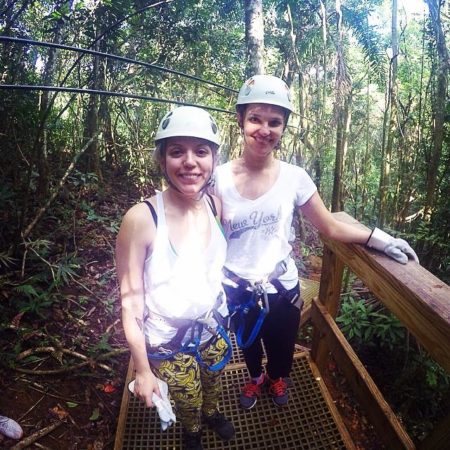 7. Take a gamble! Go to the casinos.
Most resorts and hotels in Condado have a casino, so Julie and I decided to take the chance and try our luck. I left with less than I came in, but Julie won $80 on a slot machine! We decided to treat ourselves by going across the street to a sketchy bar and getting an appetizer sampler, and used the remainder of the money to buy a bottle of Veuve Cliquot from CVS. Classy broads.