Before I even begin this post, let's give a HUGE shoutout to Emirates Airlines. Guys, I'm not kidding…they are THE BEST AIRLINE I've ever flown. Crazy comfy seats, awesome customer service, insane airplane food (like better than meals I've eaten at actual restaurants; for example: Salmon with saffron couscous, roasted veggies and a lemon cake for dessert with actual GOOD wine? I'll take it, and have seconds), etc.
And the reason they're even MORE amazing? When I had a whole $1000 in my bank account but decided it seemed like a pretty good time to book a trip, I started googling flights to Thailand (thank you Orbitz for always showing me the cheapest deals). I found an $868 round-trip to Bangkok from JFK via Emirates airlines with a layover in Dubai (leaving me a whopping $132). I noticed the layover in Dubai was only 2 hours, so before booking, I called Emirates and asked if I could, perhaps, for the same price, get a longer layover so I could leave the airport and actually see Dubai since I'd be all the way there. They were totally cool with it and extended my layover by 12 hours, leaving me with a 15 hour layover! This is maybe my favorite travel hack (not every airline is as cool as Emirates though!). So with little thought as to how broke I was, I gave them my card number and voila, I was going to Thailand (and Dubai)!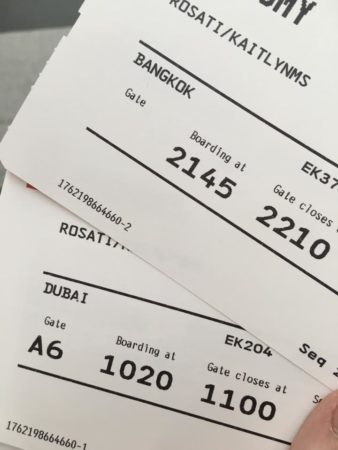 My parents can be a bit paranoid (understandably so) when I travel to places alone. Thailand was my first big solo trip and they even offered to pay me to ensure I skipped out. I didn't want to tell them about the layover in Dubai because I couldn't imagine the anxiety knowing their white-blonde-haired daughter was going to the Middle East…alone. I felt pretty bad about lying, but I told them it was a direct flight to Bangkok and I would contact them when I had WiFi and to not freak out if they didn't hear from me for about a day, because WiFi would be limited. I got on the plane and the guilt of lying kicked in quickly, but I suppose it was a little late to tackle the issue at that point. After a breezy fourteen hours in the air, we had landed in Dubai. I had pre-arranged for a pickup at the airport with a tour group to head out to the desert and see the red sand! I went to the area of the airport where all of the people stand there with white signs and a giant last name. I saw a crinkled white piece of paper with "Rosati" written with a highlighter and a very dead-pan man standing there. Yay budget traveling!
He was with another girl (Sue from Malaysia) who also had a long layover. We got in his jeep and began our journey through Dubai. He was from Pakistan and was telling us a little about his life in Dubai, and asked where in Canada I was from (to which I replied "New York"). Sue, our driver, and myself went to the desert close to the boarder of Oman.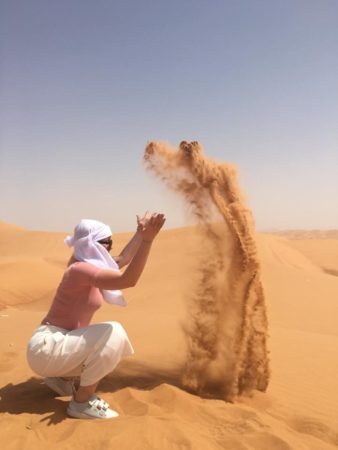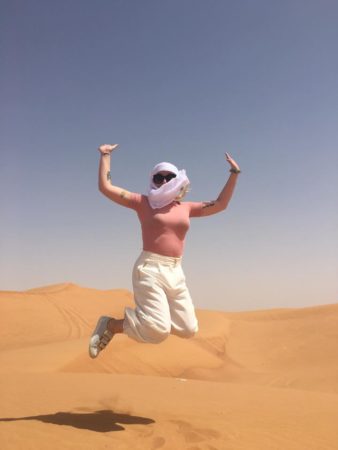 He drove us around like we were on a roller-coaster going off the track. It was fun (and I imagined if the Jeep flipped over, at least we'd land on sand so it probably wouldn't break? This is where my head was at).

We got to ride camels,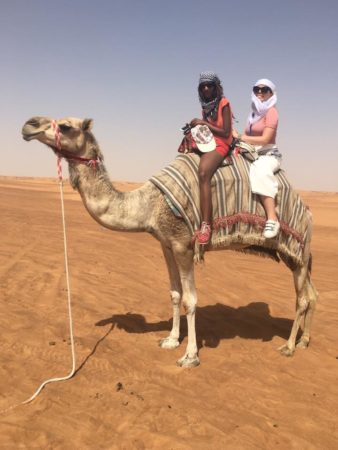 I had a sad attempt at sand-surfing (I couldn't stand and balance on the board, so I sat on it, and still fell),
he gave us some type of orange drink (that later saved me in my food poisoning coma in Bangkok),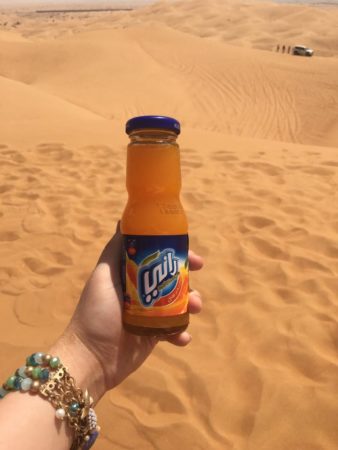 and then we headed back toward the Burj Khalifa.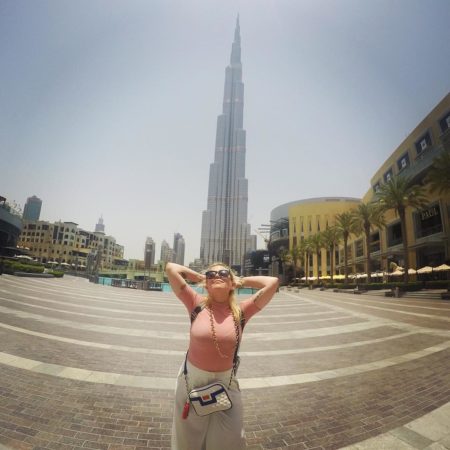 I saw the glistening giant building and I don't lie when I say it literally sparkled in the sun. It was pretty magnificent to see. I was just about due for a coffee so we stopped at a Starbucks, I connected to WiFi where I got in touch with my sister to let her know I was safe (and to keep mom and dad at ease), and then Sue and I walked through the Dubai mall.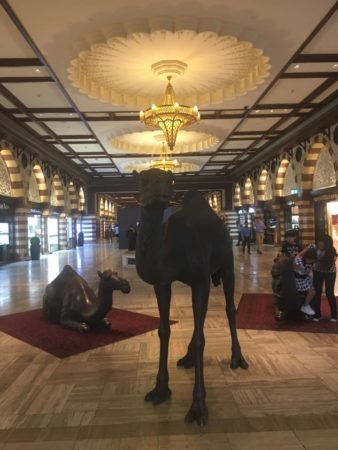 We got a few snacks (some assorted mixed nuts with different spices) and decided to take the metro and get off at a random stop, because why not?
We jumped on the metro and got off at what we thought was Old Dubai, but I don't think we hit the nail on the head. We walked around the scorching hot streets (105 degrees fahrenheit) attempting to find food but we were in the run-down parts of town, and nothing looked too appealing (or even sanitarily safe to eat, to be honest). After a good forty-five minutes of aimless wandering, we settled on Indian food (which was ironic, because she had just finished traveling there). I asked her what I should order since my knowledge on the cuisine is sub-par, and she recommended this dish called andhra mutton. I told her I wanted spicy, and, well, spicy was quite the understatement; I got through about seven bites before calling it a day. Totally delicious, but unbearably hot, considering the middle-eastern sun already had that role filled.
We were pretty beat by this point; about six hours of wandering, camel-riding, sand-surfing, spicy-food intaking, etc. We thought should we go back to the city center or should we go chill at the airport? Emirates had also given us food vouchers to eat somewhere near our gate (yas Emirates YAS), so we decided to head back even though her flight was in seven hours and mine was in five. We managed to take public transportation to the airport, went through security, and just chilled and talked about our lives back home and why we travel. She told me about this awesome facebook group called "girls LOVE travel" (which Sue, THANK YOU because I love that group! Any girls that love to travel, leave me a comment and I'll invite you to join!), she told me about the culture in Malaysia and we showed each other pictures of our dogs and our desire to continue to live this nomad lifestyle and about where we wanted to go next (as I was just beginning a journey). It felt nice to discuss this over mediocre airport food, and to have a connection with a total stranger that I had known for only ten hours (if even that) and ended up with just by mere fate.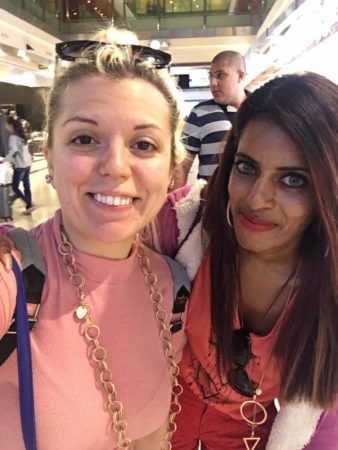 We parted ways once it was time for me to head to Bangkok. I remember boarding the flight to Bangkok, totally exhausted (I hadn't slept since the previous flight), feeling like I had experienced so much already that it almost felt like a completed trip… and as the plane took off, I thought, "and now the real adventure begins."