"Osusume" (Piss Alley)
While in Tokyo, my friend Danny and I heard of the infamous "piss alley" (omoide yokocho), a literal alley on the west side of Shinjuku where businessmen apparently used to go for a drink (or ten) after work and would get so drunk that they would, well, piss all over the street. We heard it's the spot to go to find izakayas serving the best yakitori and bizarre foods. I hadn't done much adventurous eating up to this point in my life, but…when in Rome (errrr…when in Tokyo).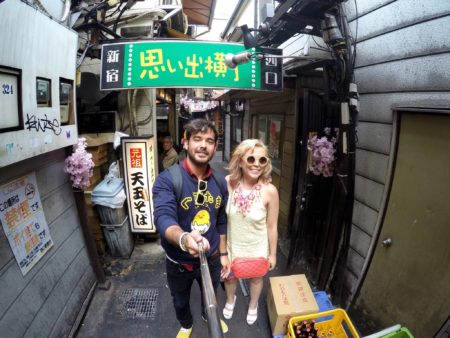 We managed to find the alley, basically hidden between two storefronts. It was lined with teeny tiny eateries that sat maximum ten people each. We would walk into a few different ones and get strange stares; this was not the hustling bustling Tokyo where tourists were pouring into, this was the real deal. We got refused from three eateries because we did not speak Japanese. Feeling frustrated, we agreed that the next place we went in we wouldn't take no for an answer. We stumbled upon a fourth place, and the female chef and the man taking orders discussed letting us eat there (in Japanese). The chef said no. Luckily, I had google translate and typed "I will type to translate. Please!" and showed her the message. They discussed it some more and very blatantly annoyed, let us eat there.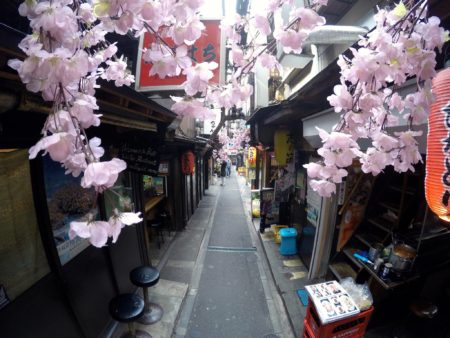 She asked us something in Japanese, I imagine she asked us what we wanted to eat, and we said "osusume," which is the HANDIEST phrase I've ever learned before taking a trip. "Osusume" literally translates to "Whatever you recommend." Danny was looking for some bizarre foods, so once again with google translate, we wrote "Something exotic." Well, our wish was definitely her command.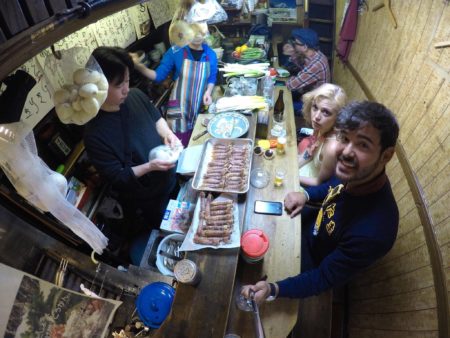 There was a fish tank full of eels, and right in front of our virgin eyes, she stabbed three of them. She threw them on a grill and we watched them cook. I was a vegetarian six months prior to this trip, so though I was open-minded, I would be lying if I said I wasn't queazy.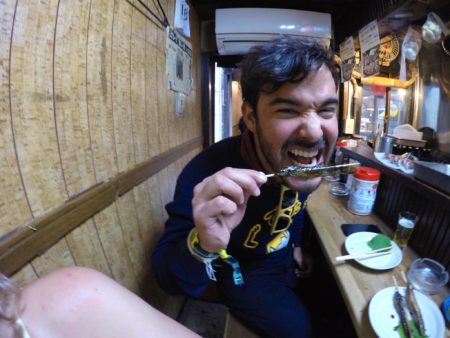 She glazed them with a teriyaki-like sauce and we ate our very fresh eels. They were delicious; a lot of pin bones (I mean, duh) but delicious nonetheless. She asked if we wanted more, we said yes.
She then grilled us an entire frog; served with some type of vinegar sauce. It tasted like dry chicken (not my favorite).
"More?" (only in Japanese which I now do not remember).
"Hai!" (one of the three phrases we knew at this point.)
"Hāto," she said as she patted her hand over her heart.
I thought she was saying "hot soup." I couldn't have been further from accurate.
She started marinating a large piece of raw meat, and Danny looked at me and goes …. "heart, she's giving us heart." After a few minutes of marinating, she slices it thin, gives us two sauces on the side for dipping, and serves. Raw.
Google translate: "What animal?"
In English she says, "Cow."
Danny tried it first and didn't seem to mind it. I tried and I'll admit, it wasn't bad. I would have never ordered this off a menu but it was actually my favorite part of the entire meal.
Once she realized we were open-minded, I like to think she was enjoying our company. Or maybe she was just totally messing with us and laughing at us. Regardless, it was a day for everyone to leave their comfort zone, I suppose.
And hey, raw cow heart for dessert? When in Tokyo.